Wines To Go Buy This Week – Christmas Edition - Peter Michael 2013 Au Paradis Estate Cabernet Sauvignon – 95 Points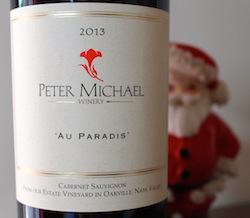 Au Paradis, paradise, is the expression of the Peter Michael Winery's only Napa wine (the winery is based in Sonoma). Pulled from fruit from the Oak Knoll AVA, on the nose there is rich opulent fruit and the seamless integration of wood is apparent. Comprised from a minimum of 75% Cabernet Sauvignon with the balance of the fruit being Cabernet Franc, there are notes of sweet charred oak, red raspberry, black cherry, huckleberry, tobacco and mocha that draw you in. The tannins keep the wine slightly austere, however the acidity and lingering finish remind you that this expertly crafted. You can deconstruct a wine to be sure, but there is also the unique tactile experience of drinking it, the pure raw pleasure of drinking something that is beautifully made. With time in the glass the fruit becomes richer, deeper, more moody, the oak more pronounced without getting out of bounds. Is this how an expensive wine should behave? The answer is yes. What's more impressive is that this is only the third iteration of Au Paradis, therefore a promise of more stellar vintages ahead.
Average Price: $195/ 750ML
Alcohol: 15%
Pair With: Wagyu beef tenderloin, fire roasted duck, rack of lamb.
Availability: Nationally
Website: www.PeterMichaelWinery.com
For more than 25 years, The California Wine Club founders Bruce and Pam Boring have explored all corners of California's wine country to find award-winning, handcrafted wine to share with the world. Each month, the club features a different small family winery and hand selects two of their best wines for members.