In the US, Chinese food has evolved from being a novelty ethnic food to a virtual staple of the American diet. Nowadays Chinese cuisine permeates the restaurant landscape with a presence ranging from the local shopping mall food court to upscale (almost) fine dining. With this seemingly ubiquitous presence in mind, IntoWine.com asked its panel of wine experts to suggest the best wine to pair with chinese food:
OK, if I'm not allowed to recommend Tsingtao beer, wine it will have to be. Naturally, Chinese wine makes most sense and, guess what, it is now available in the US. Although I recommend Riesling, believe it or not, in China, the Chinese drink almost exclusively red wine with their food. Dragon's Hollow Cabernet Sauvignon is ideal for Chinese food. The wine is picked early, not only does this result in a nice low alcohol which makes any wine more food friendly but it is less opulent in fruit. Opulent fruit and Chinese food don't sound right.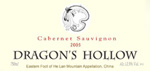 Dragon's Hollow Cabernet Sauvignon has an appropriate amount of green bell pepper character which makes it match a large variety of Chinese dishes. The low alcohol [though it states 12.5% on the label, it is actually lower than that], makes it even more versatile. Well, ok, if you want to stick with a white wine, Dragon's Hollow also produces a wonderful dry Riesling. - Bartholomew Broadbent, CEO, Broadbent Selections, San Francisco
---------------------------------------------

My hands down favorite wine to pair with Chinese Food is sparkling wine and champagne. Why? Like Pizza, or Mexican food, these types of dishes often exhibit a wide range of spiciness, sweetness or textures. A high alcohol wine will clash with your spicy Szechuan chicken. A red wine will make your green beans and tofu taste like metal. Enter sparking wine. With lower alcohol, (usually around 12.5%)  and little to no oak influence, it is the ideal candidate to pair with Chinese cuisine. I particularly enjoy rose sparkling wines as they often display no oak influence and provide a juicy bit of fruit that compliments most flavors. And, like beer, the fizz in a glass of bubbles is so refreshing, it cleanses and prepares your palate for the next bite! My current favorite bubblies are the NV Taltarni Brut Rosé "Tache" $19.99 (Victoria/Tasmania, Australia) and the NV Jean-Francois Merieau "Bulles" Touraine Sparkling $15.99 (Loire Valley, France). - Mulan Chan, Rhône and French Regional Buyer, K&L Wine Merchants
---------------------------------------------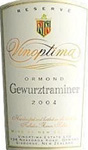 Gewurztraminer. Specifically the 2004 Vinoptima Gewurztraminer. So you're craving a little Chinese food. And you're looking for the right wine. We're not talking about a wine that could conceivably-maybe taste like it goes well with the food, but a wine that mimics and enhances the spiciness of the cuisine of the Asian continent. Well, here you have it – a New Zealand "Geh-vur-tzz". The VinOptima is hand-made and focused. The proprietors of this unique project have been dedicated to nothing less than the perfection of this variety. It's true, there are much cheaper versions of Gewurztraminer from other regions and other producers but none of them are as precisely and perfectly a match for every style of Chinese food. Splurge. (About $95).- – Ben Spencer is a diploma student with the Wine & Spirit Education Trust and an IntoWine Featured Writer.
---------------------------------------------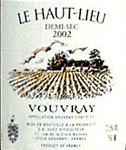 Chinese food is one of my exceptions to pairing a local wine to the local cuisine.  I have not yet had a wine from China that I thought matched well to Chinese food (or really any others for now).  I tend to like my food spicy.  To match that, I prefer a wine that is served cold with a touch of sweetness.  My first inclination was to recommend a German Riesling.  While that would not be a bad choice, one of my favorite matches with Chinese food has been with a semi-sweet Chenin Blanc from the Loire valley in France.  I would recommend the Huet Vouvray Le Haut Lieu Demi-Sec.  To me, this is most mineral driven of the Vouvrays from Huet, probably the greatest producer of Chenin Blanc on the planet.  It is available dry (Sec) or Semi-dry (Demi-Sec).  The 2005 vintage is amazing and still available although I would gladly drink the 2004 or 2006's.  Not the cheapest white wine, it will cost around $35 but is really world class quality.  The sweetness offsets the heat.  The minerality and acid accentuates the layering of flavors in the food.  It is a natural combination. - Loren Sonkin, IntoWine.com Featured Contributor and the Founder/Winemaker at Sonkin Cellars.