Pizza may very well be the most popular dish in America. It comes in myriad varieties - deep dish, thin crust, cheap, expensive, and with an endless selection of toppings, sauces, and cheeses. So picking a wine to match with pizza is a daunting task. Nevertheless IntoWine.com posed the question to our panel of wine experts: What wine do you suggest for pizza?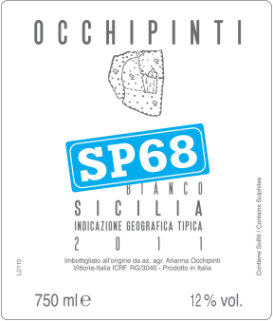 I've become a real convert to the classic Neopolitan-style pizzas, simple combinations of tomato sauce, basil and mozzarella, or tomato, garlic and oregano, with light, delicate crusts. The kinds of wines that go best with this style of pizza are light, fruity, well made Italian wines, particularly from producers like Occhipinti and Paolo Bea.
Both of these producers minimize the sulfites in their wines, which helps preserve the fruity flavors in their Frappatos and Nero d'Avolas, in the case of Ochipinti, and Sagrantino and Sangiovese in the case of Paolo Bea, giving the wines a real sense of freshness on the nose.
The ideal bottlings by these producers with this style of pizza would be Occhipinti's Il Frappato or SP68 Nero d'Avola Frappato, or Paolo Bea's San Valentino or Rosso de Véo. Richard Jennings, IntoWine.com Featured Contributor and the Founder RJonWine.com.
------------------------------------------------
A juicy, light to medium bodied red wine is what I reach for most often when pairing wine with pizza. The red fruit flavors of the wine will pair with the tomato sauce component of the pie, and the vibrancy and the lighter style of the wine will not compete with the various meat and vegetable toppings often used. I also like to stay away wines that exhibit too much oak influence as it often interferes with the complex flavors of a pizza with more than a couple different toppings. Try an Italian Barbera like the 2005 Agostino Pavia Barbera d'Asti Bricco Blina $13.99, or a southern French red like the 2005 Mont Tauch Fitou $13.99. - Mulan Chan, Rhône and French Regional Buyer, K&L Wine Merchants
------------------------------------------------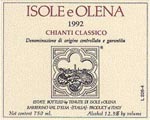 This sounds very unimaginative but I think Italian red wine should be served with Pizza! It isn't essential but why not, I mean, it's not like Chicago invented the thing, they just claimed it and made it famous! Granted, it isn't very Italian either because there is only a very small area of Italy in which pizza is considered typical of the region. Of course, if you are having a Hawaiian pizza covered with pineapple, or another such exotic new wave pizza, you should think again about the choice of wine, otherwise, with a good old thin crusted red pizza, go for something like Isole E Olena's Chianti Classico. This particular Chianti made by Paolo De Marchi has the requisite pizza spicy strength, partially due to the fact that a touch of Syrah has been added to the traditional Sangiovese and Canaiolo grapes, yet, at the same time the wine has restraint and elegance. Now, I'm talking top quality pizza, more of a thin crust than deep dish. If you are just ordering a simple take-out pizza from the local chain, then it doesn't matter what wine you drink but I'd suggest sticking with beer. - Bartholomew Broadbent, CEO, Broadbent Selections, San Francisco
------------------------------------------------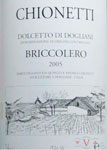 Dolcetto. Specifically the 2005 Chionetti - Dolcetto di Dogliani Briccolero. Who doesn't love pizza? A crisp crust, a little red sauce, some carne cruda, a few veggies, a bit of formaggio … and a Dolcetto! Don't let the name of the variety fool you. Dolcetto sounds sweet but it is more lush than it is saccharine. The Chionetti Dolcetto is possibly one of the only things that makes my mouth water more than a good slice of my favorite pizza. The two together – impressive. The rich roundness of black cherry, earth, basil and supple tannins in this wine stretch the flavors of almost any style of pizza to the limits – especially oven baked pizza with meats and mushrooms – without breaking the bank. (About $20)– Ben Spencer is a diploma student with the Wine & Spirit Education Trust and an IntoWine Featured Writer.   
------------------------------------------------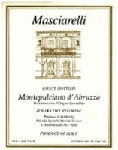 I have never been fond of the term "pizza wine".  We drink some of our best wines with homemade pizza with any number of traditional and non-traditional toppings.  I do understand the concept though.  After a long day, picking up a pizza (or getting it delivered) is convenient.  One wants a wine that goes well with the food but is not necessarily a wine that needs contemplation.  Or perhaps it is just a wine to order at the local pizzeria that will not break the bank.  Either way, for me, that means Italian wines.  Why?  I could say because they have the acidity to meld with the food and enhance the gustatory experience.  While that would be true, for those casual times it is more a factor of fun and theme.  Pizza is Italian, so why shouldn't the wine be.  Some ideas immediately come to mind; Chianti's are very good wines these days.  A Taurasi from the region of Campania, the home of pizza would also work.  I am going to recommend, however, a Masciarelli Montepulciano d'Abruzzo.  Anything from 2003 or more recent vintages are fine.  This basic bottling retails for under $10 and should be affordable even at restaurant markups.  This is an earthy wine with lots of robust smoked cherry and dark cherry flavors.  It has a great backbone of acidity that will bring out the best in your pizza.  The owner of the winery recently passed away (in his early 50's), so if you like the wine, raise a glass for him too. - Loren Sonkin, IntoWine.com Featured Contributor and the Founder/Winemaker at Sonkin Cellars.