Top Wine/Food Pairing Restaurants in the Napa Valley
CHEFS AND SOMMELIERS REVEAL THEIR FAVORITE PAIRINGS

Enthusiasm radiates from their lips, as some of the most innovative chefs and sommeliers in the Napa Valley describe their most smashing wine/food pairings, whether recently concocted, or so reliable that they have become a permanent fixture on their tasting menus.

Seasoned restaurant professionals not only uncover their wonderful wine and food combinations, but also explain a bit of the process behind their achievements.

At the end of the article, look for your handy guide to many of the Napa Valley restaurants specializing in wine and food pairings.

AUBERGE DU SOLEIL, RUTHERFORD
Spiced Lamb with Black Olive Jus paired with Merry Edwards Russian River Pinot Noir

The Chef: Robert Curry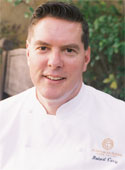 "Pinot is a perfect choice for lamb—a little bit of ripe fruit and a touch of spice, rounded out by a little earth. The black olives in the jus really complement the complexity of the wine, balancing the fruit from the pinot with the earthiness of the lamb." Curry's close second choice to the Merry Edwards pinot noir is Domaine Serene pinot from Oregon.

To arrive at successful pairings, Chef Curry first visualizes the dish to get an initial feeling of what wine would be its perfect mate on the palate. "I can usually select a wine from just knowing what is in the dish, though I might try a few to get there. I usually go back to my first selection, judging that typically, your first instinct is always right." He believes that, although sommeliers may start with an exact winery and vintage, chefs tend to begin with the varietal and gradually refine that choice until they arrive at a great pairing.

Chef Curry started in the kitchen when he was 18 years old and has continued for 26 years, always looking forward to the next step and where he can take his cuisine. Curry's experience includes work at such prestigious establishments as Wine Spectator Greystone Restaurant at the Culinary Institute of America. Prior to that, he spent eight years at Domaine Chandon, where he made a name for himself. He also launched the Flying Fish Café, an upscale restaurant at Disney World in Orlando.

Auberge du Soleil is not only a magnificent dining experience, but a full resort including a spa and comprehensive outdoor sculpture gallery. The restaurant was already a sensation after it opened in 1981, and when the inn opened in 1985, San Francisco restaurateur Claude Rouas' vision was realized.
CUVÈE, NAPA
Traditional Rigatoni Bolognese paired with 2004 Black Cat Vineyards Family Cuvee (a Syrah/Cabernet blend)

The Wine Director: Lucas Henning
"The cabernet hinted with softer fruit tones and the syrah provided the body and earth tones, which really played off the sauce on the pasta."

Bolognese is typically paired with an Italian wine (Sangiovese or Chianti) but the mineral aspect in the Family Cuvee expressed itself well, and the pepperiness shown in the Syrah worked perfectly with the dish. The Bolognese is traditional with beef, pork and veal, and this one does include a small amount of liver, quite important to the wine.

"Here is a fun example of taking a pasta dish and using an over-the-top wine to accentuate the great flavors."

Generally, Mr. Henning works with Chef Octavio Barrera to create the winning couplings, tasting various wines with a dish before settling on one. The two start with the varietal, then take one step further to identify the specific winery with the best profile. Henning especially enjoys matching an unexpected wine with a course.

"My number one rule for pairing: throw all rules out the window because there aren't any!"

Lucas Henning worked at the Hotel Pattee in Perry, Iowa, and the famed Commander's Palace in New Orleans before getting his big break working for Emeril Lagasse at the Delmonico location. With his passion for wine taking hold, he was promoted to Assistant Sommelier and then upgraded to Emeril's Orlando, where he ran the wine program. When he landed in the Napa Valley and furthered his oenological studies, he began to see wine in a new light.

Cuvée offers wine and food pairings at their special wine dinners. In the nine months the restaurant has been in existence, Henning has hosted five special dinners, most recently, the Fireside Dinner in February. Cuvee's tag line is Food and Wine in Harmony.
For more than 25 years, The California Wine Club founders Bruce and Pam Boring have explored all corners of California's wine country to find award-winning, handcrafted wine to share with the world. Each month, the club features a different small family winery and hand selects two of their best wines for members.