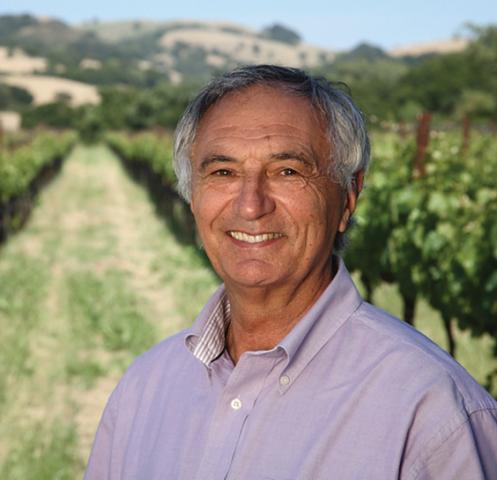 Mentored by his father, a technical director at Château Lafite, Bernard Portet grew up tasting each wine vintage. Born in Cognac, his family has owned vineyard property in France since the late 1600s.  A firm believer that making wine is all about a specific place, Portet's journey led him to the United States, Australia, Morocco, South Africa and South America. Due to the similarities of several of his favorite wine regions in France, it was California's Napa Valley that inspired him. With a clear vision of the potential of the Napa Valley, in 1971 he co-founded Clos du Val. He pioneered several Napa Valley regions and developed a keen focus upon the Stags Leap region. Portet remained at Clos du Val for more than 35 years. His latest wine label, Heritance launched in 2011.
What prompted you to pursue winemaking as a career? If not winemaking, where do you think you might be right now?
I was born and raised in France, in a family which had been growing grapes and making wines since at least the late 1600s. I always enjoyed working in the vineyards during summer vacations, following my father while he was walking the vineyards or tasting wines with him and learning from his comments. In fact, my first love was viticulture. However, as I learned to appreciate what was behind a wine, I decided to pursue my education in Viticulture and Oenology. Now, I have been in this Viticulture and Winemaking business since 1972. It is hard to guess what I would have done. I suppose I could have stuck to Viticulture and Vineyard Management. Agriculture was definitely my area of interest, and it was in that field that I wanted to work. If I had followed that course, I most likely would have then spent my professional life in France.
When you started Clos du Val in the 1970s Napa was a very different place. Given today's wine regions and better understanding of AVAs, if you had to stake out ground, where would you begin another winery and why there?
When I originally searched for a place to make wine in the late 1960s, I looked all over the world. Ultimately, I chose the Napa Valley where I co-founded Clos du Val. Napa, and the whole industry of viticulture and winemaking, has changed dramatically since the late '60s. In those days, grape growing and winemaking were two different things. There was not much connection between one and the other. The notion of terroir did not exist. The emphasis was on varietal characteristic and intensity, not on complexity through an assemblage of different varieties. With what I know now, I still think that Napa Valley is a pretty good choice, although the opportunities are limited and very expensive. I still like the singular characteristics of the Stags Leap District, the depth of its wines, the soft tannins, the velvety, sometimes silky, element and the freshness of the wines, especially brought by the Merlot. Going beyond Napa Valley, still looking at the Bordeaux red varietal, I think that Alexander Valley produces soft and elegant Cabernets. Washington State Cabernets show great potential and I do like very much the potential of viticulture of Chile and many of the wines produced down there. Plus I would not mind living down there! I also like the potential of quality of Northwest Spain and North Portugal.
Given today's rush to get wines to market, or an over dependence of oak, is the idea of terroir fully fleshed out in most American wines?
I believe that there are two ways to answer this question. If the definition is that technology is risking overtaking the expression of the terroir, I would definitely agree that it is happening, but not only in the United States. In my view, it is very difficult to let the terroir express itself when so many grapes are harvested too ripe. It also becomes difficult to recognize the varietal typicity. The saddest part for me is that there is what I would call an international taste of wine. I mean that big wines, juicy, sometimes on the sweet side, with more or less oak, are very similar whether from California, Australia or South America. Some of the American Pinot Noirs are so powerful and alcoholic that they remind me more of Grenache than of Pinot Noir. The quality of the wines, all over the world, has improved dramatically in the past 40 years, thanks to the development and good use of technology. But I hope that the industry comes to terms with the over-use of technology that is sometimes so apparent and may hide the expressions of the variety and of the terroir. Some may say this is the modern expression of the variety. I am afraid that I must sound like an old man in a quarrel between the Ancient and the Modern!
Explain a little about Heritance and assemblage winemaking, and is this a superior method for making wine?
The Assemblage method of winemaking is as old as winemaking itself, I suppose. But every winemaker uses it with a certain objective. I was born and raised in the Bordeaux region of France where all wines are an assemblage of varietals, in different proportions according to each chateau and to each vintage. The idea is to make the best and most complex wine from the property in the style long established by the chateau. The emphasis is not on the varietal character but on the complexity and balance. This is exactly the approach that I have when I make a wine for Heritance. Our current Cabernet Sauvignon release is an assemblage of Cabernet Sauvignon and Merlot. I may add some other variety to a future release if I sensed that the final blend of the Cabernet Sauvignon would be better with the addition. However, if you approach winemaking with the emphasis on varietal, one can achieve a more true-to-variety wine yet with some complexity if one blends the same variety from different locations, clones, etc.
Describe for us your winemaking philosophy.
Although some of my winemaking philosophy has been referenced in the above answers, I do make wine with the ultimate objective of achieving the best expression of the terroir through the use of specific varieties best adapted to that terroir. Most of all, I do make wine to go with the appropriate dish, keeping in mind that each of us has different taste. I do appreciate a wine that is well balanced, with a soft entry, well centered, with a good structure and as much complexity as possible and with a long finish, the flavors of which will persist while the flavors of the food melt away. Enjoyment of wine has to be the result of a perfect symbiosis between the wine and the food flavors
What wine varieties would you like to see the public embrace more fully and why?
There are plenty of varieties that are excellent but seem to have difficulty being embraced. Pinot Noir is finally getting some well-deserved acceptance. Pinot Noir is a very delicate variety, most elegant, but I find that some of the successful Pinot Noirs are too powerful for my liking. It is a distortion of what I think the variety is all about. Syrah deserves more success. Riesling and Gewürztraminer are exciting wines which go well with many dishes. There are plenty of Sauvignon Blanc wines in many styles and yet Sauvignon Blanc does not get the success it deserves. There are some other beautiful varieties such as Arneis, Albariño, Cabernet Franc, Mourvèdre, Grenache and Nebbiolo, and many more. But their success will come only little by little as the result of much education and personal experiences.
Much has been written and debated concerning the 100 point rating scale. Some say it has empowered consumers, others claim it has distorted wine prices, while still others say it has actually changed the quality of wines being produced. What do you see as being the long term impact of the 100 point rating system?
This 100-point scale was really adapted to the American system and mentality and that has to be the reason for its success. It represents something absolute. For me the issue is that tasting wine and appreciation of a wine is something very personal. Whatever note a wine gets is only an instant appreciation of the wine at that very moment in those very tasting conditions. If you taste the wine in a blind tasting of 25 other wines, chances are that the most powerful wine will get the most points. Wine appreciation is very subjective. And even in a blind tasting line up, one is influenced in the evaluation of a wine by the taste of the wine one tasted just before.
So, I do agree with your suggestion that this 100 point scale has led to the production of more powerful, more extracted wines but it has also been a great tool in grabbing the attention of the consumer. I do not know that it has given power to the consumer but it has certainly given much power to certain wine critics. On the other hand, I would view that scale as a better one and certainly more useful and helpful to the consumer if it was using the whole 100-point band rather than generally the 85 to 100 band. The French often use a 20-point scale but through a much broader range. A 16-point wine is well considered and that is only an 80 on the 100-point scale. It is true that this scale has a direct impact on the prices of the wines which get those very high points. It is a fact but there are plenty of very enjoyable wines, and some very good deals on wines, that are in the eighties, and usually much better price and therefore much better values to the Consumer.
Rising wine alcohol levels in U.S. and foreign wines are a hot topic these days in wine circles. What are your thoughts on the subject?
I have to say that since I started winemaking, quite a few years ago, the climate has changed to the warmer and yeasts seem to have become more efficient in transforming sugar into alcohol. Both have combined in the production of more alcoholic wines, all over the world. For my part, I am not keen on overly alcoholic and overly extracted wines. They usually do not go well with the meals I typically enjoy. Plus, I find them more tiring than I like. But plenty of people like them, as they are selling quite successfully. I suppose it is a question of personal taste.
You have worked in the Napa Valley for nearly four decades and undoubtedly seen many changes. Is there any other region in California that will eventually rival Napa in terms of prestige?
The success of Napa Valley is not an accident. It is the result of efforts at both the technical level and at the marketing level of some key leaders in our Valley who have worked together for very many years, shared information, exchanged ideas and methods in a very open way since the 1940s: The Mondavi's, Lou Stralla, Chuck Carpy, the Trinchero's, Jack Davies, Bob Travers, André Tchelitscheff, the Martini's, etc., and whose successors are now represented by the Napa Valley Vintners. Indeed that spirit of cooperation did strike me as most unusual and is still ongoing. That is the reason of the success of Napa Valley: the Power of One. I am sure the same spirit does exist in many other places but I really cannot predict if such can be duplicated. However, this is not to say that the Napa Valley does not have rivals: Oregon and Washington, New Zealand, Chile, Argentina, Australia, Europe keep challenging the vintners of Napa Valley with Pinot Noir, Cabernet Sauvignon, Sauvignon Blanc, Malbec, etc. And this is good because from that challenge will come better and better wines from a wide variety of places, which, ultimately, will be best for the Consumer.
You have made wine on four different continents over the years. What similarities do the major world class wine regions have in common?
The major development of the past 25 years is that winemakers and viticulturists have traveled all over the numerous winemaking areas of the world. Many have thus acquired a real worldwide experience and knowledge of different methods and philosophies of winemaking. This has led to internationalization of winemaking approach and of use of technology. On the other hand, there is no winemaking region in the world which is exactly like another one. Each terroir is different. And I would say that the major challenges of the winemakers today is to ensure that the use of technology does not hide the expression of the varietal typicities in the very diverse terroirs of the wine regions of the world. The major similarity is found in the people who are involved in the making of the wines all over the world: It is generally a nice group of men and women who are passionate, dedicate themselves to the production of the best wines each thinks he or she can achieve under their specific conditions and who love life, good food, good wines and whose company is always enjoyable and rewarding.