50 California Central Coast Wines You Should Be Drinking Right Now
The California Central Coast, identified as Santa Barbara, San Luis Obispo (and its main wine region Paso Robles) and Monterey is California the way it used to be, or at the very least, California the way people want it to be: small towns, charming architecture, varied history of Missions and Indians, and coastlines for miles; a slow pace, clean air and a belief that no one real really works very hard. But the area has been home to grape growing since the Spanish brought vine cuttings from Spain via Mexico in the late 1700s and winemakers and vineyard managers have been working hard ever since.
To celebrate this beautiful region IntoWine.com offers these 50 wines that represent the diversity of the California Central Coast.

Adelaida Estate Rosé 2015
Take Grenache, Carignan, Cinsault, Mourvèdre and Syrah and tell them to act like they were grown in Provence and you'll have an idea of this Paso Robles wine accomplishes. Lean and crisp with pomegranate, lemon curd, kiwi-lime and raspberry notes, this very non-California rosé speaks to the power of how terrific rosé can be made most anywhere, and how there is a wine for every table. ($20, adelaida.com)
VINEBOX is a monthly wine-by-the-glass membership club. Members receive a curated box containing three glasses of wine from all around the world. Each shipment also contains tasting notes, pairing suggestions and some fun facts about where the wine came from. Explore new regions, learn about taste preferences, and get ready to find a few favorite wines with VINEBOX.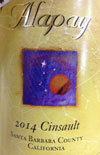 Alapay Cellars 2014 Cinsault - Santa Barbara County
Alapay makes small lot wines from Santa Barbara and San Luis Obispo County fruit and, given their direct to consumer approach, you don't often run across their wines. Typically Cinsault is not a stand-alone wine, however this wine offers soft red raspberry, strawberry and cherry leading into a bright light as a driven wine with pomegranate and slight blueberry notes Just 262 cases. ($30, alapaycellars.com)

Albatross Ridge 2013 Estate Reserve Pinot Noir
Using clones of 777, Pommard, 115 and 828, this Pinot Noir hailing from the Carmel Valley in Monterey County, at elevations of 1,200 feet redefines its neighbor on the backside of the hills the Santa Lucia Highlands. The Carmel Valley is beginning to hit its stride and with this Pinot you'll find classic nuances of strawberry, cola, cedar and raspberry, black berry soften the palette with a more lush and viscous expression of Pinot. This is that delicate, seductive iteration of Pinot that you crave, coming from an unlikely spot. 375 cases. ($55, albatrossridge.com)

Alta Colina 2014 12 O'clock High Viognier
This family owned winery shows just how excellent Rhone wines can be when they hail from higher elevations in Paso Robles. Owner Bob Tillman presides over a ridge top vineyard 600 feet up. The aromatic notes of pineapple, lavender, honeysuckle and quince in this lovely Viognier give way to a palette experience of sweet resin, almond milk, rose petal, cedar, limoncello and sweetened green tea with a silky viscosity and richness that make it a delicate wine, not an floral bomb. ($35, altacolinawine.com)

Brander 2014 Mesa Verde Sauvignon Blanc
Fred Brander has been a champion of Santa Barbara Sauvignon Blanc for nearly four decades and is the de facto maker of this grape, producing six different iterations. He crafts oaked and un-oaked versions and the Mesa Verde is classic Santa Barbara with notes of sweet grass, lemon meringue, quince, limoncello and a bright acidity. ($25, brander.com)

Cambiata 2012 Tannat
Tannat is one of those unconventional and trendy grapes yet few who make it have any clear idea of what to actually do with it. Happily, the folks at Cambiata in Monterey age this sucker for 28 months, something Tanat needs given its incredibly tannic structure. But beyond winemaking trickery, this Tannat is an exceptional wine. You get immediate rich boysenberry, eucalyptus, cedar and lavender, blackberry, anise and leather. It's a delightful wine that is treated properly - rich and opulent but still slightly rustic as Tannat should be. ($35, cambiatawinery.com)

Castoro Cellars 2013 Reserve Petit Verdot
Petit Verdot is one of those odd-ball grapes that people either love or hate, yet this Paso Robles based winery turns out an amazing Petite Verdot that will unify everyone. This seductive red offers fully restrained fruit like dark cranberry, black cherry, a smoky coffee note and solid oak that supports what normally is a very tannic wine The result is a surprisingly enjoyable wine that will work with a variety of foods. ($30, castorocellars.com)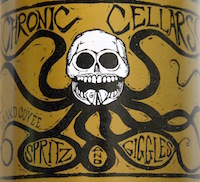 Chronic Cellars Spritz & Giggles
Two brothers steeped in wine country decide to branch out from their family's successful Paso Robles winery and start something new. And Chronic was born - a portfolio of wines priced for everyday drinkers. What starts out as a sweet sparkler with candied apple and toffee turns to a more mature version of resin, biscuit and green apple with a hefty bubble count. This is light, fun, great value, and you don't find too many Sparklers on the Central Coast. ($15, chroniccellars.com)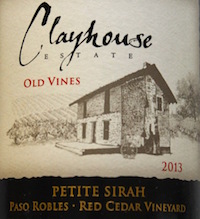 Clayhouse 2013 Estate Old Vine Petite Sirah
Hailing from the more jammy version of Petite Sirah without the stiff tannic structure, this lovely wine shows that PS can be graceful and engaging. Planted in 1969 and still on its own roots, this offers up black berry, blueberry, black cherry, sweet resin and baked apple with a heft of soft round tannins, giving this wine some meat on the bones without being a full fledged domineering red. ($30, clayhousewines.com)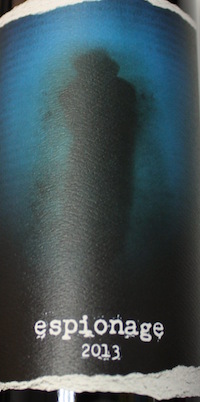 Cloak & Dagger 2013 Espionage
This single vineyard Malbec from Paso Robles made a measly 75 cases but they should have made much more. If you think you know Malbec, you'd better think again. A seamless combination of boysenberry, black berry, pomegranate, black cherry, cedar and a back note of eucalyptus, sweet coffee and a mild acidity that competent this rich, deep and wonderfully sumptuous red. ($30, cloakanddaggerwines.com)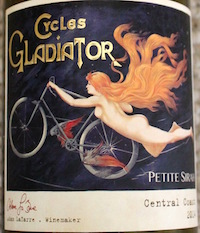 Cycles Gladiator 2014 Petite Sirah
The heroic Cycles Gladiator Petite Sirah is a fully fleshed out uber rich and ripe wine made from mainly Petite Sirah with a small amount of Syrah to tame it just a bit. The dominant blackberry, cherry and black cherry are unrelenting and unforgiving, pulling no punches, however it also offers back notes of cedar and cola, and will make you feel like a gladiator. This shows that good wine need not be prohibitively expensive. ($12, cyclesgladiator.com)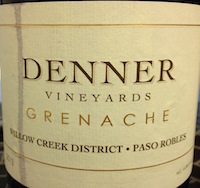 Denner 2013 Grenache
Winemaker Anthony Yount has a talent of making terrific wines on a consistent basis. His Grenache (with 4% Mourvèdre and 4% Syrah) is a whole cluster fruit, foot-stomped wine aged in neutral oak and concrete tanks. What? The result is a wine with power, structure and grace. There is rhubarb, boysenberry, leather, resin and cedar, subtle nuances of floral and spice, a toss of campfire bacon cooking outdoors and a silky texture you'd swear was manipulated, but it's all pure and real. ($65, dennervineyards.com)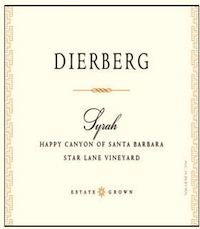 Dierberg 2013 Happy Canyon Syrah
Jim and Mary Dierberg have helped place Santa Barbara's Happy Canyon on the map. This Syrah is ripe and potent blackberry, boysenberry, blueberry, cedar and a strong acidity and leather/resin back note. This is a powerful wine, not shying away from it's warm climate roots, though it drinks more like a cool climate with a solid structure. ($40, diergerbvineyard.com)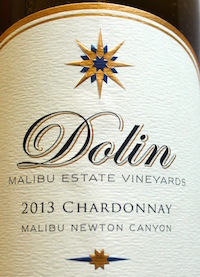 Dolin 2013 Malibu Chardonnay
Yes, we know that Malibu isn't exactly the Central Coast, but Malibu is a viable wine-growing region, kind of like the tail of the Central Coast with two of its very own AVAs. The red wines coming from Malibu are still on the learning curve, however the Chardonnay grown on the Dolin property turns out terrific cool climate Chardonnay and shows just how good Malibu Chard can be. This offers sweet cut grass, almond and resin, apple, lemon curd, and vanilla with a back note of peach and green apple. ($39, dolinestate.com)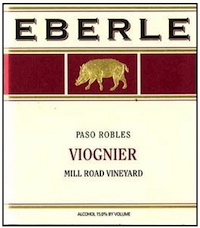 Eberle 2015 Viognier
If Gary Eberle never left Pittsburg, chances are that Paso Robles would not be as important as it is today. The godfather of Paso, Eberle wines are consistently some of the best in the region: to wit, their Viognier shows the lovely delicate subdued perfume and floral notes without being heavy handed. There is apricot, orange blossom, peach, honeysuckle and a beautiful acidity, showing that Viognier from the Central Coast can be magnificent. ($26, eberlewinery.com)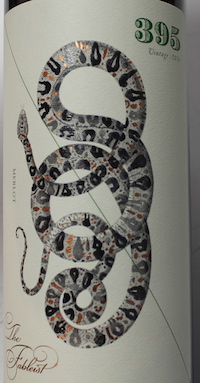 Fabelist 2014 Merlot
A user-friendly Merlot from Paso Robles, this terrific value wine will help dispel the myths that Merlot is a one trick pony. With blueberry, a hint of blackberry and black cherry along with cedar and a mild pepper spice, this is an easy drinker. The tannic structure is tame and the acidity is mild making this the kind of wine that fits most everyone. This is beautifully simple and loaded with flavor. ($20, fabelistwine.com)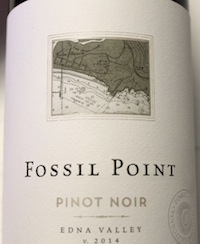 Fossil Point 2014 Pinot Noir
Tiny Edna Valley in San Luis Obispo County shines with this amazing value Pinot, which provides incredible value and what is probably the best Pinot at this price you'll find. Black current, dark cherry, raspberry, sweet oak and a line of acidity run through this enjoyable every day wine, supported by limestone soils, proving that Pinot Noir need not cost a lost of money. ($20, centerofeffortwine.com)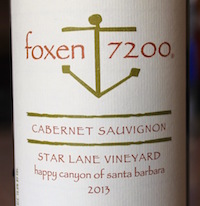 Foxen Winery 7200 Cabernet Sauvignon
Foxen is a stalwart of the Santa Barbara winery scene and this hand-harvested 100% Cabernet from Happy Canyon offers up bright juicy red fruit like blackberry, boysenberry, and black cherry, but also provides a sensual mouth feel with a hint of eucalyptus and soft, complementary oak notes creating an interesting back palette on the wine. It's rich, juicy, and full-bodied and just 224 cases. ($50, foxenvineyard.com)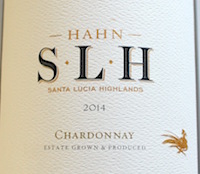 Hahn SLH 2014 Chardonnay
The Santa Lucia Highlands in Monterey are prime spots for Pinot and Chardonnay, with fruit coming from the mountain side above the warm Salinas Valley floor. This lovely, viscous Chardonnay and with bright notes of caramel apple, sweet resin, honeysuckle, crème brulee and lemon/lime this shows a restrained use of oak while allowing a delicate minerality to come through ($25,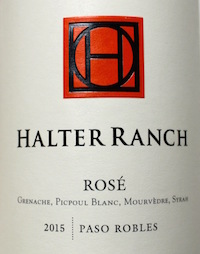 Halter Ranch 2015 Rosé
Paso Robles does many things well and it's only now getting into the rosé game. Fortunately Halter Ranch has been making a terrific rosé for a while so everyone else has something to emulate. This blend of mainly Grenache with a modest amount of Picpoul Blanc and lesser amounts of Mourvèdre and Syrah was stainless steel fermented resulting in notes of strawberry, watermelon, light meringue and a tropical kiwi and lime with a proper acidity. ($21, halterranch.com)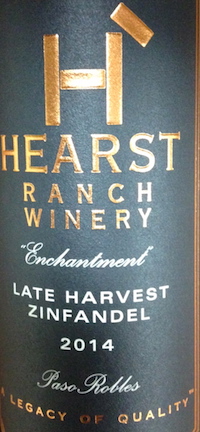 Hearst Ranch Enchantment 2014 Late Harvest Zinfandel
It's not hard to make a late harvest Zinfandel, in fact in Paso Robles they practically make themselves. What is difficult is to make one that actually is comprehensive, not overly sweet and offers complex layers of fruit. The Hearst Ranch is all blackberry, blueberry and boysenberry, with a wonderful spicy note and beautiful amounts of oak. It's all viscous and subdued jam, and a sweet end to your enchanting night. ($30, hearstranchwinery.com)
Holman Ranch 2013 Virgin Chardonnay
The Santa Lucia Highlands is what most people think about when they talk Monterey wine. Known as the "bench" it is perched over the Salinas Valley. But deep inside the Carmel Valley, just outside of the tony village of Carmel, grapes have been grown since the 1980s. This un-oaked Chardonnay surprises with bright, crisp fruit, minerality and acidity. There is lemon-lime, pineapple, blood orange, honeysuckle and sweet resin along with a healthy finish. ($23, holmanranch.com)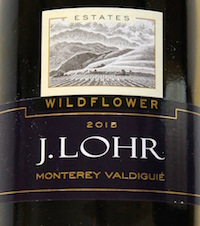 J. Lohr 2015 Valdiguie
Jerry Lohr is one of the godfathers of the Paso Robles wine industry and took an interest in the area in the early 1970s as a viable wine industry. Back then many grapes were planted without regard to viability. This Valdiguie went into the ground but came out shinning. Think of this wine as America's Beaujolais Nouveau, a simple, fruity, pleasant wine. This offers light boysenberry, black cherry, white pepper, pomegranate and soft floral notes in an easy to drink package. ($10, jlohr.com)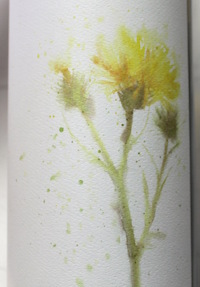 Kinero 013 Grenache Blanc Alice
Grenache Blanc has a habit of being a little hollow but with Anthony Yount behind this expression, he's turned out an ethereal wine with huge richness without being gloppy. Fermented in concrete egg to provide an oily, tactile expression, this wine offers a beautifully clean nose of mild mango, kiwi, lime gives way to a viscous acid driven wine with unapologetic meringue, lime curd, chaparral, and sage with back notes of resin, lemon verbena and granny smith apple. ($22, notplonk.com)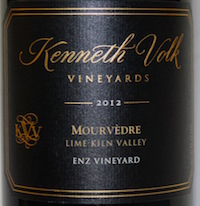 Kenneth Volk 2012 Mourvèdre
Ken Volk has a thing for oddball varieties. The Enz Vineyard Mourvèdre is one of the oldest plantings in California, going back over 90 years. These head-trained vines produce a beautiful, well-balanced crop of small-berried clusters grown in limestone-laden soils. The nose of this wine is ripe with rhubarb, black cherry and cedar giving way to cherry, green apple, pomegranate and sweet almond with a bright, clean acidity and a surprisingly lengthy finish with a wisp of licorice. ($36, kenvolkwines.com)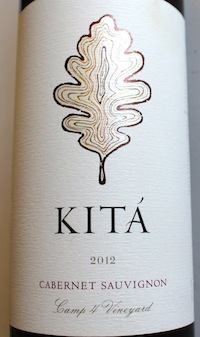 Kita 2012 Cabernet Sauvignon
Kita is a young winery and it is on the rise. Part of this is due to its Chumash Indian ownership, and more impressively that winemaker Tara Gomez is the first American Indian female winemaker in the US. Aside from that this Cab shows the Camp 4 Vineyards (so named because of its passage route from as the fourth stop from San Francisco to Yuma) quite well with its ruby red color, cherry and, huckleberry and rhubarb notes and a lean line of acidity running through it. It's ripe, juicy and the type of easy-going Cabernet that's perfect for pizza night and backyard bbq. ($40, kitawines.com)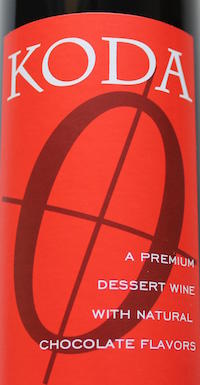 Koda Chocolate Port
With the first whiff of this you know you're getting an amalgam of chocolate and wine, and that's good as it is in the title. This supplies a wine with infused chocolate but it doesn't give up the wine notes that other iterations of this thing do. There is the acidity, the black cherry, back berry and the sweet, but restrained cocoa. Unusual and unusually well crafted, your duel urges have been satisfied. ($16, tarricawinecellars.com)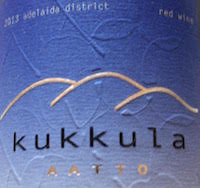 Kukkula 2013 Aatto
This organic dry farmed vineyard in Paso Robles yields up Counoise, Mourvèdre and Grenache in a seamless amalgam to craft a wine replete with pomegranate, rhubarb, a slight tart cherry, boysenberry, gooseberry, a subtle oak note and a bright acidity driven more by the Counoise than anything else. It's not a heavy either, being more food relatable and supple, yet with an underpinning of strength. ($40, kukkulawine.com)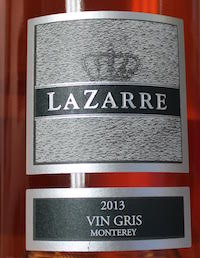 LaZarre 2013 Vin Gris
Adam LaZarre has created many iconic wines but his Monterey based Vin Gris of 100% Pinot Noir shows his softer side. Extensive lees aging and resting in older oak barrels for nine months gives this pink a structure and minerality often lacking in rosé. There are subtle flavors of cherry, strawberry, rose water, a hint of black cherry and quiet caramel and cedar. Just 98 cases were made and Adam claims he drinks much of those himself, so get some bottles while you can! ($18, lazarrewines.com)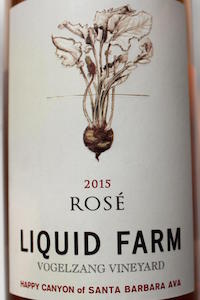 Liquid Farm 2015 Rosé Mourvèdre
Santa Barbara is so hospitable that most anything can grow there. The Vogelzang Vineyard in Happy Canyon has long produced stellar fruit and this Mourvèdre (and 5% Grenache) beauty is all pomegranate, black cherry, rhubarb, resin, a potent minerality and nice acidity, making it a heavier pink, shunning the light and bright mentality and aiming for a wine able to stand up to a variety of foods. Liquid Farm is tough to find because it's become something of a phenomenon. ($27, liquidfarm.com)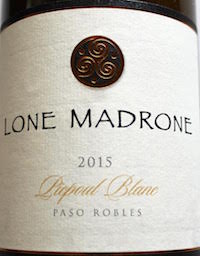 Lone Madrone 2015 Picpoul Blanc
With two vineyard sources from the cooler Westside of Paso Robles, this was fermented in 60 gallon barrels with native yeasts and native malolactic then rested on its lees for a few months. The result? There are notes of lemon meringue, quince paste, honeysuckle, dandelion, and green apple, all of which flood the palate. Along the way there is a bright acidity that Picpoul is known for, making this a refreshing wine. Just 100 cases. ($37, lonemadrone.com)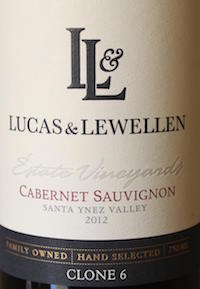 Lucas & Lewellen Cabernet Sauvignon Clone 6
One of the early pioneers of the wine region, Lucas & Lewellen produces a wide variety of wines, but this clonal specific wine outshines them all. Blackberry, blueberry, boysenberry are make their presence known. There is a beautiful acidity ringing through this with dark cherry notes, seductive tannins and a nice minerality. And what's also cool is this gets better over night or with enough airtime. Not many people devote themselves to Cab Clone 6 and this is an exquisite wine that deserves your attention. ($48, llwine.com)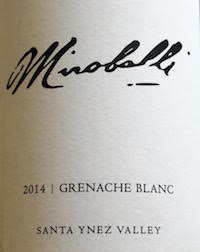 Miroballi 2014 Grenache Blanc
From the Santa Ynez Valley comes this small lot wine, under 1,000 cases, with a bright, crisp and lean acidity and nuances of lemon verbena, lime zest, tropical notes of mango and pineapple and a clean finish that makes this idea with food as its ideally made to not overpower anything. Winemaker Michael Miroballi has crafted a unique and exuberant wine that invites you someplace off the beaten path. ($25) NO WEBSITE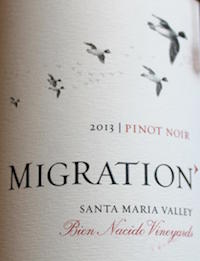 Migration 2013 Pinot Noir Santa Maria Valley
The Migration labels pulls fruit from a variety of sources as the name might imply, typically Sonoma and Anderson Valley Pinot Noir. However this beauty comes from the best-known vineyard in Santa Barbara – Bien Nacido from two vineyards planted in 1973 and 1991. This offers structure, seductive red fruit like blueberry, strawberry and boysenberry with a hints of black cherry and sandalwood enveloped in a viscous wine with a sprightly acidity and supported by all new French oak, resting comfortably for 11 months. ($68, migrationwines.com)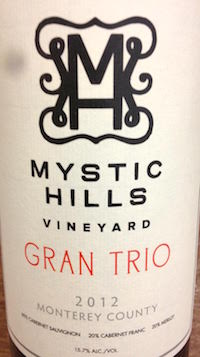 Mystic Hills Vineyard 2012 Gran Trio 2012 Monterey county
Though based in San Miguel just north of Paso Robles the fruit from this blend comes from Monterey made of Cabernet Sauvignon, Cabernet Franc, and Merlot. The judicious use of oak supports blackberry, black cherry and boysenberry fruit with a smooth and silky mouth feel - surprising that this comes from the confines of Monterey where Bordeaux does not excel. But the folks at Mystic Hills are on to something, Bordeaux by the Bay, and this is a surprisingly well-balanced and enjoyable wine. ($25, mystichillsvineyard.com)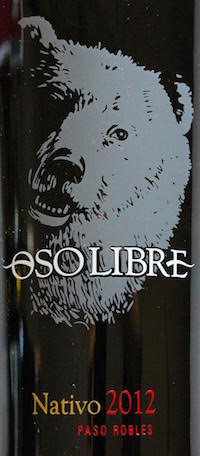 Oso Libre 2012 Nativo Primitivo
With grapevine roots deeply embedded into limestone soils on the Westside of Paso Robles, this 100% single vineyard estate Primitivo is their signature bottling. What sets this apart is that the normally thin Primitivo from this region is given a girth from solid fruit and an extra helping of oak. The result? Sweet cedar and raspberry along with boysenberry, blueberry and menthol notes combine with a mild acidity to bring forth lovely floral and spicy back notes. Think you know Primitivo? You'd better rethink this.($45, osolibre.com)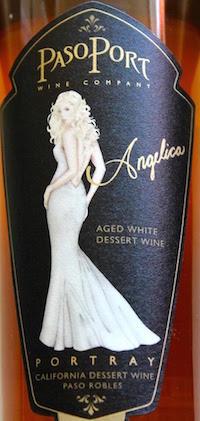 Paso Port Angelica
An aged white Port made from Verdelho, Muscat and Chenin Blanc, this avoids the hefty sweetness of most dessert wines and instead relies on a cool nuttiness, more similar to a Tawny Port. There is baked apple, sweet cedar, sugared lemon meringue, candied pineapple and honeyed resin. Delicate, satisfying and a must try, Paso Port is turning out a stellar variety of sweet wines that will convert anyone. ($45, pasoportwine.com)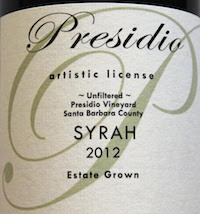 Presidio Winery 2012 Syrah Artistic License
Winemaker Doug Braun is one of the unheralded heroes of Santa Barbara wine country, using biodynamic and organic techniques at his Lompoc vineyard, a former gun range, to bring out complex wines – an amalgam of Old and New worlds. His lovely Syrah offers rhubarb compote, boysenberry, sweet cedar, leather and muted black cherry and a wee bit of Viognier (3%) to make this cool climate Syrah a thing of beauty with back notes of spicy pepper and a lingering viscosity and finish. It sings of comfort and purpose. ($39, presidiowinery.com)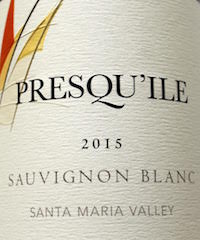 Presqu'ile Winery 2015 Sauvignon Blanc
So you take 100% Sauvignon Blanc from a fairly cool region of Santa Barbara, age it out in a mix of concrete egg, stainless steel and neutral oak and you get this: a bright, clean wine with grapefruit and lemon-lime, green apple and mildly tart cream cheese along with a palpable viscosity, focused acidity and lengthy finish. It's classic Santa Barbara with a twist. ($22, presquilewine.com)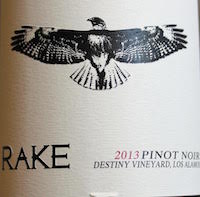 Rake 2013 Pinot Noir
A small three-acre vineyard, named Destiny, in the unlikely spot of Los Alamos in Santa Barbara County produces both Pinot Noir and Chardonnay. Rake is an unusually subdued Pinot Noir with a cool minerality to acidity ratio, and quiet fruit like deep boysenberry, blueberry and black cherry - almost unnoticed - with a hushed expression of pomegranate and rhubarb, all aged in neutral oak for 22 months. ($35, rakewine.com)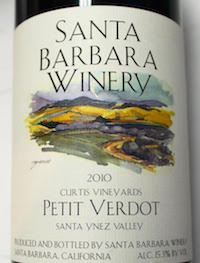 Santa Barbara Winery 2010 Petite Verdot Curtis Vineyard
Petite Verdot is an outlier, typically only a blender; it has become a darling of nerds and, well, other outliers. But when treated properly, PV can make for a truly interesting wine. This iteration is ripe with cool acidity, boysenberry, eucalyptus, sandalwood, rose water, bay leaf and black cherry with a staunch acidity. It's surprising, intriguing and way off the beaten path. ($30, sbwinery.com)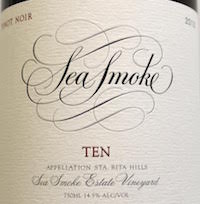 Sea Smoke 2013 "Ten" Pinot Noir
Using 10 different Pinot Noir clones from their estate vineyard in the Santa Rita Hills, Santa Barbara based Sea Smoke has created an allure with their wines. This cool region helps craft a wine that is full of soft raspberry fruit, cola, cedar, resin and pomegranate, supported by a strong but subtle acidity. The wines hangs around on the palate, making the experience of drinking this lovely wine a ten in and of itself. ($80, seasmoke.com)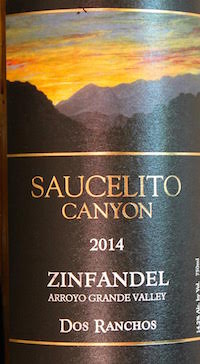 Saucelito Canyon 2014 Dos Ranchos Zinfandel
Far too often Zinfandel gets a bad rap as a jammy berry bomb, a one trick pony with no saddle. Not so with the nuanced Zins coming from Arroyo Grande's Saucelito Canyon in San Luis Obispo County. Plum, black cherry, boysenberry, mild but noticeable tannins and an easy drinkability will make you rethink how good Zinfandel can be. ($34, saucelitocanyon.com)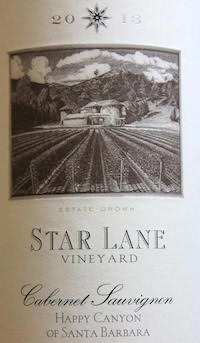 Star Lane 2013 Cabernet Sauvignon
Happy cows come from California and Happy Canyon wines come from Santa Barbara in, well, Happy Canyon, the area's warmest AVA, perfect for the sun-loving Cabernet grape. This offers up deep dark fruits, reminiscent of Napa, with black berry, black cherry, boysenberry, cedar, beautifully balanced tannins and acidity. You should be Happy. ($50, Starlanevineyards.com)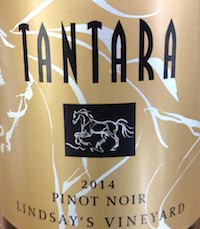 Tantara 2014 Pinot Noir Lindsey's Vineyard
Since 1997 the folks at Tantarra and been making terrific Pinot Noir, often under the radar. Using a variety of vineyard sites throughout the Santa Maria Valley, their Pinot Noir is de-stemmed and fermented in open top vats, using both native and prepared yeasts. Hailing specifically from the Santa Rita Hills, this lithe yet slightly muscular Pinot offers up black cherry, raspberry and boysenberry. With cool climate overtones of minerality, and slate with a very mild acidity, it offers an intriguing combination of old world flavors and tastes. ($65, tantarrawines.com)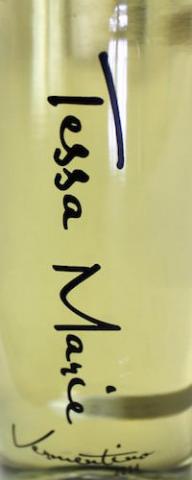 Tessa Marie 2014 Vermentino
When young, attractive Tessa Marie, a third generation winemaker in Santa Barbara, decided to make Vermentino, everyone thought she was, well, not thinking clearly. But her singular focus on Vermentino and Sangiovese has proved any doubters wrong. The result is a terrific wine full of complexity; subtle mango, resin, sage, quince, lemon-lime meringue, a wisp of pineapple, excellent acidity and viscosity. Typically under 200 cases. ($24, tessamariewines.com)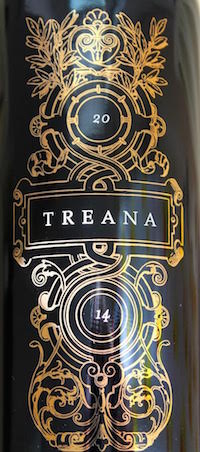 Treana 2014 Red
Blending Cabernet Sauvignon and Syrah in Paso Robles, the Hope Family, a fixture in Paso for nearly four decades, has routinely created one of the region's best blends. For 2014 the Treana is all black cherry, red raspberry and cedar, which dominate, followed by a smooth viscosity, mature darker yet vibrant ripe red fruits and earthiness to make a wine that expresses the sheer robust nature of many Paso Robles wines. Bold and forthright, the Treana consistently stands strong. ($45, hopefamilywines.com)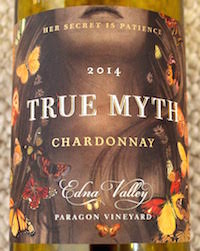 True Myth 2014 Chardonnay
Though San Luis Obispo County's Paso Robles gets the lion's share of attention, there are many spots like the Edna Valley turning out exceptional wine. True Myth Chardonnay from the highly regarded Paragon Vineyard less than six miles form the Pacific Ocean is that unwavering, unerring Chardonnay that stands like a rock, considering the vineyard is near several ancient volcanoes. With notes of apricot, lemon-lime, apple and sweet almond, pear and oak, this offers a nice viscosity and comprehensive mouth feel with a beam of acidity ($18, truemythwinery.com)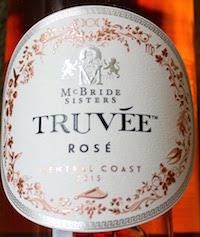 Truvee 2015 Rosé
Comprised mainly of Grenache, with small amounts of Syrah, Tempranillo and Roussanne out of Paso Robles this is an immediately likable rosé with overt notes of ripe strawberry, apple, sweet blackberry and perfumed, floral back notes of lavender, rose, and chaparral with a clean line of acidity running through it. The quaint bouquet of a spring garden makes this a unique wine with lingering scents. It is soft and delicate and dare we say, pretty. ($15, truveewines.com)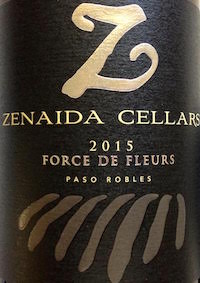 Zenaida Cellars 2015 Force de Fleurs
This blend of Viognier and Grenache Blanc is a charmer, a floral little number as its name implies. Barrel fermented it still retains a bright acidity and clean focus of flavors. The fruit and winery are located and harvested on the Westside of Paso Robles and this lithe pleasing wine shows pineapple, lemon meringue, candy apple, sweet cedar and a stellar viscosity. If you're not a Viognier fan, this might change your mind. ($32, zenaidacellars.com)