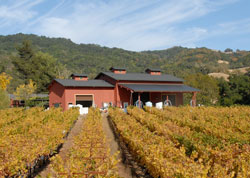 The winding, tree cocooned Redwood Retreat Road in Gilroy, California, snakes its way alongside Little Arthur Creek and steadily climbs up 600 ft. toward Mount Madonna. Once home to the widow of famed writer Robert Louis Stevenson, this southern neck of the Santa Cruz Mountains continues to lure day trippers, adventurers and cyclists. For two weekends each month, wine enthusiasts heed the call to likewise abandon their GPS and take this less travelled path to experience the award-winning wines of Martin Ranch Winery.
I, too, take the familiar turns of Redwood Retreat Road before pulling into the rough-hewn gates of the winery that is owned and operated by the husband-wife duo of Dan and Thérèse Martin. The winter rains have pummeled their grounds with near-Biblical proportions in this pocket of the golden state, but the clouds part as I slowly ascend up the dirt path on a February morning. Rows of rugged and dormant Cabernet vines greet me- their sturdy trunks reaching towards the sun the way my yoga teacher reminds me to correctly salute the sky in Urdvha Hastasana pose.
The vines' quadrilateral trellis systems glisten as I park my car next to them, and I see Dan Martin from a distance walking through his vines and giving them a careful assessment. Thérèse Martin, donning a plaid top and cowboy boots, makes her way over and greets me with a hearty 'Hi there!' and a big wave which she uses to usher me up towards their home. Diminutive in stature, Thérèse's high energy and go-get 'em attitude has served her well in this male-dominated, tough-as-nails industry.
As I follow her towards the home, I stop to look out at the 17 acres nestled between two hillsides that Thérèse and Dan have methodically turned into an acclaimed working winery over the past two decades. In addition to their homestead and acreage of vines (primarily Cabernet Sauvignon), the main barn-like structure houses the barrel and fermentation rooms, laboratory, and outdoor tasting bars. There's something comfortable to the place- like your favorite pair of blue jeans- that begs you to linger. The Martin's bring forth more than wine to fruition here; there's a thriving organic farm on-site, a large chicken coop, a playground, and bucolic pond that are open to winery visitors and club members during tasting days.
The hearty vines that they have planted thrive in the hot growing days of the Santa Clara Valley while enjoying evenings of cool marine layers from their perch in the foothills of the Santa Cruz Mountains. The clouds that often blanket the area at night descend back over the mountains towards the sea in the morning. With weather this good, it's little wonder that Dan and Thérèse produce between 6,000 and 8,000 cases annually, garnering their share of medals and accolades in a region known for stiff competition. Among their most recent show stoppers, the 2013 J.D. Hurley label Merlot took Best of Class at the San Francisco Chronicle Wine Competition and the 2012 Thérèse Vineyards label Lester Family Syrah earned 92 Points & Cellar Selection from Wine Enthusiast.
I've long known the decadent goodness that awaits in each of Martin Ranch Winery's carefully crafted wine bottles, but it's the congenial atmosphere and back-to-their-roots environment that the Martin's have cultivated that keeps me coming back for more. Eager to share their unique story and start-to-finish approach to crafting wine, I recorded my interview with Thérèse Martin for your reading pleasure. Enjoy!
Bonnie Boglioli Randall: Thérèse, how and when did you and Dan decide to get into the wine business?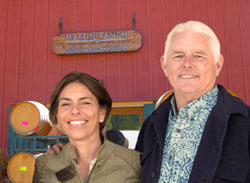 Thérèse Martin:  We decided to diversify into winegrowing after feeling the effects of the 1989 Loma Prieta earthquake on our grocery store business. Dan had purchased the Martin Ranch property in 1972 and he was eager to get back to his agricultural roots. Ag was in both our blood, so in 1992 we began with the intent of growing and selling our grapes to wineries in the Santa Cruz Mountains.
BBR: What brought about your evolution from winegrowing to winemaking?
TM: In 1997, we had a bumper crop and we couldn't sell all of our grapes. At the same time, we had started winemaking as a hobby but quickly realized we had a real passion for it. Mind you, I was still operating two grocery stores and we intended to craft just a barrel or two of wine here and there. By 2001, we had people interested in purchasing our grocery business and that's when we got serious about winemaking.
BBR: How did you get up to speed on wine crafting and the wine industry, and what was the genesis of Martin Ranch Winery?
TM: Back then, we had the luxury of making mistakes so we just figured things out. We both came from agricultural families and we did a lot of reconnaissance work. We relied on fellow growers like our neighbor Jack Bates to share insight in those early years. Dan has always been a big believer in education so he took classes at UC Davis, and I later followed. We also learned about resources and networking within the industry, and I became very excited about it. We built a 4-car garage on our property to craft wine in, and by 2002 we had our very first commercial crush. A year later, we were making 2000 cases and it just exploded from there and kept growing.
BBR: That's incredible growth. Was that extreme scaling a part of your plan?
TM: Looking back on it, we had no plan. We simply lived our passion and moved forward every day. We didn't even have time to second guess ourselves. We mortgaged and liquidated almost everything we owned. In 2004 we met Pasquale, our good friend who's been a huge part of the winery ever since and who built our infrastructure- a 3500 case winery building which we outgrew in two short years. The winery officially opened to the public in 2006 and that's when I realized this was our long-term life and inspiration. Each year after, it seemed we had more fruit and our barrels kept getting higher and higher.
BBR: Though Martin Ranch now produces about 8000-cases of wine per year and boasts a popular wine club, both you and Dan remain involved in every detail. Why?
TM: I think we're different here at Martin Ranch. Dan and I took the business risks but we are only as good as the people we've surrounded ourselves with. We come in early when we need to, and work late as necessary but it's an absolute privilege for us. Harvest is the most critical time of year for us when we become embedded in every aspect of the business. We know every inch of our vineyard and we work alongside our pickers in the field. I feel like they're my kindred spirits; being out there with them gives me incredible gratitude and respect for the work they do.
BBR: Turning to your wine, tell us about Martin Ranch's three distinct labels.
TM: When we first started Martin Ranch Winery, Dan and I couldn't even agree on a label so we went our separate ways as winemakers with our own labels in order to retain our individual opinions and goals with our wines. Right now, we make 18 different varietals under 3 labels which includes everything from Cabernet and Zinfandel to Nebbiolo and Viognier.
With my Thérèse Vineyards label, we have limited annual production of 150-200 cases (per varietal). Dan gets a little higher with annual production of his J.D. Hurley label around 500 cases for each wine. We collaborate to produce just 50 cases annually of our Soulmate label wines. From the beginning, our goal with Soulmate was to craft a wine that is the truest expression of who we are. That means spending whatever is necessary to bring that wine to fruition. It's such an exquisite and limited production wine, and that's reflected in the higher cost of each Soulmate bottle.
BBR: What do you and Dan want to achieve in terms of the wine you produce, and how do you balance those goals with market demands?
TM: We feel it's very important for wineries to produce distinctive wines. It's easy to cut corners and start blending together your wines when topping, but that creates ordinary wines that all taste the same. We want each of our wines to be distinctive which is more tedious to achieve.
We also work with grapes that grow best in our region while recognizing the market's needs. Chardonnay constitutes 24% of all American wine sales so if you want to draw consumers in, you have to offer a Chardonnay. Among more schooled wine drinkers, Cabernet is king. We have bricks of 24 or 25 but the pH is up to 3.8, so Cabernet is a solid bullet-proof wine here for the most part. Some of the more difficult wines that we produce are Pinot Noir, Malbec and Sangiovese because they don't always ripen in the manner we would like. In general, when we start getting into more unusual varietals for our region, they become more problematic.
BBR: What are your goals as they pertain to the winery itself?
TM: We pride ourselves on an open-education platform for visitors and members of our winery. I don't believe you can increase consumer consumption without education. We want people to feel comfortable about asking their questions- whether they're technically-savvy wine enthusiasts or new wine drinkers. Our staff is here to assist them and can answer in layman's terms. We have an unpretentious setting- most people wear cowboy boots and jeans. We hope that people will leave not only knowing something more than they did beforehand, but also feeling as passionate about Martin Ranch as we do.
BBR: You are in the process of transitioning your vineyard to organic. How did you come to that big decision?
TM: Dan and I went to Italy and saw firsthand the huge biodynamic and organic community of grapegrowers there. We were a bit surprised, to be honest, because it's a tough growing environment to begin with- more damp and wet than what we're used to in California. That started the wheels turning and we began doing our research on the net positives that come from organically grown grapes. The entire vineyard ecosystem cares for itself; organic soil is richer and harbors more live bacteria. You actually have the ability to harvest your own live yeast!
So we'll be growing organic grapes and bringing them into our winery. While we will still use sulfites during the winemaking process, we want to be cognizant of the amount we use. It's not necessary to over-sulfite wines when you balance your sugars and acids and pH.
Ultimately, Dan and I want to protect our land and environment. Organic and biodynamic allows us to go back to the roots of how we all farmed before weed control. And it brings Martin Rach full circle in many ways. We host member events with fresh food from our organic garden and display our flowers that are pollinated by productive and happy bees. We want our entire ranch ecosystem to work together to display and preserve what we have.
BBR: Martin Ranch has long established ties with its growing partners who supply the grape varietals that your vineyard does not grow. Tell us about them.
TM: For us, our growing partners need to have the same ideals and passion as we do to make it work. Simon Lemus of nearby Dos Ninas Vineyards (Gilroy, CA) has been our partner for 14 years now and supplies our Malbec, Sangiovese and Syrah grapes. Likewise, we have a long history with Lester Family Vineyards in the Santa Cruz Mountains who we source multiple varietals from including Pinot Noir, Syrah and Chardonnay. Their vineyard manager, viticulturist Prudy Foxx, is absolutely wonderful to work with. Michael Griva down in Arroyo Seco is an amazing ag guy and wonderful farmer who we buy most of our white varietals from as well as Pinot Noir. And lastly, Dan used to buy cherries from Al Denice decades ago, whose vineyard is just up the road from us so buying grapes from him is fortuitous for us.
BBR: As part of your mission, Martin Ranch Winery supports Community Solutions to provide services to local families in need. How did that partnership come about?
TM: We have always been involved with our community. For us, this isn't just a business; we live in here and want to see the area thrive. As a woman business owner, I wanted to give back to women in our community who aren't as fortunate I am. I had a friend who had lived with domestic violence and I met Lisa DeSilva years ago, the Chief Development Officer for Community Solutions. That got the ball rolling. We started giving 10% of our Christmas proceeds to the organization- that was 10 years ago and we haven't stopped since. It's a tremendous organization that does so much for so many.
BBR: Thérèse, you remain one of the few female winemakers between the Santa Cruz Mountains and Santa Clara Valley AVAs. Do you see more women getting into the viticulture and enology fields today?
TM: I do see it changing, though there are only a few of us today; there's Prudy Foxx and Pamela Storrs and me. And there are others who are on the business ownership end of the spectrum. There is a camaraderie that exists between us, but I think everyone in this business shares a common passion that unites us… we all get our hands dirty and live the same sensory experiences day to day.
I see more young women getting into the industry as a very positive thing. Everyone has a different style and thing to offer- just look at Dan and my unique wines. I don't have children myself, but I have a natural urge to nurture those around me. I want to pass on the things that are important to me whether it's wine or food or health. I think most women want to provide that positive environment for those they care about. We can bring something like our grapes and our gardens to fruition and nourish our communities. At the end of the day, I like to think that those who visit Martin Ranch and work here become in some way better people because of it.
For purchasing and visiting information, please visit Martin Ranch Winery's website.
Bonnie Boglioli Randall is a freelance writer based in Silicon Valley, California. On weekends, she welcomes guests to Martin Ranch Winery and educates them throughout their tasting experience. For her, wine is a lifelong pursuit of both pleasure and education and she takes particular pride in bringing forward the stories and efforts of California wine growers and crafters to a global audience.