IntoWine recently asked its panel of wine experts to recommend one Oregon pinot noir worth seeking out:  
Oregon's Willamette Valley sits at roughly the same latitude as Pinot Noir's ancestral home—France's Burgundy region. While there are significant differences between the two regions in terms of soils and topography, the fact is that both are essentially cool climate, slow ripening regions that are ideal for producing flavorful and balanced Pinot Noir.
Pinots from Oregon tend to have some of the delicacy and minerality that red Burgundy is known for as well as some of the ripe red fruit most typically found in California Pinot. Their alcohol levels are generally much closer to those of France (13% or so) rather than California (typically 14-15%). Many of them also exhibit a savory aroma reminiscent of forest floor or underbrush, what the French call "sous bois."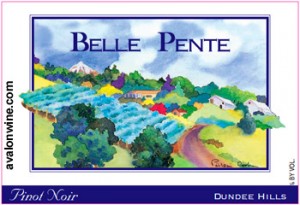 For me the most impressive Oregon Pinot Noirs in recent tastings, with wines I rated 92 points or higher, have come from Archery Summit, Belle Pente, Domaine Drouhin, Evening Land, Rex Hill, Roco, Scott Paul and Shea Wine Cellars. The best values among these wonderful examples are the 2009 Belle Pente ($35), the 2010 Evening Land Seven Springs Vineyard ($40), Scott Paul's delicious 2010 La Paulée ($32) and Shea Wine Cellars' 2010 Estate ($40).
At an even more affordable price level, look for Coeur de Terre's $20 2010 Pinot (89 points) and Patton Valley's $20 2009 "Declassified" (89 points). Richard Jennings, IntoWine.com Featured Contributor and the Founder RJonWine.com.
-----------------------------------------------
One of my favorite Pinot Noirs from Oregon that I make a point of seeking out every year is WillaKenzie Estates Pierre Leon cuvee. This structured and ageworthy wine is named after the father of WillaKenzie's owner Bernard Lacroute. It looks like the 2006 Pierre Leon has been released, which I definitely need to get my hands on. However, if you can locate a bottle or case of the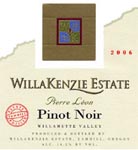 2005 WillaKenzie Pierre Leon Pinot Noir, I highly recommend it. The 2005 is intense and structured, with more blackcurrant vs. red fruit notes. Subtle nuances of damp earth and smoky tea also provide extra dimension. Although this wine can be enjoyed now with duck, pork or beef, I recommend hanging on to a bottle or two for a few years and revisiting this wonderful wine. It is a beautiful example of New World pinot noir. - Mulan Chan, Rhône and French Regional Buyer, K&L Wine Merchants
-----------------------------------------------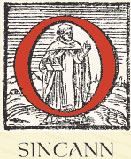 The wines of Sineann Winery in the Willamette Valley have received rave reviews from the wine press and deservedly so.  The winemaker/owner Peter Rossback makes a variety of single vineyard Pinot Noirs from Oregon (and even New Zealand).  I am, however, going to recommend his basic Oregon Cuvee.  This is a blend of wines that were left over from the single vineyard bottlings and mixed together.  There are a couple of reasons this is good.  First, the pricing: the Oregon Pinot Noir is available for $30 while the individual vineyard wines are as much as $50 a bottle.  Second, this wine has a great complexity reflecting the blend of different vineyards.  Third, the bottle tends to be ready to drink on purchase but will cellar nicely for ten years.  If you like these, however, I wouldn't hesitate to try one of the single vineyard wines either.  My favorites are Resonance, Schindler or Maresh.  As an added boost, Sineann wines are bottle with glass stoppers instead of corks or screwcaps which are not only cool, but highly functional! - Loren Sonkin is an IntoWine.com Featured Contributor and the Founder/Winemaker at Sonkin Cellars.
-----------------------------------------------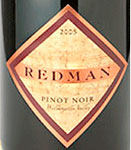 The 2006 Redman pinot noir ($34) from the Willamette Valley has a nose of sweet Bing cherries, but isn't so overpowering that it loses its varietal characteristic, as is becoming common among so many pinot noirs. Pinot, by its nature is a subtle, self effacing grape and the Redman is soft, with enough acid to make it compatible with a variety of foods. Using a combination of Pommard, 777, 114, 115 and Wadenswil clones, this is the only pinot they make, further testament to a focus on making great wines, not a large portfolio or anything and everything. 2006 marks their second vintage so they are obviously doing something right, like getting out of the way of the pinot. The wine was racked only once and the resulting feminine qualities of mild spice, notes of cinnamon and pink pepper corns linger on the palette and is so gentle you want to curl up with it. A valiant effort, it reminds us of what pinot noir is supposed to taste like. - Michael Cervin, Wine Judge, Restaurant Critic, and IntoWine Featured Writer
-----------------------------------------------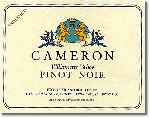 Cameron Winery Pinot Noir, Willamette Valley, Dundee Hills and vineyard designated bottlings.  These limited productions are deep, rich, unfiltered and delicious.  They are more Burgundian than most and are always interesting. - Suzanne Reifers & Alfred Judd, IntoWine Featured Writers
-----------------------------------------------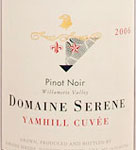 Oregon Pinot Noir is renowned for its expressions of earth and fruit, black cheeries, strawberry, spice. No winery better displays the potential for Pinot Noir in Oregon than Domaine Serene. A beacon for Pinot-files around the world, Domaine Serene is frequently a beacon of quality. The 2006 Yamhill Cuvée is a good place to start. A blend of Pommard, Dijon, and Wadenswil clones, this wine's intricate profile began in the vineyard with great weather and low yields. In the winery, a cool, focused fermentation was followed by malolactic conversion and aging in 30% French oak. The result is a crowd of red cherry and spice with a long finish of cocoa and supple fine-grain tannins that will leave novices and experts enchanted. This wine could age for a one-to-two years, or you could drink it now. I prefer the latter. (About $40) - Ben Spencer, Diploma student with the Wine & Spirit Education Trust and IntoWine Featured Writer