Top Ten Oregon Pinot Noirs - 2016
I tend to taste and drink a lot of wine over the course of a year. I am in a few tasting groups, sometimes the wines are consumed at various local wine store tastings and a number drunk with friends and family. Early on, it was evident that the best way to pay attention and also to remember what wines were consumed was to write a tasting note. Over the years, I have written well over 10,000 tasting notes probably representing 70% of the wines I have tasted. I make no pretense about the quality of the notes, but sip by sip and bottle by bottle, the notes have gotten a bit better. It always interesting at the end of the year to go back and review what wines were consumed and which ones I liked the best – overall and in categories. In 2016 I wrote 1,334 tasting notes. Thanks to computers, I can sort and select them down into various lists. I give you these to use as you wish – suggestions, comments, and reasons to laugh or disagree.
Caveat - I have for the most part not repeated wines that were tasted multiple times or the same wine from a different but close vintage in an effort to list more wines for those looking for suggestions. I drink, for the most part, what my wife and I like, so did I miss out on categories or specific wines? You bet. There is a lot of great wine out there and one can't drink it all. Part of the fun is seeing, over the years, how tastes change, finding new discoveries, following the development of vintages but most of all, just enjoying this special beverage. Cheers! - Loren Sonkin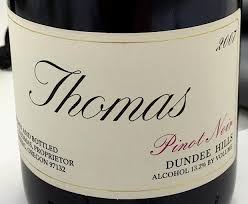 1. 2010 Thomas Pinot Noir Dundee Hills - USA, Oregon, Willamette Valley, Dundee Hills
This took an hour or so to open after popping the cork (not decanted). Ruby in color. The nose is lovely with cherries and some raspberries. Soft texture. A lovely, pretty complexity with cherries, sherry juice and slight earthiness. Slight tannins. Really impressive that such a pretty wine stood out so well among some bigger Rhone wines. Long finish. Still quite young though, I would hold these. (94 pts.)
For more than 25 years, The California Wine Club founders Bruce and Pam Boring have explored all corners of California's wine country to find award-winning, handcrafted wine to share with the world. Each month, the club features a different small family winery and hand selects two of their best wines for members.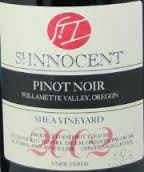 2. 2002 St. Innocent Pinot Noir Shea Vineyard - USA, Oregon, Willamette Valley, Yamhill-Carlton
Hey, this wine has finally come around and is ready to drink. Seems like it has taken 15 years and its only really been around 13. This bottle anyway was drinking great. Everything I want from this vineyard and producer and region. Good cherry, some sour cherry fruit. An underlying clean earthiness. Great freshness and acidity. Showing layers of complexity. I would imaging it has a decade and more left in it. (94 pts.)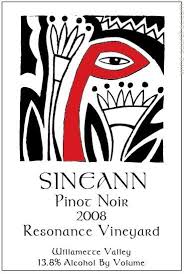 3. 2012 Sineann Pinot Noir Reserve Resonance Vineyard - USA, Oregon, Willamette Valley
The nose has cherries and cherry juice. A bit tight but opens quickly. On the palate, it is the deepest, most complex wine on the table. It has a modern feel to it (not that the term makes much sense in an Oregon context). Big, juicy, cherry and dark cherry fruit. A hint of sour fruit. Slight tannins. Very clean. Long finish. Delicious. I think this wine has a twenty years left under its glass stopper. I say that based on how well the 02's are drinking now under cork, and the vineyard and the vintage. I only have a couple left so I doubt I will know. I will say, if you like the bigger side of Oregon Pinot, track down an older vintage of this. (94 pts.)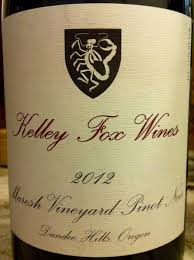 4. 2012 Kelley Fox Wines Pinot Noir Maresh Vineyard - USA, Oregon, Willamette Valley, Dundee Hills
What a pretty wine. I have this vineyard from a few producers and it seems that everyone finds a way to express their view of Oregon Pinot from it. Ruby in color, slightly light. On the nose, this is very pretty and almost ethereal of that make sense. Wisps of cherries and floral notes with a slight tarragon note. On the palate, there is a lovely light cherry note with a lot of depth and complexity. With air, a sour cherry note emerges in an almost, but not quite candied way. It is quite energetic as it seems to hop from point to point in the glass. It is here and there at the same time. Great acidity. It still seems young, but if you have more than one, I would drink it now. Quite amazing how feminine but powerful this is. Very different from the Maresh Winery version. (94 pts.)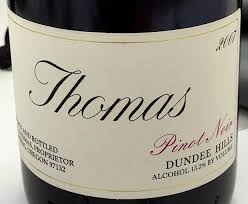 5. 2006 Thomas Pinot Noir Dundee Hills - USA, Oregon, Willamette Valley, Dundee Hills
In a very nice place. Ruby in color. The nose is deep with cherries and sour cherries. On the palate, this is soft yet deep. Youthful if not young. Not yet at peak though. Lots of sour cherries, slight earthiness on the palate. Nice balance. Bottle improved with air. (93 pts.)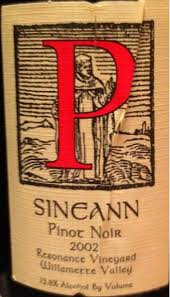 6. 2002 Sineann Pinot Noir Resonance Vineyard - USA, Oregon, Willamette Valley
Purple/slight ruby in color. The nose has spice, cherries, sour cherries and every so often, a whiff of mint. On the palate, this has a great texture. Faygo cherry red pop with slight beet root. A bit of heat initially, but that calmed down. This kept getting better all night, so no hurry on this. Nice finish. (92 pts.)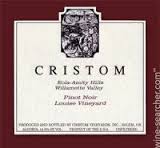 7. 2005 Cristom Pinot Noir Louise - USA, Oregon, Willamette Valley, Eola - Amity Hills
Really nice showing for this wine. Ruby in color. This was the oldest bottle on the table but it drank quite fresh. Very distinct wine. The nose has cherries with a green herbal note (maybe tarragon). On the palate, the green note continues but turns more rosemary. Lots of cherry fruit. still some tannins. Also a bit of root beer. The green note is very interesting an enjoyable as a foil to the red fruit. Nice finish. This is going strong and seems to be in no danger. Pretty impressive. (92 pts.)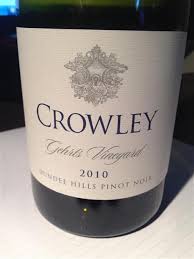 8. 2009 Crowley Pinot Noir Gehrts Vineyard - USA, Oregon, Willamette Valley, Dundee Hills
My first time trying this wine and it was among my favorites. in fact, at the time we turned in scored it was my WOTN. Ruby in color, slight purple. The nose is tight with cherries. With some coaxing, there is a bit of spice, but it never really got big. On the palate, I enjoyed the soft texture. Reminded me of some Longplay we had last week. Cherries and slightly bitter cherries. Nice balance. Perhaps coming after the brett bomb of the 04 Thomas, this just seemed so elegant and classy. Very pretty wine. The group liked it less than I. (91 pts.)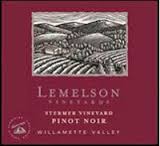 9. 2012 Lemelson Vineyards Pinot Noir Stermer Vineyard - USA, Oregon, Willamette Valley
Ruby in color. The nose is very tight. It eventually started to give up some dark cherry fruit. Also some toast/smoke. On the palate, this is still tight. Silky texture. Pretty tannic especially for a Pinot. Dark cherry fruit. This kept improving over the night. I would hold a few years. It should improve by a point or two. (91 pts.)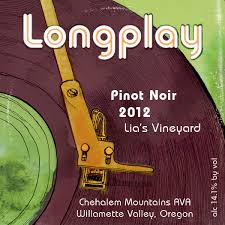 10. 2012 Longplay Pinot Noir Jory Bench Reserve Lia's Vineyard - USA, Oregon, Willamette Valley, Chehalem Mountains
Pale ruby in color. Slightly cloudy. It is much bolder than the other wines, but still soft and demur. The nose has dusty cherries, and cola notes. On the palate, cherries and bing cherries. Finishes strong and long. Nice acidity. Got better all night long. (90 pts.)