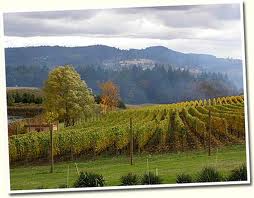 Great Pinot Noir—the Holy Grail of winemakers from France to Australia and the US, and one of the most notoriously difficult grapes to grow. The thin-skinned varietal is susceptible to rot, viruses and diseases and needs a perfectly cool climate and exacting vineyard management to thrive. After the grapes are harvested the winemaker has plenty of decisions to make, including whether or not to fine and filter the wine, how much tannin the final product should have and choosing a precise regimen of oak aging, since Pinot's delicate flavors can easily be masked by the flavors of wood. It's easy to make a disappointing, thin-tasting wine from this grape, but really fine Pinot is the stuff of the gods and the combination of ripe fruit and spice flavors, low tannin and high acid make Pinot Noir one of the most food friendly wines in the world.
No one can deny the greatness of red Burgundy, but winemakers in the New World are making some fine Pinot indeed, in particular those from the Willamette Valley in Oregon. A recent tradition, Pinot in Oregon was made famous by David Lett in the late 1970s when his Eyrie Vineyards 1975 Pinot Noir trumped Joseph Drouhin's famous 1961 Clos-de-Bèze in a blind tasting (Joseph Drouhin later decided to plant his own vineyards in Willamette). When one thinks of Willamette Valley Pinot, words like "lush," "smooth" and "velvety" abound. These juicy, delicious wines are claimed by almost every type of food from braised wild game to risotto and grilled salmon. Seasonal fresh foods from the local farmer's market compete with more involved dishes like coq au vin as perfect pairing partners for Willamette Valley Pinots, which pair with anything from spice, grilled and smoke flavors to red fruit glazes, white meats, vegetables and even many types of cheese. Here are five dishes that compete for the companionship of Willamette Valley Pinot Noir:
1.)   Roast pork with a cranberry glaze. Pork is ideal for the light-bodied, light-tannin Pinots of Willamette, with just enough fat and juice to harmonize with the wine but not overwhelm it. The cranberry glaze includes mustard and cloves, which pick up spice elements in the wine. The acid of the cranberry mirrors the acid in the wine to create a juicy, satisfying pairing. Ponzi Vineyards makes a fantastic Pinot with lots of bright red fruit flavors and a smooth texture that would be heavenly with this dish.
2.)   Grilled salmon with a honey mustard and brown sugar crust. It's said that food and wine from the same region go well together, and although Pinot is new to Willamette, this axiom is true of Pacific Northwest salmon and Willamette Pinot. The fish is heavy enough to stand up to a red wine but with light enough flavor to allow the wine to shine. The simple grilled flavors of the fish and flavors of mustard and brown sugar parallel the subtle oak elements in the wine while preserving its ripe fruit flavors. Other "crust" options include ginger and soy, which taste delicious with Willamette Pinot. Try Domain Drouhin's Arthur Pinot Noir.
3.)   Coq au vin. This Burgundian dish is almost synonymous with Pinot Noir! Chicken is simmered with mushrooms, red wine, lardons (bits of pork fat), onion and garlic. The acidity of the wine cuts through the fat of the dish and creates a nice texture in the mouth. A Pinot with a bit of earthiness will complement the flavors of the mushrooms, onion, and garlic and will not, of course, compete with the red wine in the sauce. This dish is perfect for a Pinot with some age. Beaux Frères Pinot Noir is an age worthy wine that's bigger, more lush and rich and absolutely dreamy with this dish.   
4.)   Sage and honey basted quail with butternut squash coulis and pomegranate reduction. Birds love Pinot—the weight and texture of meat like quail is just right for the tannin and acid structure of a good Willamette Pinot. The honey and sage baste mirrors spice flavors in the wine while the pomegranate reduction gives a sharper bite to the sweeter flavors and plays with the acid in the wine. Penner Ash Pinot Noir would work well with this dish.
5.)   Risotto with stewed tomatoes and Taleggio cheese. So many dishes love Pinot and even a simple vegetarian risotto can lay claim to these wines. The bright acidity of a Willamette Pinot stands up to the sharpness of the tomatoes in the risotto. The cheese has just enough of a flavor profile to be able to harmonize with the delicate flavors in the wine without masking them. Adding garlic, onion, pepper and fresh herbs would also work well with earth elements in the wine. Using vegetable broth as opposed to heavy cream to cook the risotto downplays the richness of the dish and allows the wine to stand up to the meal. Ken Wright Cellars' fruit-packed, juicy Pinot Noir is an ideal match.
With a bottle of Willamette Valley Pinot in hand, meal after meal from your favorite cookbook will fight for a place at the table. What's the greatest thing about this wine besides its lush texture, silky mouthfeel and juicy fruit flavors? More and more producers in Oregon are committing to sustainable agriculture, organic grape growing, and even biodynamic viticulture—one more reason to pick up some supplies at the local farmer's market, turn on the oven, and open a bottle of Willamette Valley Pinot. Cheers!