What's the best wine pairing for lamb chops?  IntoWine asked our experts for their favorite bottles to pour alongside this tender cut of meat:
I order rack of lamb and lamb chops a lot when I eat out, in part because they go so well with some of my favorite, savory, Syrah and red Rhone blend style wines.
A great pairing with lamb chops is the superb wine of Lebanon, Château Musar. It's a blend of Cabernet Sauvignon and Cinsault, often containing some Syrah and Carignan too. With a few years of bottle age it develops herbal, tobacco and mushroom flavors that pair very nicely with lamb chops. Syrahs from the Northern Rhone, especially ones with at least a few years of age on them, also go well with this dish. St. Joseph wines from Domaine Faury, Ferraton Père & Fils La Source and Pierre Gonon, with their peppery, meaty flavors pair quite well and are a good value.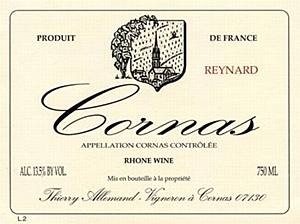 For a splurge and a very memorable meal, I would recommend pairing lamb chops with wines from one of my very favorite Northern Rhone producers: Thierry Allemand. Allemand is one of the great producers of the tiny Cornas appellation. He regularly makes two different wines, one from younger vines called Chaillot and a bottling from older vines called Reynard. Both are extraordinary for their complexity and balance. He also makes a small amount of no-added-sulfites bottlings, called Sans Soufre, which are a real treat too, if you're lucky enough to find one. A glass of an Allemand Cornas alongside lamb chops will make you and your dining companions immensely satisfied.  Richard Jennings, IntoWine.com Featured Contributor and the Founder RJonWine.com.
------------------------------------------------------
Lamb chops are one of the most indulgent and rustic foods around. For centuries, lamb has been celebrated for its tenderness and savory flavors. Lamb has an affinity for preparations that harness the deep and intense character of the meat. Such intensity of inherent flavor demands a wine that can stand up to any potential flavor combination.
My suggestion is the Pirathon Shiraz from Barossa, Australia. This wine is heady enough to handle any serious restaurateur's palatial demands and it's an easy drinker. A screw-top closure makes this a perfect picnic or beach wine where lamb chops might be served. At about $20, this consistently high-rated wine is a real contender for my own in-house red wine.  – Ben Spencer is a diploma student with the Wine & Spirit Education Trust and an IntoWine Featured Writer
------------------------------------------------------
I think the Nebbiolo grape is the best wine to pair with Lamb Chops.  If you want to spend a lot of money, there are many good Barbarescos and especially Barolos.  For a less expensive alternative, I would look to the Langhe Nebbiolo wines.  All of these wines are from the Piemonte in Italy.  Specifically, look for the Vietti Nebbiolo Perbacco.  The 2006's are on the shelves now, but any recent vintage is very good.  For around $20 a bottle, this wine has great acidity to complement the meat and wonderful upfront cherry fruit.  - Loren Sonkin, IntoWine.com Featured Contributor and the Founder/Winemaker at Sonkin Cellars
------------------------------------------------------

Lamb chops. Northern Rhone. I know it's a predictable and obvious match but sometimes things should not be f***ed with if they are perfect in their original form. A simple dish of lamb chops, rosemary, garlic, and roasted potatoes accompanied by a bottle of St Joseph, Cornas or Hermitage should awaken even the most impotent of you. The pungent aromas of lamb and the savage, blood and iron like flavors of Syrah from Northern Rhone is a match made in hell. My favorite Cornas producers is Jacque Luc Colombo and Clape. Hermitage is usually expensive but its less sophisticated sibling Crozes-Hermitage is a great alternative. If you can find Graillot, buy it! - Cezar Kusik, IntoWine Featured Contributor