IntoWine asked a panel of wine experts to recommend the best wine to pair with pork tenderloin:
I like to go one of two different ways with pork tenderloin. This tends to be the most delicate, least "porky" portion of the pig, so I want a wine that's not going to drown out the more subtle flavors of this cut of meat. I'm also looking for wine with a little juiciness, as pork tenderloin can often end up on the dry side. A rich Chardonnay with good acidity works well for me, as does a lighter bodied, juicy red—a Zinfandel or Grenache, preferably one with little or no oak.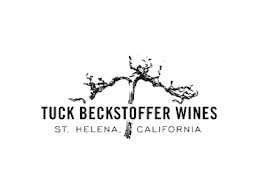 For juicy, medium bodied Chardonnays with great acidity, it's hard to beat those that are currently coming out of Santa Barbara County's Santa Maria Valley or Sta. Rita Hills appellations. Bien Nacido, Brewer Clifton, Chanin, Clos Pepe, Deovlet, Liquid Farm, Longoria, Melville, Paul Lato, Presqu'ile, Sandhi and Sanford all make wonderful, rich, balanced Chards with great acidity from these appellations. I'd be very happy with any of them as a partner to a perfectly tender pork tenderloin. Going the lighter red route, I'd be delighted with a flavorful, juicy, old vine Zin from the likes of Bucklin, Nalle or Vino Noceto. For a Grenache, I'd recommend a Côtes du Rhone (typically a Grenache blend) or one of California's best Grenaches, the Tuck Beckstoffer Melee. - Richard Jennings, IntoWine.com Featured Contributor and the Founder RJonWine.com
-------------------------------------------
Pork tenderloin tends to get a bad rap as a "safe" reasonably priced choice for a Thursday night dinner. But there is a reason why, if spending a day out in the SF bay area, you might find it mingling with the folks at serious farmers' markets (like John Bledsoe's phenomenal antibiotic-free pork) and later the same day making a cameo on Michael Mina's menu as a crispy pork loin with risotto. If you treat it with respect, brine it, smoke it or sear it high and hot you will be rewarded with its' ability to absorb and integrate spices and a finishing sauce. I have always been a fan of cider brining pork followed by spicing liberally with pepper, flavored salts and some kind of reduced sauce. It's good to look for something in a wine that can handle the spices and salt while not overpowering the pork. Alsatian whites immediately come to mind, bringing both sweet fruit and balanced acidity to the fore.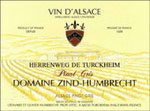 My choice would be a 2006 Zind Humbrecht's Pinot Gris Alsace Herrenweg de Turckheim, around $45. Sweet apricots, minerality and complex tropical fruit make this a dream match for a cider brined pork loin. And the acidity balances the sweetness enough to avoid a cloying viscosity. Hard to find, but Zind Humbrecht makes great Riesling and Gewürztraminer which would serve as well. I highly recommend trying Zind Humbrecht's wines; you may be surprised at the heights these sometimes poorly executed varietals can reach in a unique growing region like Alsace.  - Tim Halloran, a Founding Partner of Kindred Wines, a small lot premium winery in San Francisco 
-------------------------------------------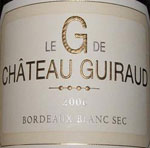 I am going to recommend a white wine with the "white meat" dish.  While a lighter red wine would certainly work, I think the lightness and spryness of many whites presents a nice counter balance on the table.  Yet, I would want a white that has plenty of body that can stand up to the heartiness of the pork dish.  I am going to recommend a white Bordeaux.  These are usually blends of Semillon and Sauvignon Blanc.  Many of these are quite expensive, but I am going to recommend one that is reasonable. Chateau Guiraud G is a white Bordeaux that retails for under $20.  This is 70% sauvignon Blanc and 30% Semillon.  The wine sees about 9 months in oak which rounds it out nicely.  This is a full bodied white wine that has a nice acidity to hold up to food.  This winery is more famous for their dessert Sauternes wine, but they do an excellent job on this dry white as well. - Loren Sonkin, IntoWine.com Featured Contributor and the Founder/Winemaker at Sonkin Cellars.
-------------------------------------------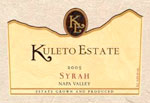 I'm an unabashed carnivore and I love pork. As a kid, my mom always marinated pork in heavy pear syrup. For this iteration, I've marinated it for 6 hours, added some caramelized onions and placed it on a bed of arugula with a dash of olive oil and sweet balsamic. So, with all that, the 2005 Kuleto Estate Syrah ($45) can handle all the various ingredients. The sweet berry, cinnamon and paprika on this wine tame the balsamic and the bitterness of the arugula, while the smoky character of this syrah and the small addition of cabernet sauvignon, enhance the pork's inherent gamey nature, while the tinge of sweetness from the pear juice works in concert with the note of French oak. This is a well balanced syrah, straddling the line between cool and warm climate versions and exuding the best of both. - Michael Cervin, Wine Judge, Restaurant Critic, and IntoWine Featured Writer
-------------------------------------------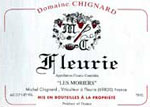 When I think of pork, the word 'delicate' doesn't often come to mind. Tenderloin is the one exception. When prepared with a gentle focus, pork tenderloin can be as supple and juicy as … well … a ripe grape. For me, there is nothing that pairs better with a pork tenderloin than the spicy, jammy, bramble fruit of Beaujolais. That's right, I said it. Beaujolais! Not Nouveau, but Beaujolais Crus, specifically Fleurie. The appellation of Fleurie is in the north of the Beaujolais region and wines from here are made in the traditional style – little if any carbonic maceration. The resulting wines exude elegant fruit, spice, and flowers – violets, roses, peaches, anise and black currants. At around $20, the Michel Chignard Moriers 2006 is one wine that should not be missed. Learn more about Beaujolais. - Ben Spencer, a diploma student with the Wine & Spirit Education Trust and an IntoWine Featured Writer