Top 75 French Wines to Try Before You Quit Drinking (a non-dump bucket list if you will!)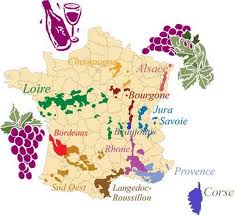 If you are a wine lover, wine connoisseur, wine aficionado or even if you just like to have a couple of glasses on a Friday night, it soon becomes obvious that there are some wines that are held in a higher esteem in the wine world. Sometimes, it is because these wines are very rare. Other times, it's because the wine has a place in history. Sometimes it's because the wine is just that good. Here is a list of 75 wines from France that make up that category. A few caveats. I have not tried every wine on this list. Some I have and others I hope to. Many of these wines are rare and hard to find. That doesn't mean they shouldn't be on the list. After all, if the opportunity presents itself, go for it.
1. Chateau d'Yquem Sauternes - This sweet golden nectar is made in almost every vintage. It tops the list because it is an amazing wine. It is rare, but available. It is even semi-affordable (for a taste). The flavor of the wine lasts forever on one's lips and even longer in one's memory.
2. Chateau Lafite Rothschild – A First growth Bordeaux may be the most respected red wine in the world. It has been at the top of the charts hundreds of years. An amazing wine, the winery keeps improving.
3. Domaine Romanée Conti – The pinnacle of red wine from Burgundy. More than Pinot Noir, it is a wine that stands on its own as a great wine. At loftier pricing than I can contemplate, if you ever get a chance, don't pass it up.
4. Chateau Latour – Another first growth from Bordeaux. A Cabernet Sauvignon based wine. In good vintages it will last decades; most people consume these too young. Find the patience or find an older vintage. These are the wines that made the reputation of Bordeaux.
5. Salon Champagne Brut Blanc de Blancs – Everyone has their favorite Champagne and this is mine. Not cheap, but a thrilling ride! There are rarer Champagnes out there, but in a great vintage, I don't think there is any better. Look for the 1996 if you can.
6. Krug Champagne Clos du Mesnil – A great Champagne as well and for some, the pinnacle. Part of the pricing here is the rarity. From a tiny parcel of land in Champagne.
7. Chateau Haut Brion – Another first growth Bordeaux. Although Cabernet Sauvignon based, there is a higher percentage of other grapes. The terroir of Graves (Pessac Leognan) gives it accessibility and an earthiness that makes it truly special. My personal favorite from Bordeaux.
8. JL Chave Hermitage – A wine from the Northern Rhone. Elegant, complex and age worthy. This is a wine that needs time in the cellar to justify its price. One of the ultimate expressions of Syrah.
9. Domaine Romanée Conti La Tache – The other truly great red wine from this producer. Not a substitute, rather a different expression of wine that also transcends the grape (Pinot Noir). Rare and expensive, but possible to find and maybe even taste.
10. Moet et Chandon Dom Perignon – It's ubiquitous - on TV, in the movies, everywhere. Millions of bottles produced and always a great Champagne. How do they do that so consistently? If you have not tried it, you should. At least once. Splurge, if only to know what everyone is talking about.
Tags: