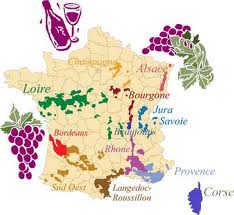 If you are a wine lover, wine connoisseur, wine aficionado or even if you just like to have a couple of glasses on a Friday night, it soon becomes obvious that there are some wines that are held in a higher esteem in the wine world.  Sometimes, it is because these wines are very rare.  Other times, it's because the wine has a place in history.   Sometimes it's because the wine is just that good.  Here is a list of 75 wines from France that make up that category.  A few caveats.  I have not tried every wine on this list.  Some I have and others I hope to.  Many of these wines are rare and hard to find.  That doesn't mean they shouldn't be on the list.  After all, if the opportunity presents itself, go for it. 
1. Chateau d'Yquem Sauternes - This sweet golden nectar is made in almost every vintage.  It tops the list because it is an amazing wine.  It is rare, but available.  It is even semi-affordable (for a taste).  The flavor of the wine lasts forever on one's lips and even longer in one's memory. 
2. Chateau Lafite Rothschild – A First growth Bordeaux may be the most respected red wine in the world.  It has been at the top of the charts hundreds of years.  An amazing wine, the winery keeps improving.
3. Domaine Romanée Conti – The pinnacle of red wine from Burgundy.  More than Pinot Noir, it is a wine that stands on its own as a great wine.  At loftier pricing than I can contemplate, if you ever get a chance, don't pass it up. 
4. Chateau Latour – Another first growth from Bordeaux.  A Cabernet Sauvignon based wine.  In good vintages it will last decades; most people consume these too young.  Find the patience or find an older vintage.  These are the wines that made the reputation of Bordeaux. 
5. Salon Champagne Brut Blanc de Blancs – Everyone has their favorite Champagne and this is mine.  Not cheap, but a thrilling ride!  There are rarer Champagnes out there, but in a great vintage, I don't think there is any better.  Look for the 1996 if you can. 
6. Krug Champagne Clos du Mesnil – A great Champagne as well and for some, the pinnacle.  Part of the pricing here is the rarity.  From a tiny parcel of land in Champagne. 
7. Chateau Haut Brion – Another first growth Bordeaux.  Although Cabernet Sauvignon based, there is a higher percentage of other grapes.  The terroir of Graves (Pessac Leognan) gives it accessibility and an earthiness that makes it truly special.  My personal favorite from Bordeaux. 
8. JL Chave Hermitage – A wine from the Northern Rhone.  Elegant, complex and age worthy.  This is a wine that needs time in the cellar to justify its price.  One of the ultimate expressions of Syrah. 
9. Domaine Romanée Conti La Tache – The other truly great red wine from this producer.  Not a substitute, rather a different expression of wine that also transcends the grape (Pinot Noir).  Rare and expensive, but possible to find and maybe even taste. 
10. Moet et Chandon Dom Perignon – It's ubiquitous - on TV, in the movies, everywhere.  Millions of bottles produced and always a great Champagne.  How do they do that so consistently?  If you have not tried it, you should.  At least once.  Splurge, if only to know what everyone is talking about. 
11. Domaine Raveneau Chablis les Clos – This wine has gotten expensive, but if you love Chardonnay (and especially if you think you don't), taste this wine.  Crisp and clean with fruit and minerals.  Everything you could want in a white wine.  Great with food.  For my taste Chablis gets no better. 
12. Krug – Perhaps the best non-vintage Champagne available.  Smooth as silk.  Great depth.  Easily available if not inexpensive.  No Champagne lover should miss trying this one. 
13. Chateau Cheval Blanc – Famous for being drunk out of a paper cup in the movie Sideways.  That would be reason enough, but this blend of Cabernet Franc and Merlot is one of the best wines being made in Bordeaux.  Wildly expensive, sometimes an older vintage can still be found at a more reasonable price.  A unique wine in the wine world. 
14. Haut Brion Blanc – Who says white wines can't age?  This one will.  It's a love it or hate it experience which can be problematic for a wine this expensive.  Still, the Sauvignon Blanc/Semillon blend can be ethereal, especially if it does have a few years on it.  There are lots of great white Bordeaux wines, but this is the best one. 
15. Comte Vogue Musigny Vielle Vignes – Another red Burgundy.  This is a wine that may not have quite as famous a name as DRC, but tell a Burgundy geek you tasted it, and they will drool on your shoes or wax poetically for hours about how lucky you are.  It needs time in a cellar, but a properly aged bottle has that transcendent quality that gives Burgundy its reputation. 
16. Guigal La La's – These are actually three wines, but I include them as one.  La Landonne, La Mouline and La Turque.  They are Syrahs from the Northern Rhone made in a modern and unique style.  The wines are VERY oaky if consumed furing the first few years, but eventually (maybe ten years) they absorb the oak and have enough fruit to provide spectacular drinking.  The difference among them is both the location where the grapes were grown and the small amounts of Viognier that may be in them.  Consider yourself lucky to be able to drink any of them. 
17. Chateau Petrus – One of the most expensive wines in the world.  This is a Merlot from the right bank of Bordeaux.  Is it worth the money vis-à-vis its neighbors?  Not a chance.  Still, there is a aura about this wine that puts it on this list.  At its best, it is a magnificent wine showing just how good Merlot can be.  To have the chance to try this is something any self respecting wine geek would not turn down. 
18. Domaine Romanée Conti Montrachet – I have never even seen a bottle of this Burgundy, although I have been told by friends who have tasted it that it is the best white wine from France.  Made in incredibly miniscule quantities, this is undoubtedly one of the best Chardonnays in the world.  And priced accordingly. 
19. Domaine Leroy Corton Charlemagne – This wine is the best white wine I have personally tasted from France.  It is Chardonnay that needs a decade at least to develop and show the true complexity and elegance that Chardonnay can reach when it is from the right vineyards and made by the right people.
20. Domaine de la Pepiere Muscadet de Sevre et Maine Sur Lie Clos des Briords – Time for one that is affordable.  This will set you back about $16 (or less on sale).  It is from the Loire Valley and made with the Melon de Bourgogne grape.  This is the greatest value in wine today.  Fresh and clean, this wine drinks well with sea food, pasta and salads (or on its own).  It will last for a decade if well stored. 
21. Laurent-Perrier Grand Siecle Alexandra Rosé – My favorite reasonably priced Rosé Champagne.  For some reason, Rosé Champagnes are more expensive.  While, Krug, Dom Perignon and others make Rosés, I did not include them on this list as I did not think the premium price was justified.  Yet, there is something about the fresh red fruit notes (watermelon, cherries, etc.) about a good Rosé sparkling wine that is enticing and works. 
22. Chateau Margaux – Another of the five First Growths from Bordeaux.  This is the most "feminine" in style.  The nose is very perfumed.  It ages quite well and I find that it can exceed the other first growths especially in off vintages. 
23. Chateau Mouton Rothschild – The last of the First Growths.  Every year the wine carries a different label designed by some of the world's great artists.  The wine itself is Cabernet based.  It needs time, but in some vintages, this is the best that Bordeaux can produce. 
24. Dujac Clos de la Roche – A red Burgundy from a Grand Cru vineyard.  This is a bit different in style than the prior ones on the list.  Perhaps a bit more austere, but with age it is a beautiful wine.  Complex and earthy.
25. Domaine Trimbach Riesling Clos Ste Hune – One of the great Rieslings of the world and the best from France.  Fuller and yet dryer than many other Rieslings, it does reflect the vintage conditions.  This is a white wine that needs a decade in the cellar to really show its depth and complexity.  A delicious wine that goes with a wide range of foods. 
26. Clos des Papes Chateauneuf du Pape – Although this has crept up in price in recent years, it is still available and affordable.  From the Southern Rhone valley, this wine is mostly Grenache.  It drinks well on release and improves in the cellar for ten to twenty years.  Great with a wider variety of foods than many red wines too. 
27. Domaine Denis Mortet Chambertin – Another Grand Cru red wine from Burgundy.  Due to Denis Mortet's tragic death a few years ago, the Domain is now run by his son.  There appears to be no let up in quality or change in style.  These are wines that often fly a bit under the radar and so the pricing has not reached astronomical levels - yet. 
28. Huet Moelleux Le Mont 1er Trie – The Huet family makes a range of Vouvrays based on the Chenin Blanc grape.  This is a sweeter version that can be drunk young but will last virtually forever in a good cellar.  Sweet with enough acidity to be food friendly, these wines remain some of the best values in wine. 
29. Chateau Pape Clement Blanc – A white wine from Bordeaux's Grave (Pessac Leognan) region.  This is a Sauvignon Blanc and Semillon blend.  Beautiful citrus and minerals when young.  It turns slightly waxy and honeyed as it ages.  It is a dry wine and still slightly affordable despite the recent string of critical praise. 
30. Chateau Beaucastel Chateauneuf du Pape – A different sort of wine.  The predominant grape is Mourvèdre although there are 12 other grapes in the wine.  It is animalistic at time.  Drinks very well on release, but will reward cellaring.  If this is too pricey for your budget, look for their Coudoulet de Beaucastel as well, one of the top Cotes du Rhone wines. 
31. Domaine Zind Humbrecht Gewürztraminer Heimbourg Vendange Tardive – This may not be the best wine on the list, but it has the best nose.  This is a late harvest sweet wine.  How sweet depends on the vintage.  The nose is exotic with tropical fruits and minerals.  Great to drink as well.  Works well for dessert (but not with chocolate).  Delicious wine that can occasionally be found on sale. 
32. Domaine Dugat-Py Chambertin – Another of the great red Burgundies not to be missed.  Complex and nuanced, this requires cellaring for ten to fifteen years.  A truly special wine though. 
33. Domaine Leflaive Montrachet – One of the top Chardonnays in the world from one of the top producers.  Rich and luxurious by Burgundy standards but enough minerality to keep everyone happy.  Ages for a long time. 
34. Chateau La Mission Haut Brion – Not a first growth but almost.  The sister property to Haut Brion.  In some vintages it is better.  The 1989 is the best Bordeaux I have ever had. 
35. Leoville Las Cases – Not a first growth but considered a "Super Second", that is, a second growth Bordeaux that is almost as good.  Can be an incredible wine although vintages matter.  If you are going to splurge, make sure it's a great vintage. 
36. Chateau Suduiraut – A beautiful dessert wine from Sauternes.  One of two go-to Sauternes if you can buy d'Yquem.  Tastes of honey, citrus and floral notes.  Viscous and lasts forever.  Always a hit. 
37. Chateau Rieussec – The other of the next two best (after d'Yquem) Sauternes.  Maybe a bit sweeter than Suduiraut but it's a matter of personal preference.  One can't go wrong. 
38. Gerard Raphet Chambertin Clos de Beze – A semi-affordable version of this Grand Cru Pinot Noir from Burgundy.  Rich with plenty of great cherry fruit.  With age, this develops complexity.  Drink either very young or with ten years of storage in a good cellar. 
39. Francois Cotat Sancerre Chavignol La Grande Cote – From one of the ancestral homes of Sauvignon Blanc.  This is mineral driven with racy acidity in addition to the citrus fruit.  Not much in common with the New Zealand or California versions of this grape.   A fantastic wine that will age for five to ten years and gain in complexity. 
40. Domaine Pegua Chateauneuf du Pape Reserve – One of the top "regular" cuvees of Chateauneuf.  They also make a luxury cuvee called de Capo which is amazing.  This wine can be found everywhere and is affordable.  It's the kind of wine that built the reputation of Chateauneuf du Pape. 
41. Cos Estournel – From the Bordeaux commune of Saint Estephe, this winery has been on a roll.  Their wines from the 80s and 90s were already critical successes but the last few years have seen them pull even with the first growths.  Now being made in a more upfront style, they can be drunk very young, but should age beautifully for twenty years. 
42. Dom Coche Dury Corton Charlemagne – While Montrachet always seems to get top billing, I have a soft spot for Corton Charlemagne.  Allegedly where King Charlemagne noticed the snow melting earlier on this hillside and thought to plant grapes.  A great Chardonnay. 
43. Domaine Leroy Musigny – From one of the premier producers in Burgundy and one of the great Pinot Noir vineyards of the world.  Expensive and hard to find, but a special treat for those lucky few. 
44. Paul Jaboulet Hermitage la Chapelle – One of the iconic Syrahs in the world.  Grown in the Northern Rhone valley, this producer has had ups and downs over the years, but seems to be on a winning streak as of late. 
45. Domaine Zind Humbrecht Pinot Gris Clos Windsbuhl Selection de Grain Noble – This is a dessert wine from one of the top producers in Alsace.  Somewhere between aSauternes and an Eiswein in style, these wines for some reason don't command the price of either.  That's the consumer's fortune as they are amazing. 
46. Clos Saint-Jean Chateauneuf du Pape Sanctus Sanctorum – This is really rare.  Only 200 magnums are produced in good vintages.  It is 100% Grenache and a really special wine.  If you ever get a chance, don't pass it up. 
47. Ducru Beaucaillou – A second growth Bordeaux wine from the commune of Saint Julien.  This is one of the last truly great "affordable" wines from Bordeaux.  Even in off vintages, they seem to make great wine.  Long lived and needing time in a cellar, but a wine that easily makes this list. 
48. Chateau Beaucastel Chateauneuf du Pape Hommage Jacques Perrin –The luxury cuvee from Beaucastel, this is very expensive, but if you get the chance, it really is a step up from the basic version.  It is not made in every vintage and represents the best of what a Chateauneuf wine can be. 
49. Vieux Chateau Certan – Another Bordeaux wine, but this time from the right bank.  It is from Pomerol and is a Merlot based wine.  Contrary to Sideways, Merlots can be incredible as this wine demonstrates.  It takes some time in a cellar to develop, but then it is excellent.  In off vintages, it usually exceeds the quality of the vintage. 
50. Domaine des Baumard Quarts de Chaume – A dessert wine from the Loire Valley.  Made from the Chenin Blanc grape, this wine is fantastic young and will age and develop for a long, long time.  Sweet, with apple and pear scents, the nose is great.  Goes well with food as well. 
51. Ponsot Clos de la Roches VV – From a venerable old winery that has embraced the 21st century, this is a Grand Cru Pinot Noir from Burgundy.  From very old vines, this is concentrated and complex.  It needs years in a good cellar to justify its price tag.  Consider yourself very lucky if you can cross this off your list. 
52. Clape Cornas - Talk about old school.  This is a Syrah from the Cornas region of the Rhone valley.  This is an earthy wine with lots of fruit and a bit of barnyard qualities.  Its complex and shows how good the old school wines can be. 
53. Domaine Dauvissat Chablis les Preuses – From the other of the top two producers of Chablis.  This is a racy, mineral driven Chardonnay that has very little in common with its California counter-parts.  Great with food. 
54. Didier Dagueneau Blanc Fume de Pouilly Silex - A Sauvignon Blanc from the Loire Valley.  Sadly, Didier Dagueneau passed away recently, but his son has taken over and hopefully there will be no drop off in quality.  These are amazing wines with depth and ageability.  In fact, be careful not to drink these too young , as you risk missing some of the complexities and nuances they can offer. 
55. Zind Humbrecht Riesling Clos Windsbuhl – An Alsatian Riesling.  Depending on vintage, this can be slightly sweet or dry.  It's full of minerals and fruit with great texture.  Great with food and … affordable.
56. Domaine Trimbach Riesling Cuvee Frederic Emile – Another Alsatian Riesling.  Slightly more expensive but still fairly priced.  This needs some ageing to show its best.  Although it can be drunk young, five to ten years in a good cellar is rewarded with complexities.  This is almost always on the dry side. 
57. Chateau Palmer – Another second growth Bordeaux.  This is from the Margaux commune.  At times it can compete with Chateau Margaux in quality.  Off vintages can be both affordable and special.  A majority of Cabernet Sauvignon is in this blend.
58. Domaine Tempier Bandol la Tourtine – From Bandol in the region of Provence.  Although the region is better known for its Rosés, this is a powerful red made from the Mourvèdre grape.  It is very tannic in its youth but becomes a delicious food wine with some bottle age.  You can't know France without tasting some Bandol.
59. Domaine de la Pepiere Muscadet de Sevre et Maine Sur Lie Granite de Clisson – One of the more serious Muscadets.  This really needs some cellar time to evolve and calm down.  Great with food, especially shell fish.  Muscadet gets no better. 
60. Chateau Rayas Chateauneuf du Pape – Another of the old world styled wines.  This is earthy, dank, dark and glorious.  Not for those who like "clean" wine.  It has got so much complexity and funk.  Really a special side of Chateauneuf. 
61. Dominique Laurent Grands Echezaux VV – one of the more affordable of the Grand Cru wines from Burgundy.  These wines are often dismissed as being too modern, too oaky, and for other reasons.  Don't believe it.  Buy it and stick it in the cellar for a decade.  It is amazing and on a par or at least close to the other Burgundies on this list. 
62. Chateau de Pibarnon Bandol Rouge – Another red Mourvèdre wine from Provence.  These are a bit more accessible in their youth but can also last for a long time.  Great with food. 
63. Verget Batard Montrachet – Another producer who sometimes gets taken too lightly for its "heavy handed" use of oak.  Just give it some time in the cellar and the oak integrates into the fruit.  Some reputations are harder to shake.  These are great wines that any White Burgundy lover or Chardonnay lover for that matter needs to have on their list.
64. Huet Vouvray Le Haut-Lieu Sec – This is a basic Vouvray from the greatest producer of Chenin Blanc on the planet.  It is a dry wine and is delicious when released.  It will also last a very long time in a cellar.  Each vintage is good and reflects the qualities that the vintage had to offer. 
65. Dom Faiveley Latricieres Chambertin – An old school red Burgundy producer.  This Grand Cru needs a lot of time to develop.  Ten to twenty years from vintage is a starting point.  These are lean, sinewy wines that are not for everyone.  Yet, for those whol like their Pinot Noir in this style, it doesn't get much better. 
66. Foreau Vouvray Moellleux Clos Naudin – Foreau gets my vote for close second among Chenin Blanc producers and comes out on top in some vintages.  This is a sweet wine that can work with some foods during dinner or certainly for dessert.  It will last forever in a good cellar. 
67. Francois Chidaine Montlouis les Lys - Another Loire Valley Chenin Blanc wine.  Chidaine is an up and coming estate that in the last ten years has ascended to the top level of producers.  This is a silky wine that will be a bit sweet and viscous.  Goes well with food or as an aperitif. 
68. Domaine Romanée Conti Echezaux – The weak link in the DRC lineup, but still a very good to great wine.  Often times the only chance mere mortals will have a chance to taste a DRC wine due to pricing.  For that reason alone, it makes the list. 
69. Georges Vernay Condrieu Coteaux du Vernon – This is a white wine from the Rhone region made from the Viognier grape.  While there are many nice Condrieu's, Vernay was the master.  I believe his daughter is now making the wines and the quality is just as good.  It's amazing how delicate Viognier from this Condrieu region can be. 
70. Chateau Lagrezette Le Pigeonnier – This is a red wine from the Cahors region of France.  This is one of the ancestral homes of the Malbec grape made famous in Argentina.  It's a different wine when made in Cahors.  This is dense and mineral driven with nice acidity and good fruit as well.  If one wants to understand Malbec, this is a must. 
71. Pascal Cotat Sancerre Chavignol Le Grand Cote – Another Sauvignon Blanc from the Cotat family but a different branch.  This is a big Sauvignon Blanc by French standards (but not by new Zealand or California). 
72. Domaine des Baumard Savennières Clos de Papillon – A Chenin Blanc from the Savennières region of the Loire Valley.  This is a wine that probably needs at least a couple of years from release but will last a long time.  It has a great acidity that works so well with food. 
73. Domaine Luneau-Papin Muscadet de Sevre et Maine Sur Lie L d'Or – Since the list is near the end, it's time for another Muscadet.  Affordable, goes great with food and will last longer than most people think.  This is a little fatter than the Briords mentioned earlier. 
74. Louis Roderer Cristal – One more Champagne for the road?  This ubiquitous wine was a symbol of rappers around the millennium.  It seems to have fallen out of favor which means the price has dropped a bit.  Despite all the notoriety, it is a great Champagne.  Crisp and clean with a finish that lasts forever. 
75. Domaine de la Mordoree Tavel Cuvee de la Reine des Bois – Up until now, no non-sparkling Rosés.  That doesn't seem right.  This might be the best one from France, but there are so many good ones, I put this in to represent its category.  Clean with fresh fruit.  Great on a summer or fall afternoon.  Works with lunch and dinner. 
That's my list.  There are so many other wines that I could have put in.  How many of these have you had?  Did I leave out any?  Which ones wouldn't you put on your list?  I would love to hear your thoughts.