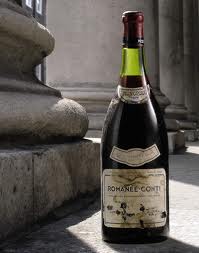 France's Burgundy Wine Region: A Primer on the History, Wines, Vineyards & Terroir contains an excellent introduction into the ethereal wine of one of the most famous wine producing regions.  No winery is more famous, or produces such legendary wines in Burgundy than Domaine de la Romanée-Conti.  Often abbreviated as DRC, the winery makes some of the most exclusive and expensive wines in the world.  They are, for those lucky enough to have tried them, the pinnacle of Pinot Noir and Chardonnay. 
The history of DRC can be traced back to 1232 when the Abbey of Saint Vivant acquired roughly 4.5 acres and subsequently planted it to grapes.  In 1631, that vineyard was bought by the de Croonembourg family and renamed Romanée.  In 1760, the de Croonembourg family sold the land to Louis François I de Bourbon, Prince de Conti.  The prince added his name to the vineyard, hence Romanée-Conti.  The land was seized during the French Revolution and sold at auction.  In 1818 it was purchased by Julien Ouvrard for 78,000 francs.  The vineyard was again sold in 1869, this time to Jacques-Marie Duvault-Blochet who was in his late 70s by this time.  For Duvault-Blochet, this purchase was the jewel in his crown of vineyard holdings in Burgundy.  It was also at this time that the additional vineyard holdings in Échezeaux, Grands Échezeaux, and Richebourg were added to the Romanée-Conti Estate. 
After his death, the Estate eventually passed to his great grand-children Jacques Chambon and his sister Marie-Dominique Gaudin de Villaine.  A business structure, the Société-Civile Domaine de la Romanée Conti, was adopted to prevent the splitting up of the Estate due to inheritance laws. 
The de Villaine family still owns their half of DRC to this day.  Jacques Chambon sold his shares in 1942 to Henri Leroy, who had a thriving nègociant business in Burgundy in addition to owning some of his own parcels.   He passed his shares to his daughter Pauline Roch and Mme. Lalou Bize-Leroy.  Each side of the family has one representative that acts on behalf of all members. 
From 1974 thru 1991, Mme. Lalou Bize-Leroy ran the winery while Aubert de Villaine represented his family's interest.  As one might imagine, disputes arose and the two sides did not always agree.  Mme. Bize-Leroy is said to have been upset with de Villaine's involvement with the 1976 Judgment of Paris wine tasting.  Nevertheless, DRC continued to grow and especially the reputation and price of their eponymous Romanée-Conti vineyard wine.  This flagship wine was in such demand, despite its pricing, that it was combined with some of the other wines in mixed cases.  Unfortunately, some purchasers would buy the pack just for the Romanée-Conti wine and practically dump the other wines at relatively low pricing.  This marketing gaffe served as an impetus to take control away from Bize-Leroy.  In one of Burgundy's more colorful escapades, Mme. Lalou Bize-Leroy was ousted as the controlling partner in 1992.  Indeed, it was Bize-Leroy's sister who voted against her.  Aubert de Villaine took control of the Domaine while Charles Roch represented his family's interest.  Charles passed away and his brother Henri now represents the Leroy family interest.  Don't feel too bad for Bize-Leroy though.  She still owns her 25% of DRC.  In addition, she has taken her father's business and expanded both the nègociant side as well as the vineyard holdings.  Her own label, Domaine Leroy, is today making wines that rival many of the wines DRC produces. 
Most of DRC's vineyards are near the village of Vosne-Romanée.  These holdings include seven Grand Cru vineyards (the highest quality vineyards) in Burgundy; Romanée-Conti, Le Tâche, Romanée-St. Vivant, Richebourg, Grand Échezeaux, Échezeaux, and Montrachet.  In 2009, they also released, for the first time, a Corton Grand Cru wine.  The grapes come from recent purchases in the Clos du Roi, Bressandes and Renardes Grand Cru vineyards.  DRC also owns small amounts of some Premier Cru vineyards from which they have produced a Vosne-Romanée Premier Cru wine.  Since 2006, this has been labeled with the additional designation of Cuvee Duvault-Blochot.  Finally, they own about 25 acres of Batard-Montrachet, a Grand Cru Chardonnay vineyard though for now, no wines are sold publicly from this holding. 
The most prized vineyard is Romanée Conti (also the name of the winery), the original vineyard of the Estate.  It is a monopole meaning DRC owns the entire vineyard.  The entire vineyard is planted to Pinot Noir.  The vines average over fifty years old.  One interesting aspect is that DRC uses horses to avoid compacting the soil (actually, the horses were abandoned in lieu of tractors but have since been reintroduced).  Yields are quite low and it is said it takes three vines to produce one bottle of wine from the Romanée-Conti vineyard.  Average production is 450 cases.  For many, this is the purest expression of Pinot Noir in the world and perhaps the best wine made anywhere.  Single bottles now sell for upwards of $10,000 for the more recent vintages.  The 2005 sells for closer to $15,000 per bottle and the 1990 for almost $20,000 for a single bottle. 
The vineyard of La Tâche in many vintages can rival Romanée Conti itself.  It began in 1815 when Louis Liger-Belair purchased 100 acres of vineyards including the five acre La Tâche.  In 1933, DRC bought La Tâche from the Liger-Belair family.  Three years later 10 acres from the adjacent vineyard Les Gaudichots were added to make one single vineyard, the La Tâche we know today.  It is also now a monopole consisting of just less than 15 acres.  The vines average approximately 50 years of age and are entirely Pinot Noir.  A portion of this vineyard is farmed biodynamically.  Annual production is around 1,870 cases making it a bit less difficult to find hence, it is not as expensive as Romanée-Conti.  Recent vintages can be found for "only" $1,500 per bottle.  The 2005 can be found for $4,000 and the 1990 vintage for $5,000, both per bottle pricing. 
The vineyard of Romanée-Saint-Vivant took a different path.  It was originally purchased in 1791 by Nicolas-Joseph Marey, son-in-law to the prominent politician and professor, Gaspard Monge.  The Marey-Monge family sold part of their vineyard to the Latour family in 1898 but kept just over 13 acres.  Those were leased to DRC in 1966 and eventually sold to them in 1988.  In order to finance this purchase, DRC sold off some its own holdings in Échezeaux under a purchase-lease back contract.  Today, DRC is the largest land owner in this vineyard although they do not own the entire 23 acre vineyard.  The vines average in the order of 35 years with average production at 1,500 cases per year.  These wines typically sell for $800 on release but quickly escalate in the secondary market.  Better vintages such as 1999, 2002 and 2005 sell for $2,000 per bottle.
DRC owns just less than nine acres of the Richebourg vineyard or slightly under half of the entire vineyard.  The vines average a bit less than 45 years in age with 1,000 cases being produced annually.  The wines of Richebourg are fuller bodied and intense than those of La Tâche or Romanée-Conti.  The pricing on these wines is consistent with those of Romanée Saint-Vivant.
DRC also owns nine acres of the Grands Échezeaux vineyard which is slightly under half the vineyard.  There are twenty other owners.  The vines average 52 years and DRC makes about 1,150 cases annually.  These wines are acknowledged to be a "step down" from the previously described wines.  While certainly good, and even great in some years, these are not the wines that give DRC its lofty reputation.  Still, current releases can cost around $600 and in some better vintages the price is now topping $1,000 per bottle. 
The vineyard of Échezeaux is about 80 acres, much larger than Grands Échezeaux.  DRC owns 12 acres whose vines average 32 years in age with average production at 1350 case per year.  Échezeaux is often criticized for not deserving its Grand Cru status.  While that may be true for some parts of this large vineyard, most would acknowledge the Grand Cru status of DRC's vines.  Still, Échezeaux has traditionally been the weakest link in the DRC Grand Cru line-up.  In some vintages, the wines do rival the Grands Échezeaux wines.  Prices now start at $400 but quickly escalate to $800 a bottle or more for better vintages. 
All of the above vineyards are known for their red wines made from the Pinot Noir grape.  DRC also makes a white wine from Chardonnay grapes grown in the Montrachet vineyard.  This entire vineyard is less than twenty acres and DRC owns less than two.  The vines are old, averaging almost 70 years.  As you might imagine, the production for this wine is miniscule with about 205 cases are produced each year.  Finding a bottle is quite difficult.  Whether these wines are the best this vineyard offers is up for debate.  Certainly, DRC's reputation gives them the benefit of the doubt.  Still, a bottle will cost at least $2,000 and maybe over $5,000 with some age and from a good vintage. 
The Vosne-Romanée Premier Cru (1er Cru) wines can be found for somewhat less money.  Purchasers, however, may be paying for the name more than the quality of the wine in the bottle vis-à-vis other producers.  Bottles routinely sell for the upper three digits, every bit as much as the lesser Grand Cru's.  As for the Corton Grand Cru, pricing has not been announced for the inaugural vintage of 2009.  As that appears to be a stellar vintage, the price will likely be very high.  For a point of comparison, the Leroy Corton sells for close to $1,000 in a weaker vintage like 2007 and closer to $1,500 for the 2005.  One can expect the DRC price to exceed that. 
DRC places a huge emphasis on its vineyards.  They take a non-interventionist view of winemaking, preferring to stress the quality of the grapes.  While almost everyone says this, DRC walks the walk.  Many of the vineyards are farmed using biodynamic principals.  The yields are very low in the vineyards due both from green harvesting and from having very old vines.  Harvest dates for DRC are often after other Domains have picked.  This can be quite risky if the rains come, but it allows the grapes to have more concentrated flavors.  For DRC, the risk is worth obtaining the quality.
Once the Pinot Noir grapes are harvested, they are hand sorted and the under-ripe berries removed.  The grapes are not de-stemmed.  A slight amount of sulfur is used before the grapes are crushed by foot.  The grape must is kept in contact with the skins for long periods perhaps up to one month in open wooden casks.  Fermentation is done at low temperatures with natural (indigenous) yeasts.  The cap is punched down two or three times per day.  Chaptalization (the addition of sugar to allow higher alcohol levels) is allowed if needed in small amounts near the end of the fermentation process.  Of course, the juice is fermented dry.  The wines are stored in 100% new oak (Troncais) barrels.  DRC has its own source for the Troncias wood of these barrels.  The wine is usually racked one time after malolactic fermentation is completed.  Typically the wines spend 16 to 20 months in barrel before bottling.  The wines are not filtered but can be fined using fresh egg whites (three to four egg whites per barrel).  At bottling, the barrels are combined in a steel vat to reduce bottle variation within each particular wine. 
The Chardonnay grapes are pressed immediately and then given sulfur to prevent oxidation.  The juice is put into 100% new oak barrels and allowed to ferment.  The wine is stirred on its lees two or three times per week.  Following malolactic fermentation, the wine will rest for an additional nine months and then be racked before bottling. 
The concept of terroir finds a welcome home in Burgundy and the wines of DRC illustrate this concept.  That is the idea that grapes, grown only a few meters apart, treated virtually identically, can have subtle (and not so subtle) differences due to the differences in soil, angle of the sun, micro-climates, and everything else that might affect the growing process.  Some scoff at this idea, but nowhere is it perhaps more demonstrable than Burgundy.  The wines of DRC amplify this perception.  There is a constant thread in all of their wines of ripe cherries, cinnamon and some floral (violets?) notes.  Romanée-Conti wines are said to be more elegant that La Tâche and perhaps a bit more concentrated.  Although Richebourg are a bit fuller, they are not as intensely complicated as the former. 
All of these wines may be delicious young but need years to really justify their lofty reputations and prices.  They will age for decades.  The better wines from the 80s and 90s are only now starting to reach their peak.  They will stay at that level for many years before beginning a slow elegant decline.  That means, for example the 1990 DRC Romanée-Conti is now a mature wine drinking at or near its peak.  It will probably be at this level for at least another 15 to 25 years.  Perhaps for some, that is enough to justify its current price of around $20,000 for a single bottle.  While some of the other vineyards in lesser vintages will not last this long, at a minimum most require cellaring in a good cellar for at least five to seven years and will be at peak for another five to seven years after that. 
Only a very few of us will ever be able to know those differences.  The sky rocketing prices over the last two decades have put this wine out of reach for almost everyone.  For those lucky enough to have had a large sample size, however, the differences between the wines are noticeable.  Still, as they set the standard for both Burgundy and indeed, Pinot Noir around the world, every wine lover should know the name.  Who knows if the opportunity to taste these wines will ever present itself?