France's Burgundy wine region produces some of the world's truly great wines.  This is a region completely dedicated to terroir and tradition.  Even the grapes planted in Burgundy are restricted to a few traditional varietals, with pinot noir and chardonnay holding pride of place – as they have for many, many centuries.
Burgundy's Winemaking History
Burgundy's winemaking history dates back at least to ancient Roman times, possibly earlier, although documentation is scanty prior to the Romans' arrival.  Catholic monks cultivated vineyards during the Middle Ages, and the ruling Dukes of Burgundy involved themselves in the grape-growing process in an effort to improve the quality (and, no doubt, export value) of Burgundy wines.  It was during this period that pinot noir became the red wine grape of choice in Burgundy.  Vineyards shifted from Church ownership to individual owners during the Renaissance, and, in the aftermath of the French Revolution some 300 years later, all remaining Church vineyards were privatized.  These privately-owned vineyards were divided and re-divided under Napoleonic law, which forced families to split holdings among heirs instead of willing all inheritable property to one descendant.  This division of the vineyards led directly to the system used in Burgundy today; hundreds of growers sell their grapes to négociants, or buyers, who use the grapes to make wine.
The 1861 Classification
Following Bordeaux's 1855 Classification, Beaune's Agricultural Committee developed its own classification system for the area now known as the Côte d'Or.  This system was modified and expanded to include all of Burgundy in 1936, when France developed the Appellations d'Origine Contrôllee (AOC) system.  According to this expanded classification, the most prestigious Burgundy wines are classified as Grand Cru appellations.  There are 33 Grand Cru AOCs in Burgundy (one in Chablis, the remainder in the Côte d'Or); 1.4% of all Burgundy wines are Grands Crus.  Grand Cru wines are made from grapes grown in specific, top-quality vineyard plots, or climats.  The second-highest classification level is Premier Cru (10.1% of total production).  Premier Cru is followed by Village appellations, with Regional appellations, the lowest level, completing the classifications.[1]
Burgundy Reds Today
Burgundy's Grand Cru wines fetch top prices on the world market, and their popularity is growing, particularly in Asia.  Burgundy's reputation for high-quality wines that hold their value has lasted through the centuries, even during times of economic downturn.  Burgundy's growers and négociants attribute this quality to the attention each grower pays to the effects of terroir on the grapes.  The climats of Burgundy – over 1,200 in all – have applied for UNESCO World Heritage Site status under the auspices of an organization created specifically for this purpose, citing the centuries-old tradition of growing grapes in highly-defined, painstakingly-maintained areas with specific microclimates – in short, the climats.[2] 
True to tradition, Burgundy's top red wine grape growers continue to plant pinot noir grapes and cultivate them with meticulous care.  Let's find out more about Burgundy's top red wines.  For price comparison purposes, we'll use the 2005 vintage, with one notable exception.
Top Burgundy Reds

Domaine de la Romanée-Conti
Domaine de la Romanée-Conti routinely appears on lists of the world's most expensive wines.  Its best vintages command insanely high prices.  Domaine de la Romanée-Conti's prized pinot noir wines are made with grapes grown in historic Grand Cru vineyards (eight in all), the oldest of which has been cultivated since 1241.  According to Domaine de la Romanée-Conti's website, the combination of terroir, best-quality vines that are perfectly suited to their climat, humble dedication and meticulous attention to every detail of the winemaking process make DRC  wines unique.  Wine lovers emphatically agree.  Expect to pay from $13,000 to upwards of $16,000 for a single bottle of 2005 Domaine de la Romanée-Conti Romanée-Conti.

Domaine Leroy
Domaine Leroy creates biodynamic wines under the expert direction of Lalou Bize-Leroy.  Domaine Leroy's nine Grand Cru appellations speak for themselves; they are consistently rated among the very best of Burgundy's top red wines.  Bize-Leroy began cultivating vines using biodynamic techniques long before the practice was well-known or understood.  Because she carefully supervises every phase of growth, harvest and production, Bize-Leroy's wines are of the best quality, and their prices reflect this fact.  You'll pay $3,600 to $5,000 for a bottle of 2005 Domaine Leroy Chambertin.

Domaine Dugat-Py
Thirteen generations of winemaking experience, four Grand Cru appellations, old vines and organic processes combine to create the essence of Domaine Dugat-Py.  Bernard Dugat and his wife Jocelyne, along with their son, Loïc, produce exceptional wines using organic methods.  Domaine Dugat-Py wines are meant to be held for several years.  A bottle of 2005 Domaine Dugat-Py sells for $3,500 to $3,800.

Domaine Armand Rousseau Père et Fils
Domaine Armand Rousseau Père et Fils, another of Burgundy's legendary family-owned wine producers, creates top-notch wines using traditional methods and precise decision making throughout the production process.  The domaine holds over eight hectares (almost 20 acres, a large area by Burgundian standards) of Grand Cru appellations.  Harvesting is done by hand.  Much of Domaine Armand Rousseau Père et Fils' production is designated for the export market.  Expect to pay $900 to $1,650 for a single bottle of Domaine Armand Rousseau Père et Fils Chambertin Clos de Bèze.

Domaine Comte Georges de Vogüé
Domaine Comte Georges de Vogüé dates back to 1450, and the domaine is now in the hands of the 20th generation of the family.  This sense of history meshes well with the winemaking team's willingness to work with nature's effects on the grapes.  The family owns a large percentage of the Musigny Grand Cru vineyard.  The domaine's top wine, Domaine Comte Georges de Vogüé Musigny Vielles Vignes, is extremely well-regarded.  You'll pay $960 to $1,700 for a bottle of the 2005 vintage.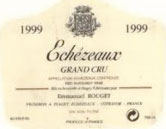 Emmanuel Rouget
Emmanuel Rouget, nephew of legendary winemaker Henri Jayer, learned winemaking from one of Burgundy's truly legendary personalities.  Henri Jayer made wonderful, unfiltered wines, and it appears that Rouget has not only picked up the torch but is carrying it with dedication.  Rouget is committed to his uncle's methods, including careful attention to vines and no filtration.  Many experts note that there is very little difference, in terms of quality, between Rouget's wines and those made by his late uncle.  This explains the high prices Emmanuel Rouget's wines command.  A single bottle of 2005 Emmanuel Rouget Echézaux will cost between $380 and $800.

Maison Joseph Drouhin
Maison Joseph Drouhin is one of the famous names of the Burgundy wine region.  Joseph Drouhin, who founded the domaine in 1880, created a wine dynasty in true Burgundian tradition.  Joseph's grandson, Robert, broke new ground in Burgundy when he employed the region's first female oenologist, Laurence Jobard.  Today, Robert's four great-grandchildren manage the domaine.  Expect to pay between $330 and $400 for a bottle of 2005 Maison Joseph Drouin Chambertin.

Dominique Laurent
Dominique Laurent began his professional career as a pastry chef.  Thankfully for the world of wine, he abandoned this field in favor of winemaking.  Laurent does not grow his own grapes; instead, as a négociant, he purchases grapes each year from Burgundian old vine growers.  Laurent's innovations include use of new oak barrels during the aging process; he has been known to move wine from one set of new barrels to another before aging is finished.  He even opened a barrel factory in order to obtain wine barrels made to his particular specifications.  You'll pay $145 to $555 for a bottle of 2005 Dominique Laurent Charmes Chambertin Vieilles Vignes.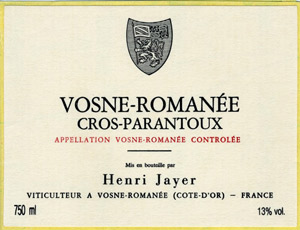 Henri Jayer
Henri Jayer, who died in 2006 at the age of 84, was one of Burgundy's truly influential winemakers, and, as such, deserves special mention.  As well known for his charming personality as for his wines, Jayer was fiercely dedicated to improving vineyard techniques, believing that low yields are the foundation of truly great wines.  Jayer was equally famous for his refusal to filter his wines.  He also cold-soaked the grapes after crushing them, which was a startling innovation that worked wonderfully; today, cold-soaking is a common practice.  Jayer made limited quantities of all of his wines; today, you'll pay $2,700 to $3,800 for a single bottle of 2001 (his last vintage) Henri Jayer Vosne Romanée Cros Parantoux.
[1] http://www.burgundy-wines.fr/find-out-about/and-their-wines/understandin...?