IntoWine asked our wine experts for their pairings for Roquefort cheese.  Here are their recommendations for wines that complement this intense, pungent blue cheese:
Often called 'the king' of cheeses, this unique soft, blue cheese has as many appellation controls as its wine counterparts, including methods and region of production, and minimum aging requirements. So let's keep the wine pairing simple, shall we.
For such a rich and aromatic cheese you need something that either complements or contrasts its heady nature. For me, there is no better pairing than a sweet wine. I've tried my fair share of perfect pairings for Roquefort, and it seems to me that as long as the wine has a fair amount of sugar and acid it is not overcome by pungent salty flavors of the cheese.

If you are a purist, a Sauternes or sweet white Semillon-based wine from Bordeaux or one of its satellites would be your best bet – try any vintage of Haut Charmes (about $25). If you are a fan of Riesling, try any vintage of Joh. Jos. Prüm Wehlener Sonnenuhr Auslese (about $25). If you are a port enthusiast, any style of port will do (Ruby, Tawny, LBV). My suggestion, find one that is not too heady with alcohol, as it may distract the headiness of the Roquefort. – Ben Spencer is a diploma student with the Wine & Spirit Education Trust and an IntoWine Featured Writer
------------------------------------------------------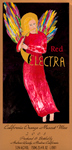 Pungent, demanding and unruly, Roquefort cheese is in a class by itself. I'm asked often about it and most people want to bully the cheese with a strong wine. Bad idea.
Easy solution- the Red Electra ($15) from Quady Winery in Central California is made from orange and black Muscat grapes, fermented slowly then stopped mid-way. This wine is only 5 percent alcohol, sweet, slightly fizzy, and really tasty.
There's a more pronounced grapey flavor than anything else, similar to a mild sangria, with lots of ripe summer fruits. Yes it's simple enough with a pronounced sweet character to play second string to the cheese and it will clean your palette from the aggressive cheese flavors. - Michael Cervin, Wine Judge, Restaurant Critic, and IntoWine Featured Writer
------------------------------------------------------

Best wine to pair with Rochefort. I'm a huge fan of sherries. Sauterne or Port are more obvious pairings for this rich cheese. Sherry is an underappreciated yet highly complex and diverse type of wine offering a wide variety of styles from extremely light, dry, and delicate to decadently rich and sweet. Pedro Jimenez type falls into the latter category; densely sweet and full of dried fruit aromas of prunes, figs and raisins. A hedonistic match with Roquefort. Oloroso sherry is a dry style with nutty flavors and a haunting mineral finish. Try either type paired with Rochefort and some sliced figs for an alternative experience. Lustau is a reputable producer widely available and of reliable quality. For a true gem try to find El Maestro Sierra. This relatively unknown producer offers sherry of superior flavors. And again, as of recently their wines can be found at Biondivino. - Cezar Kusik, IntoWine Featured Contributor