It is said that wine and cheese go together. The real question though is WHAT wines pair with WHAT cheeses. IntoWine's panel of wine experts recently chimed in with their suggestions for the best wine to pair with goat cheese: 
What usually comes to mind is chevre, so let's think about something different. Think Norway, for a second...the most amazing cheese I know is Gjeost (pronounced yay-toast), and if you don't know this, you must try it. My Grandmother's family was from Bergen, Norway, so I grew up feasting on this sublime cheese. It looks like caramel, and it's sweet like caramel too, but savory at the same time. It's firm, brown, and naturally sweet.  I've had it with very dry Champagnes, and Madeiras, but the strangest, tastiest combination is

Vin Jaune from the Jura in France. From a small wine region in Eastern France, this unusual, yellow colored wine gets its character from being matured in a barrel under a film of yeast called the "voile", on the wine's surface. It's a bit like a Fino Sherry, but unlike Sherry it isn't fortified. I think it's a stellar combo with Gjetost- the dry, nutty wine is delicious with the sweet, rich cheese. It may be easier to find the cheese than the wine. A well distributed brand of Gjetost is "Ski Queen", but the wines from the Jura are more obscure. It's worth the hunt! - Laely Heron, Owner/Winemaker, Heron Wines
----------------------------------------------------
I am of the school that red wine does not go well with cheese, other than Port with Stilton. Historically, the French have cheese before dessert because they use it to finish off the red wine, as they haven't the luxury of a strong Port market. The French then drink Sauternes with dessert, after the cheese, however, unless you have a very delicate tarte tartin, most dessert will ruin dessert wine. The British have cheese after dessert because that is the natural place to put Port. Having said this, whether you have cheese before dinner, like many Americans, or after like the Brits, or with dessert like the French, I still think that, especially with a more gentle cheese like chevres, you should stick to white wine. Having said that, many a good Loire wine would work, many good New Zealand wines, well, basically, what I'm saying is, drink Sauvignon Blanc and avoid any wine with excessive oak. - Bartholomew Broadbent, CEO, Broadbent Selections, San Francisco
----------------------------------------------------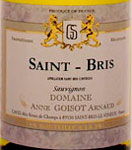 The classic wine pairing for goat cheese is Sancerre Sauvignon Blanc. There is certainly a lot of reason for this. Sauvignon Blanc from Sancerre in the upper Loire Valley is traditionally very clean, acid, and fruity – the predecessor of New Zealand style. When matched with a rich, creamy goat cheese, Sauvignon Blanc's beauty is its ability to cut through the richness of the goat's milk and prepare the palate for another bite. For an intriguing Sauvignon Blanc outside Sancerre (and a bit south) try the 2006 Saint-Bris, Sauvignon, Domaine Goisot – the only sauvignon made in Burgundy. Not only is this a unique wine, it fulfills this pairing with a grace that Sancerre is lacking. (About $12)  – Ben Spencer is a diploma student with the Wine & Spirit Education Trust and an IntoWine Featured Writer.
----------------------------------------------------

When I consider pairing a wine with goat cheese, one region in the world immediately comes to mind. France's Loire Valley is home to some of the worlds' most exquisite goat cheeses (known as chevre) as well as some of the most perfect wines with which to enjoy them. For a younger goat cheese, either from the Loire or a more locally produced version (California for instance makes some phenomenal examples), I would recommend a vibrant and crisp sauvignon blanc. Sancerre is a great region to look to for wines that fit this nervy profile. The 2007 Gerard Boulay Sancerre $24.99 from the commune of Chavignol is a perfect choice. For more aged goat cheeses, I would select a chenin blanc from the Loire Valley region of Savennieres. A great choice is the 2006 Domaine du Closel "La Jalousie" $22.99. Its steely structure yet subtle fruity and earthy undertones provide a great balance to the earthier and more pronounced flavors of an aged cheese. - Mulan Chan, Rhône and French Regional Buyer, K&L Wine Merchants
----------------------------------------------------

I know it may sound like one of those combinations better suited to a dare, but one particular night I discovered the joy of goat cheese, chardonnay and microwave popcorn. The dryness of the goat cheese and the salt of the popcorn cry out for a mildly acidic chardonnay, not a full blown oak and butter bomb. Saddlerock 2007 Chardonnay, ($11) is a great example of a partially oaked chardonnay with some acidic backbone, allowing it to cut through the creamy and dry nature of the cheese. This inexpensive partially oaked chardonnay from Malibu gets the additional butter jolt from the popcorn but it doesn't get overwhelmed from a full malo-lactic fermentation. The only trick is getting the goat cheese on each piece of popcorn. It's a little time consuming, but worth the effort. - Michael Cervin, Wine Judge, Restaurant Critic, and IntoWine Featured Writer
----------------------------------------------------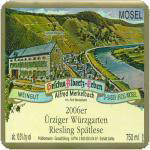 One of our favorite recipes for dinner parties is having a Roasted beet salad with goat cheese croutons.  First, roast the beets, peel the skins and slice them thin.  Take rounds of goat cheese, dip them in an egg wash and then bread crumbs.  Toast them in oil in a frying pan until warmed thru.  Put the beets on a bed of lettuce, top with a few goat cheese rounds.  Fantastic.  And the best wine to serve with that?  A German Riesling.  Specifically, I will recommend a 2006 Merkelbach Urziger Wurzgarten Riesling Spatlese.  These are in the stores now and cost around $20 or less.  It is not the most profound German Riesling in the marketplace, but it is very good.  Lots of great acidity, nice mineral and wet stone flavors with some nice citrus fruit.  The sweetness of the wine balances the goat cheese well.  The acidity makes it great with the beets.  Finally, the lower alcohol works well early in a meal so as not to fill one up or make one too tipsy to enjoy the rest of the meal. - Loren Sonkin, IntoWine.com Featured Contributor and the Founder/Winemaker at Sonkin Cellars.