With the economy in the gutter wine enthusiasts are on the lookout for exceptional wines for a good price with which they can sip away the summer.  IntoWine.com asked our panel of wine experts to recommend the best sauvignon blanc "value" wines:
Sauvignon Blanc is widely planted around the world, and there are many great examples. Not surprisingly, the best values in terms of quality and price—terrific wines for under $20--can be found in the several regions that specialize in Sauvignon Blanc: New Zealand, Chile's Limari Valley and California's Dry Creek Valley in Sonoma County. I am also including some great values from another up and coming region for Sauv Blanc—California's Santa Barbara County. Unfortunately, I can't find anything that I've rated 91 points or higher that is under $20 from the other great region known for Sauvignon Blanc, France's Loire Valley.
The absolute stars of this category, for both value and quality, averaging $12 each from U.S. retailers, are three Sauvignon Blancs hailing from New Zealand—the country where Sauv Blanc is the most heavily planted grape, by far—and one from Chile. The NZ choices are Makara Wines and Villa Maria Private Bin, both from Marlborough, and Wither Hills of Wairau Valley. The Chilean value is Tabali's Reserva Especial.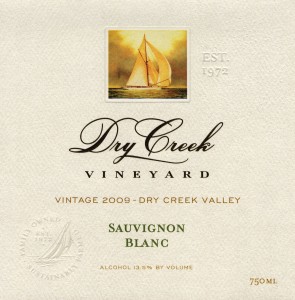 For a little more money, but still under $20, check out these great buys, taking in California high performers, as well as more from New Zealand. At an average of $14, Stoneleigh from NZ's Marlborough and Woolaston from NZ's Nelson region. For $15, look for Dry Creek Vineyard's stainless steel fermented Sauv Blanc, The Girls in the Vineyard from Lake County, and Mt Beautiful from NZ's Canterbury region. At $17, I recommend Saint Clair Family Estate from Marlborough, one of my highest rated Sauv Blancs last year; Mauritson Wines Dry Creek Valley; Rusack and Lincourt, both from Santa Barbara's Santa Ynez Valley; and Man O' War from NZ's Waiheke Island.
At the upper end of my value recommendations at $18, but still incredible deals for the quality, are Huia and Loveblock from Marlborough, and Star Lane from Santa Barbara's Happy Canyon region.  Richard Jennings, IntoWine.com Featured Contributor and the Founder RJonWine.com.
-----------------------------------------------------------------------
New Zealand makes outstanding Sauvignon Blanc, as most already know, though they are very good value, they aren't, as such, "value wines". What is not commonly known is that a lot of New Zealand wine consumed in New Zealand is blended with outstanding "value" Sauvignon Blanc, imported from Chile! Granted, if they blend in Chilean wines, they aren't allowed to re-export that wine labeled as New Zealand Sauvignon Blanc, but in New Zealand itself, they don't make mention of the fact that their home grown juice might not be as pure as believed.
It is often blended. Such is the quality of Chilean "value" Sauvignon Blanc that, a while back, at Cindy Paulson's Backstreet Kitchen in the heart of Napa Valley's town of St. Helena, they were pouring one by the glass. It was the Aresti Sauvignon Blanc! Is this crazy or what? Well, a quick chat to the then wine buyer revealed that, although Napa makes some excellent Sauvignon Blanc, "there is not a single Napa Valley winery that makes a Sauvignon Blanc with such pure varietal character as you get in the Aresti, priced at a "by the glass" price point"! - Bartholomew Broadbent, CEO, Broadbent Selections, San Francisco
-----------------------------------------------------------------------

There are many good and great Sauvignon Blancs grown all over the world.  The old world style wines from the Lorie and Bordeaux are delicious.  Many people love the New Zealand versions with their crisp tropical fruits.  California makes some very good ones too.  All of these areas produce very good wines, some of which are excellent values.  I want to take this opportunity to do something which is quite rare for me.  I want to recommend a wine from South Africa.  Over the last dozen years, I have tried a multitude of wines from South Africa.  In the end, the one I recommend more than any others is the Mulderbosch Sauvignon Blanc.  Available for around $16 or perhaps a bit more where you live; this wine is consistent from vintage to vintage.  I find it stylistically somewhere between the new and old world paradigms.  It has very nice lemon and grapefruit notes, with no grassy or cat pee aromas.  Crisp but not overtly acidic, this is a good food wine, pairing well with salads, chicken and fruit, yet also sips easy on its own.  It has the stuffing to age a few years, but why bother.  It is good now, and most likely so will next years.  The 2007's are on the store shelves right now. - Loren Sonkin is an IntoWine.com Featured Contributor and the Founder/Winemaker at Sonkin Cellars.
-----------------------------------------------------------------------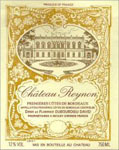 Sauvignon Blanc has its fans and its detractors for sure. In general, it has grapefruit and peach flavors and can be grassy, minerally depending on where it is grown and herbaceous. While it can stand up to oak, too much will drown it out. High in acid, it is often crisp, clean and refreshing. While it is made in many areas, Sauvignon Blanc seems most at home in the Loire Valley, Bordeaux, Friuli-Venezia-Giulia in Italy and Marlborough and Hawks Bay in New Zealand. The pinnacle of Sauvignon Blanc is probably Sancerre, which is known for its matrix of minerality. From the Loire Valley, even the most modest versions have gone up in price. Alors, let's look elsewhere to a region that we normally would not mention in the same sentence as value, Bordeaux.
If you are looking for a great value in Sauvignon Blanc, the 2006 Chateau Reynon Premieres Cotes de Bordeaux is the way to go. Part of Denis Dubourdieu Domaines, it packs a lot of flavor into a very reasonably priced wine. Composed mostly of Sauvignon Blanc it has a grassy, minerally character with guava, peach, grapefruit and long, pointed finish.  Suggested Retail - $14 - Pamela Busch, Owner/Wine Director, CAV Wine Bar & Kitchen, San Francisco 
-----------------------------------------------------------------------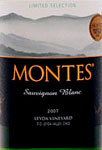 Let's face it, when it comes to Sauvignon Blanc, it seems that the choices are endless. Do you like nuances of gooseberry and grapefruit? Perhaps a New Zealand Sauvignon Blanc is for you. Into super chiseled, mineral driven whites? Then a Loire Valley Sancerre is definitely in order. However as well made as wines from these regions often are, I myself find wines from these regions to be either a) too fruity -New Zealand; or b) too pricey for everday drinking –Sancerre. Enter the 2007 Montes Sauvignon Blanc, Leyda Vineyard, Leyda Chile $13.99! This bitey white is the package, dry, crisp and vibrant, with nuances of lime zest, fresh cut grass and the smell of wet stone after a summer rain.  The Montes Sauvignon Blanc bridges the gap between old world restraint and New World freshness. It is one fantastic Sauvignon Blanc buy. - Mulan Chan, Rhône and French Regional Buyer, K&L Wine Merchants
-----------------------------------------------------------------------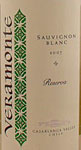 South America!  Specifically the Veramonte "Reserva" Sauvignon Blanc. There has been an incredible investment in the vineyards and wineries of South America in the past few decades and the effort is really beginning to show. Wines from Chile in particular, with its long Pacific coastline and mountainous terrain, are brimming with international and local character. This wine is no exception. Each vintage has a clarity of intention in the assemblage of fruity charm and acidity, herbs and mouth feel. Because harvests in the Southern Hemisphere happen in the spring, it is likely that the 2008 vintage will be available soon. As with many Sauvignon Blanc's they are best when enjoyed cool and young, but can be served with or without food. (About $9) - – Ben Spencer is a diploma student with the Wine & Spirit Education Trust and an IntoWine Featured Writer.