IntoWine.com asked a panel of wine experts for their recommendation for the best New Zealand Sauvignon Blanc: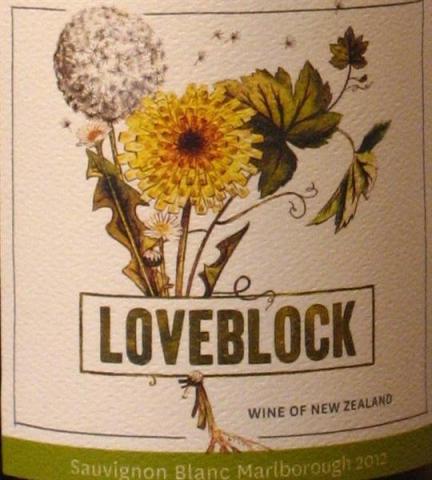 New Zealand took the wine world by storm with its intensely flavored Sauvignon Blancs starting in the 1980s. Sauv Blanc is still the most widely planted grape in Kiwi Country, by a long shot, and there are numerous great examples. My favorite NZ Sauv Blanc from recent vintages is the 2012 Loveblock, the first vintage from Kim and Erica Crawford's new label. They were the team behind the hugely successful Kim Crawford label, which they sold to Vincor International in 2003 for $8.6 million. The Loveblock is a complex, structured Sauvignon Blanc, with notes of ripe lime, smoke and sweet green chili. You can find it for an average of $18 at U.S. retailers.
Another favorite producer is the justly famous Cloudy Bay, which makes both a delicious, balanced, unoaked version, as well as a Sauv Blanc that is reminiscent of a white Bordeaux from a ripe year—the Te Koko, which spends 18 months in French oak. One more great one is the intensely flavored Saint Clair Family Estate Selection. Richard Jennings, IntoWine.com Featured Contributor and the Founder RJonWine.com.
--------------------------------------------------
Sauvignon Blanc has a split personality right now. I say this because there are those who believe that New Zealand has found the best, true expression of Sauvignon Blanc the world has ever known. Because of this, Sauvignon Blanc from New Zealand has been all the rage in recent years. Interest and demand for a product, unfortunately, does not always translate into quality. Many New Zealand Sauvignon Blanc producers have simply begun to let quality slide in order to make a few more bottles of wine and cash in on the image of New Zealand Sauvignon Blanc. In my opinion, there are still some really good producers making consistent high-quality products, you simply have to find them. 

My support falls behind the Saint Clair Pioneer Block 3 '43' Degrees Sauvignon Blanc. This is a focused, very direct, herbaceous, linear expression of Sauvignon Blanc – the sort of thing you want and expect and respect, when you get it. This single vineyard wine claims to have a unique planting scheme which delivers pungent, high-acid, gooseberry, pine resin aromas and flavors. At about $20, this wine is a bargain for any purist in search of the lost art of Sauvignon Blanc. – Ben Spencer is a diploma student with the Wine & Spirit Education Trust and an IntoWine Featured Writer. 
--------------------------------------------------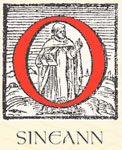 I recently had the best New Zealand Sauvignon Blanc I have ever had.  The surprising thing is that it was made by a producer more famous for his Oregon wines.  Sineann is a winery in the Willamette Valley in Oregon run by Peter Rosback.  A man of unbounded energy, he also makes both a Pinot Noir and a Sauvignon Blanc in New Zealand.  The 2008 Sauvignon Blanc labeled as Marlborough was excellent.  Bold and racy with tropical fruits yet made in a full blown style.  Available for around $20, this is a bit pricier than many, but absolutely worth seeking out. - Loren Sonkin is an IntoWine.com Featured Contributor and the Founder/Winemaker at Sonkin Cellars
--------------------------------------------------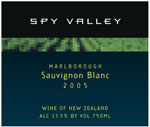 Spy Valley is consistently reliable. I love that wine and it is my house white. It was also picked by Anthony Giglio in the October Food & Wine magazine as one of his four favorite value wines. The wine doesn't overpower you with the grassiness of most Sauvignon Blanc. The residual sugar is what makes it so pleasant, without taking any of the dryness away. It is a classic Sauvignon Blanc. Cool story too. Look at the label, the digitized photo of the vineyards, Morse code on the capsule, subliminal messages in the print and a back label looking like a dossier file. All this is because, from the winery, you can see two large American satellite installations which look like giant golf balls. Yes, this is where they are spying on Afghanistan and Iraq, monitoring all the cell phone traffic. That's why the locals calls this part of the Marlborough valley, Spy Valley. - Bartholomew Broadbent, CEO, Broadbent Selections, San Francisco
--------------------------------------------------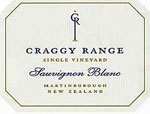 The 2008 Craggy Range Avery Vineyard struck a nerve with me when I drank it recently.  Lots of tense, firm acidity that acted as the perfect spine for the zingy grapefruit and tropical fruit flavors.  Hints of crushed rock, lime zest, and minerals are quite prominent in the finish.  Something I would definitely pair up with a whole number of shellfish dishes to tone down the vibrancy just a bit. - Tony Connell, Personal Wine Consultant for Montesquieu Wines
--------------------------------------------------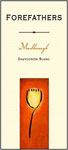 I haven't really discovered any new, worth seeking out Sauvignon Blanc from New Zealand. But I haven't really been exploring that territory much. When it comes to Sauvignon Blanc I'm definitely more of Loire Valley type of guy. I have always been enjoying Forefathers Sauvignon Blanc from Marlborough though. Affordable and full of classic flavors of gooseberries, passion fruit, and freshly cut grass. For some the intensity of fruit flavors may seem to be overpowering but the wine is well balanced. It goes great with spring salads of vegetables and fruits mixed together with a sprinkle of goat cheese on top. - Cezar Kusik, Fine Wine Specialist, Fourcade & Hecht Wine Selections