IntoWine.com asked a panel of wine experts for their recommendation for the best Napa Chardonnay (for the money):
California Chardonnay has entered a new golden era, and there are terrific, cooler climate examples available from all over the State. These great new Chards tend to be balanced, with minerality and strong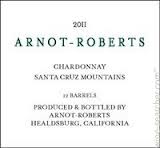 acidity, as well as less obtrusive new oak than was the trademark of California Chardonnay even five years ago. Napa does not have a particularly cool climate, so the wines from this region tend to have more ripe, tropical fruit characteristics, and more richness, as well as more of a creamy mouth feel, thanks in large part to the new oak typically used for fermentation and aging. Nonetheless, for those who like the rich, tropical fruit style of Chardonnay, there are some great examples from Napa that are relative values. My top pick for the money is the Arnot-Roberts Watson Ranch Napa Valley Chardonnay, with the current release going for a relatively reasonable average of $35. Here I get more lemon and lemon cream than super-ripe tropical fruit, but with solid weight and creamy texture. Also quite good but considerably pricier, at about $50, is the Hestan Vineyards Chardonnay, made by sought after Napa winemaking consultant Mark Herold. - Richard Jennings, IntoWine.com Featured Contributor and the Founder RJonWine.com
------------------------------------------------------
When I think of Chardonnay, there is a wide spectrum of flavors and aromas that spring to mind. Really great Chardonnay has a richness about it, an underlying minerality, an elevated aroma of all things creamy, and a lush fruity profile. When grown in a warm climate with cool nights, in a region like Napa, the Chardonnay grape can reveal it's true potential for distinction. One wine that comes to mind is Sbragia's "Gamble Ranch" Chardonnay. Layered with ripe pear, butter-cream, honeycomb, roasted nuts,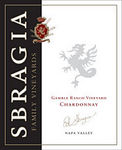 and melon, this wine's individuality is like a train arriving at the station – one car after the other loaded with personality. The grapes for this wine are sourced from a single vineyard in Yountville. The diverse number of Chardonnay clones used for the blend contribute to a broad palate and focused intensity. A long initial fermentation in oak, full malolactic conversion, and frequent lees stirring combine to make a singularly unique Chardonnay in all of Napa. At about $30, this is a great wine to get your hands on – and enjoy. - Ben Spencer is a diploma student with the Wine & Spirit Education Trust and an IntoWine Featured Writer.
------------------------------------------------------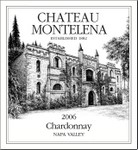 I should start out by saying that I am not a fan of most Napa Chardonnays.  I find too many of them over oaked and too buttery for my tastes.  There are, however, a few that I like.  My personal favorite is The Judge by Kongsgaard.  At well over $100 a bottle, however, this is hardly a wine I can recommend based on value.  I am going to go for a stalwart of Napa Valley Chardonnay's.  Chateau Montelena makes a very good Chardonnay for around $35.  The oak is reasonably held in check and the wine has the stuffing to last a few years while improving.  It is the kind of wine that grabs your attention.  This is also the wine that helped put California Chardonnay on the map way back in 1976 when it won a tasting of French and American wines held in Paris.  That gives it kind of a cool factor.  In a day when the latest and greatest keeps changing, this wine has been consistently good for over thirty years.  Certainly worth drinking a bottle of history.  - Loren Sonkin is an IntoWine.com Featured Contributor and the Founder/Winemaker at Sonkin Cellars
------------------------------------------------------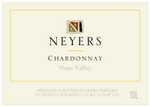 A great value Chardonnay from the Napa Valley?  Now that's a tough question; almost unfair. With so many great wines from all over the world competing with the high-priced darlings from Napa, it is really becoming a chore to find an everyday Chardonnay made from Napa valley fruit.  Although most, including myself, wouldn't consider a $28 bottle of wine a value, I think the 2007 Neyers Chardonnay is an exception; especially when one looks into the meticulous wine-making techniques practiced by the winery; like hand picking organically farmed fruit, whole-cluster pressing, and using only indigenous yeasts, to name just a few.  The cool weather growing region near Yountville makes for a bright vibrant wine with crisp apple and pear components.  These lively flavors are backed up by an intriguing mineral streak and a rich round mouth-feel that makes this wine a joy to drink.  - Joel Bleskacek, Proprietor, Ruby Wine, a boutique wine shop in San Francisco's Potrero Hill district
------------------------------------------------------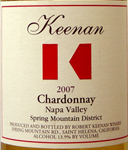 I'd have to go with the 2007 Brenin, $38 a bottle.  2007 has turned out some great Chardonnay; the best are marked with the freshness and complexity that I like in this wine.  The aromas are citrus-driven with a touch of cut hay while the body has a full expression of pear with nuances of butterscotch and vanilla.  When you can find a domestic Chardonnay that delivers the depth that this wine has without the excessive butter and oak tones that drag down the finish, you've found a great wine.  For all the same reasons I'd also suggest the 2007 Robert Keenan Chardonnay from up on Spring Mountain.  No ML on this so it retains a vibrant core of citrus fruit that so many 'top' Napa Chards lack.  This comes in at around $30.
- Tony Connell, Personal Wine Consultant for Montesquieu Wines
------------------------------------------------------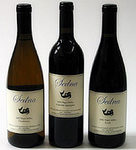 Napa isn't an area where I would search for Chardonnay. Too warm in most cases. But there are some exceptions.  Sedna Chardonnay from Napa for under $20 a bottle is definitely worth seeking out.  Well structured with ripe flavors of apple, lemon, and vanilla. The oak is there but it isn't overpowering but rather nicely integrated. Full and generous mouth feel. It lasts surprising long after opening if refrigerated. I had a bottle open for 2 days and it still retained a lot of its freshness.  - Cezar Kusik, Fine Wine Specialist, Fourcade & Hecht Wine Selections