Chocolate desserts are the pinnacle of gustatory decadence, but not every wine can stand up to their richness.  We asked our panel of experts what they'd recommend to sip alongside chocolate desserts:
There is a wide variety of wines that could be matched with chocolate desserts. I have 2 styles of wine as my favorite depending on the richness of the dessert. With lighter sweets I like Banyuls wines. These are Vin Doux Naturel from Southern Rhone in France. Fortified wines based on Grenache grape with beautiful heady flavors of figs, berry jams, and bitter chocolate.
With rich, sweet, decadent dessert there is nothing like a PX sherry from Spain. These wines are the sweetest in the sherry category. With thick, nearly oily texture and made from Pedro Ximenez grape, which is one of the three permissible grapes in the production of sherry they offer a hedonistic experience. A good vintage PX can often be a great value.  - Cezar Kusik, Fine Wine Specialist, Fourcade & Hecht Wine Selections
----------------------------------------------------------------

The classic wine to pair with a dessert is a Banyuls, a dessert wine from southern France.  Sometimes, these are hard to find, especially at the last minute.  I am going to recommend, if you can't find one, look to Port.  Port makes a great pairing with chocolate.  While vintage Port's are wonderful, they are not inexpensive.  Rather, I am going to suggest the Ferreira Ruby Port that was reviewed on IntoWineTV.  Ruby Ports are a "lesser" category of Port wine that is made to be drunk young.  This is easy to drink and at about $15 a bottle, will not break the bank.  Plenty of sweet raspberry fruit that goes great with chocolate.  At almost 20% alcohol, a small glass per person is a great way to finish a meal.  - Loren Sonkin is an IntoWine.com Featured Contributor and the Founder/Winemaker at Sonkin Cellars.
----------------------------------------------------------------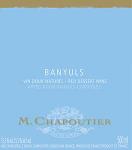 Buried somewhere deep in the history of chocolate is the first time it was enjoyed with a glass of Banyuls. Made since the thirteenth century, Banyuls is a rich, sweet, Grenache-based, fortified wine made in the south of France. Banyuls enjoys a certain amount of popularity among sommeliers and restaurateurs as the classic pairing for chocolate desserts. Made from grapes grown in stony mineral soils, Grenache is capable of producing concentrated fruity dry wines with bold features that can resemble chocolate. When Grenache is fortified and aged in oak, it takes on yet another profile of cocoa, dried fruits and roasted nuts. Whether you are seeking an aperitif, ending a meal, or simply indulging, there is no better way to go than Banyuls, and no better Banyuls producer than M. Chapoutier. All grapes for Chapoutier's Banyuls are hand-picked from terraced slopes, de-stemmed, fermented slowly, fortified with pure grain spirits, and aged for up to 36 months in oak. These wines are not only delicious and delectable right out of the gate, they can also age well. About $25 (375 mL). – Ben Spencer is a diploma student with the Wine & Spirit Education Trust and an IntoWine Featured Writer.