Carbonara sauce is a classic Italian white sauce, rich with a combination of ingredients that can include cream, ham or bacon, egg yolk, butter, olive oil, and plenty of cheese.  IntoWine asked experts for their favorite wine pairing to complement the subtle flavors and heavy texture of pasta alla carbonara:
Carbonara Sauce is a butter cream sauce with a bit of pork product.  For this type of dish, I usually recommend a red wine with good acidity.  The acid will cut thru the sauce but yet, the wine should not be overpowering so the pork shows through.  To me, that means a wine from Italy (where else for Carb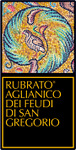 onara Sauce?).  I am going to recommend the Feudi di san Gregorio Rubrato Taursi.  This wine should be easily found at under $20.  It meets the above criteria.  In addition, it has excellent smoky cherries and plums.  This can be drunk right away or held for a year or two in a cellar.  - Loren Sonkin, IntoWine.com Featured Contributor and the Founder/Winemaker at Sonkin Cellars.
----------------------------------------

When you say, "Rich, cheesy sauce with bacon cooked in its own fat," I say Riesling. Historically I would have said the sweeter the better, but lately I've been adding a touch of lemon peel to my sauce before I add the bacon. I find it gives the dish more acid without jeopardizing the savory components. Therefore, I'll I've been experimenting with less traditionally German Rieslings like the SA Prum Essence. The stainless steel fermentation reminds me more of a Clare Valley Riesling from South Australia but coming from SA Prum estate fruit the wine surprises with its complexity and less punchy lemon perk you get with Australian Riesling. Most people think white peach with these types of Riesling but this wine shows more candied apple which pairs beautifully with the Carbonara sauce. - Michael Whitehead, IntoWine Featured Writer
----------------------------------------

Pasta alla Carbonara is rich in flavor – Egg yolks, pecorino or parmigiano cheese, with bits of ham or bacon. The pork is fried, then a mixture of eggs, cheese, and butter/olive oil is combined with the hot pasta, cooking the eggs; the pork is then added to the pasta. For me, this is a true, rustic Italian recipe, served over pasta and sprinkled with fresh peas for a little color. The wine I would choose is French, however. Ask anyone who knows me, bacon is my one true gastronomic love in life. In this particular recipe, I would look to feature the bacon (pancetta works nicely too) in the sauce the recipe by pairing this meal with a bottle of Cave Yves Cuilleron Syrah. The domaine is based in France's Rhone Valley. The wine is deeply colored with smoky ripe fruit and satiny tannins. The acidity of this wine barely cuts through the rich dairy of the sauce, and what you are left with is the resplendent and  rustic origins of this recipe. – Ben Spencer is a diploma student with the Wine & Spirit Education Trust and an IntoWine Featured Writer.