We recently asked our panel of wine experts to recommend a wine to pair with roasted chicken. While a variety of recommendations came forth, the clear winner of the day was New Zealand's Spy Valley Pinot Noir as two of our experts independently suggested this gem of a wine.    
I would recommend a Pinot Noir.  Pinot is a great match for fowl.  The roasted qualities of this preparation call for one that is perhaps a bit smoky or has some toasty oak notes (within reason).  I am going to recommend a Spy Valley Pinot Noir from New Zealand.  This is another in a line of very good Pinot Noirs being produced by this relatively young wine producing area.  Their Pinot is a fruit forward wine with upfront cherry notes and complex layering of earth and spices.  It can be drunk young but cellaring will be rewarded.  It is available for under $30 (under $25 with some searching).  The 2006's are on the store shelves now, but the older ones are fine as long as the store keeps the wines cool and well stored. - Loren Sonkin, IntoWine.com Featured Contributor and the Founder/Winemaker at Sonkin Cellars.
-------------------------------------------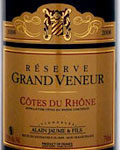 Although roast chicken can be prepared in a myriad of ways, I like to stud mine with a few garlic cloves before liberally coat the bird in a concoction of olive oil, parsely, rosemary, thyme, salt and pepper. This roast chicken a la Provencale begs for a fruit driven red with warm fruit flavors that complement but do not over power the roasted herb and meat flavors. A solid entry level Grenache based Cotes du Rhone is a perfect choice. I really like the 2006 Domaine Grand Veneur Cotes du Rhone "Reserve" $15.99. If you choose to tone down the herbs and garlic on your roast chicken this Cotes du Rhone should still complement the savory roasted flavors as well. - Mulan Chan, Rhône and French Regional Buyer, K&L Wine Merchants
-------------------------------------------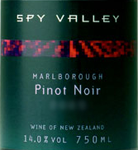 I can go with white or red when it comes to chicken, though I tend to drink red more often. I also like the brown meet and crispy skin. Not such a breast man, myself, more into legs. Anyway, that said, I enjoy both, so how about a nice Pinot Noir? In fact, just yesterday, I was drinking Spy Valley Pinot Noir, one of the wines we import, a top quality Pinot from Marlborough in New Zealand, with roast chicken from a fantastic take out place called 8½ in Richmond, Virginia. It went perfectly with the roast chicken but to say that any wine is "the best wine with roasted chicken" is a bit far reaching because chicken can be paired perfectly with so many varietals and regions. It is safety food for wine pairings. So, I stick to the old adage, what is the best wine? The last one! Of course, I don't drink bad wine, so I'm safe enough here! - Bartholomew Broadbent, CEO, Broadbent Selections, San Francisco
-------------------------------------------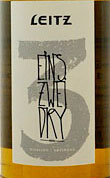 Matching a wine with chicken seems like a no brainer, but it all depends on your marinade or rub with the chicken and how exactly you roast it, whether that's on the grill or in the oven. On its own, chicken is fairly benign and any roasted version benefits from a slight smoky quality, especially over an open flame. A bone dry Riesling like the German producer Josef Leitz and his Eins-Zwei-Dry Riesling Trocken 2007 ($15) has enough acid and minerality to sooth any charring of the bird. This Riesling, with mild citrus notes and a hint of caramel will stand up to most any rub or marinade including sweet bar-b-que, but not overpower the meat of the chicken itself. The slight effervescence will also clean the palette. - Michael Cervin, Wine Judge, Restaurant Critic, and IntoWine Featured Writer
-------------------------------------------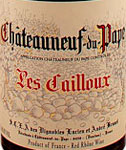 Last weekend I enjoyed one of the best roast chickens on earth...from Zuni Cafe, in San Francisco. It was a beautiful day to eat outside, and we paired a Chateauneuf du Pape, Les Cailloux, Andre Brunel, 2005 with their succulent roast chicken... wow! I'd actually do any Chateauneuf, or even a Gigondas, with a nice juicy chicken -the interesting fruit, acid and complexity are a great match. - Laely Heron, Owner/Winemaker, Heron Wines
-------------------------------------------

Roasted chicken is one of those foods that is so versatile in flavor and preparation that it is easy to pair almost any wine – which makes choosing just one a difficult decision. From chardonnay to pinot noir, roasted chicken deserves a wine with flavor because roasted chicken is full of it. At its best, the skin is crispy, but the meat should be juicy and smoky. My pick, Soter Vineyards North Valley Rosé. Made primarily from Pinot Noir, this wine also gets an infusion of Chardonnay and Pinot Gris. What makes this wine work so well is its fruity character and its easy-going flavor. After all, roasted chicken is a rustic fare. It is not serious. It is simple. What could be easier to drink than rosé? (About $18) – Ben Spencer is a diploma student with the Wine & Spirit Education Trust and an IntoWine Featured Writer.