Best Wine to Pair With a Caesar Salad
IntoWine asked a panel of wine experts to recommend the best wine to pair with a Caesar Salad:
In the boxing match of food and wine pairing, Caesar salad defeats wine nine times out of ten. There's hardly a menu item out there that is more wine unfriendly. Salad in and of itself is always a challenge to pair, but one that is comprised of a creamy sauce made of eggs, lemon juice, Worcestershire sauce, parmesan cheese and anchovies inevitably makes most wines taste awful. But I recently discovered one contestant who can step up to Caesar's punch. Domaine Patrick Coulbois makes a lovely Sauvignon Blanc from the Loire Valley's Pouilly-Fumé region called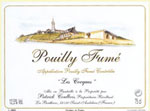 "Les Cocques," The grapes for this wine come from 50-year-old vines grown on silex soil. Les Cocques has gorgeous notes of fresh herbs and citrus which work quite well to complement the salad, and its racy acidity allows it to stand up to the intensity of the dressing. Moreover, a slight hint of minerality from the soil works in harmony with the briny anchovies. Caesar salad has finally met its match! - Kareasa Wilkins, Wine Consultant for Weimax Wines & Spirits in Burlingame, CA and an IntoWine Featured Writer
------------------------------------------------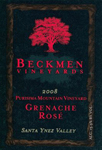 Beckmen 2008 Grenache Rosé ($18). Caesar salads are known for a tartness from the dressing, and an acidity from the anchovies, assuming they're still used much anymore. I find that the soft floral and berry notes of the grenache rosé balances out the various flavors of the salad. A truly great rosé is tough to come by, either too sweet, to one-dimensional, for too flat. Beckman not only succeeds but excels with a complicated rosé that, even in a vacuum, has such complexity as to make it a pleasure. It subdues the tartness of the dressing, doesn't blow out the lettuce, and enhances the salt element. - Michael Cervin, Wine Judge, Restaurant Critic, and IntoWine Featured Writer
For more than 25 years, The California Wine Club founders Bruce and Pam Boring have explored all corners of California's wine country to find award-winning, handcrafted wine to share with the world. Each month, the club features a different small family winery and hand selects two of their best wines for members.
------------------------------------------------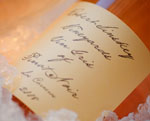 Gone are the days when heavy store bought mayonnaise, over-cooked eggs and soft, chewy croutons define a Caesar salad. Today purists of the Caesar salad make Julia Child proud with the acceptance of nothing but crisp, whole Romaine lettuce leaves, the finest virgin Olive oil, farm raised eggs, Parmigiano-Reggiano cheese, Sea salt and crunchy, flavorful croutons. Whilst attending to this Renaissance of the Caesar, why not hop on the bandwagon of another resurgence and crack open a bottle of Robert Sinskey Vin Gris of Pinot Noir. Far from White Zinfandel this salmon colored wine comes from whole pressed, top quality Pinot Noir grapes grown in Napa Valley's Los Carneros District. The Robert Sinskey Vin Gris is a dry, elegant, European inspired rosé displaying crisp, bright sweet-tart raspberry fruit with deep, layered mineral and intense pepper notes on the finish. - Michael Whitehead, IntoWine Featured Writer