In my last article, I listed the Top 75 French Wines to Try Before You Quit Drinking.  In this article I look at the "non-dump bucket" list for wines from California.  This proved to be a different task.  First, very few wineries have a long track record of making great wine.  Secondly, while California is diverse, it does not have the diversity of climates and terroir and grape varietals of France.  Still, it does produce some of the best wines in the world and any wine lover should make it a point to try as many of them as they can.  Here is my list: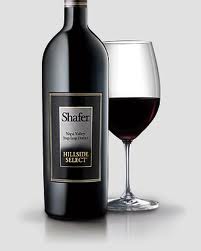 1. Shafer Hillside Select Cabernet Sauvignon – It's hard to pick the first wine.  This one is a great wine in every vintage and has been for a long time.  Expensive but still possible to afford and made in large enough quantities to be found in grocery stores.  Every lover of Cabernet should try this once.
2. Kapcsandy Family Vineyards Robertas Reserve – My favorite Merlot-based winein the entire world.  It has only been made for a few years, but the attention to detail, the purity of fruit and the commitment of the owners makes me believe it will continue its short pattern of excellence.  Can it get even better?

3. Saxum James Berry Red – Possibly my favorite California wine of all time is the 2007 version of this wine.  Earning 100 points from Robert Parker and garnering the Wine Spectator Wine of the Year has resulted in skyrocketing aftermarket prices for this wine.  But no worries, there are other great vintages still affordable.  It's a Syrah/Grenache blend that is so delicious.  The only problem with it is that it is so easy to drink, it's going to be hard to keep my few bottles left in the cellar until maturity.

4. Sine Qua Non Just for the Love of It. – Sine Qua Non gives its wine new names every year.  The owner/winemaker also does fantastic artwork for each label.  The wines have achieved a cult status and may be the number one cult wine in California.  That is truly amazing for Rhone varietal wines grown in Ventura.  This one is my favorite and it is still drinking young but amazingly well.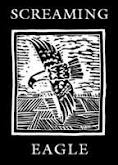 5. Screaming Eagle – The quintessential cult cabernet.  For many, this isdisappointing because it's not a huge wine.  Rather, Screagle, as its nicknamed, is an elegant, complex wine.  Now priced at $750 on release, this was always hard to find, now even harder to afford.  Still, if someone offers you the chance…

6. Ridge Monte Bello – An old guard cabernet from California.  Paul Draper has been making these wines for a long time and it's great in every vintage.  Since it's not from Napa or Sonoma, the usual vintage charts may not be reliable either.  It is a wine that needs some time to drink its best.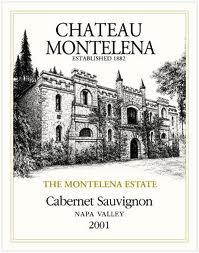 7. Chateau Montelena Estate Cabernet Sauvignon – Another old guard CaliforniaCabernet.  Despite what some would say, I think these drink just fine young, but they will last, certainly as long as a Bordeaux from an equivalent vintage.  And, they get better with age as well.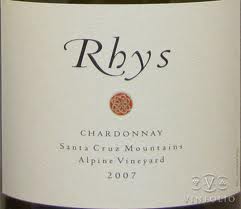 8. Rhys Chardonnay Alpine Vineyard– It's probably a good idea to have at least one white in the top ten.  I think this is the best Chardonnay being made in California today.  This winery, more known for the Pinot Noir wines, makes a wonderful Chardonnay.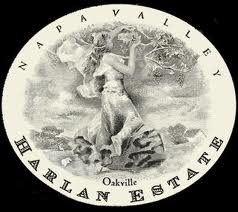 9. Harlan Estate Wine – Also one of the classic cult cabs of Napa.  I have had more than one person tell me the 1994 Harlan Cabernet is the single best wine ever made in California.  I have not had it, but later vintages that I have tried were exceptional.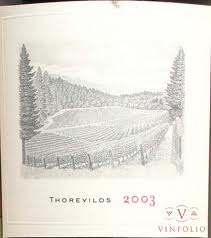 10. Abreu Cabernet Sauvignon Thorevilos – This is a Cabernet Sauvignon from David Abreu, one of Napa's foremost viticulturists.  This is a huge wine that could only come from Napa.  It's delicious and despite some experts claims that a wine made in such a lush, upfront style won't age, this wine is ageing just fine.  It will age gracefully for twenty years.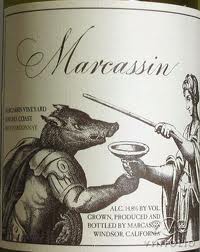 11. Marcassin Chardonnay Marcassin Vineyard – This Chardonnay has a track record going back to the mid-1990s.  Made by the husband and wife team of John Wetlaufer and Helen Turley, these wines are rare and hard to find.  The wine can be drunk young, but just like the finest White Burgundies, this needs three to five years to begin to approach its peak and really a decade, after which it will stay there for another decade.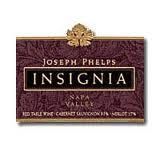 12. Joseph Phelps Insignia – A wine that has been at the top or near the top of the Napa Cabernet game for almost forty years.  It is a Bordeaux blend with a high majority of Cabernet Sauvignon grapes.  These wines are delicious on release and age wonderfully for a couple of decades or more.  The early 1990s versions are gorgeous right now.  If this came from Bordeaux it would be twice the price.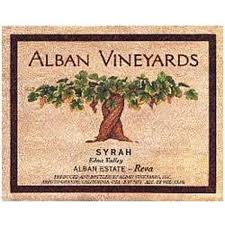 13. Alban Vineyards Syrah Reva Vineyard – John Alban is one of the first people to realize the potential of Rhone varietals in California.  He has been making the Reva Syrah since the mid-1990s, but in the last decade or so, quality has really ratcheted up.  These are wines that will last and improve in a good cellar.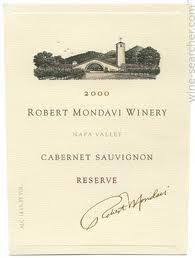 14. Robert Mondavi Cabernet Sauvignon Reserve – Perhaps no person has been moreimportant to the Napa Valley wine industry than Robert Mondavi.  Actually, that may be true for the entire United State's wine industry.  His pioneering work on developing and selling the wine experience has changed the wine industry worldwide.  Although Robert sold the company years ago and passed away recently, this wine remains the flagship for the winery.  It's as good as it ever has been.  This is a Bordeaux-styled wine that is elegant and complex.  It drinks well young but really needs time for the oak to integrate and the wine to develop.  It will last and improve in a good cellar for a couple of decades.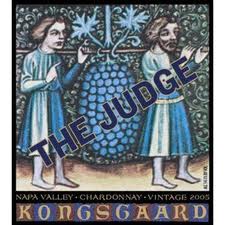 15. Kongsgaard Chardonnay The Judge – A California Chardonnay, that is as good as any Chardonnay anywhere.  It is expensive and hard to find.  John Kongsgaard is the idiosyncratic personality behind this wine that sells to his mailing list customers for $175 a bottle.  Still, it is complex and ethereal.  Light on its feet, yet bold and full of flavor.  It needs some time in the bottle to reach its apex, but tastes so good now, it is hard to wait.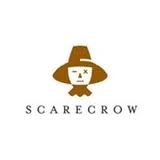 16. Scarecrow Cabernet Sauvignon – There are so many new producers, especially in the Napa Valley, who charge hundreds of dollars for their wines.  Many wonder how they can do this as the wines have no track record.  Truth be told many of these wines are not worth the tariff.  One of the best ones of these wunderkind wineries is Scarecrow.  They have only about 7 or 8 vintages under their belt, but there is a commitment to quality.  So far, the results have been impressive.  These are elegant wines that show well while young.  How do they age?  No one knows, but so far, they look like they will age just fine and be glorious with a decade or more of age.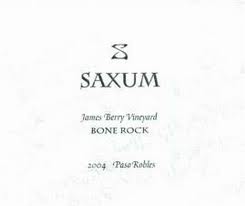 17. Saxum James Berry Vineyard Bone Rock – This was the first wine that Saxum released back in 2000.  Named after a section of the vineyard that contained an ancient fossil.  It used to be 100% Syrah but now uses some Grenache and Mourvèdre.  This is a big wine that is delicious and rambunctious.  Sure it is high in alcohol, and while some said it would fall apart after a few years, so far, all vintages are glorious and shy of maturity.  It is always a crowd pleaser.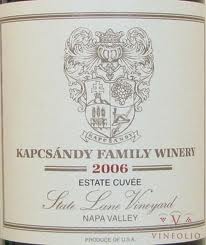 18. Kapcsandy Family Vineyards Cabernet Sauvignon State Lane – One of the truly great Cabernets being made in Napa.  Some would call this part of the new wave of high end producers and that would be correct.  Yet, Lou Kapcsandy is a traditionalist and this wine is more reminiscent of a First Growth Bordeaux.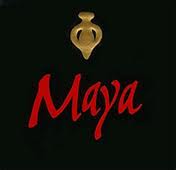 19. Dalla Valle Maya Red Wine – This is another classic wine.  It requires time to demonstrate its pedigree.  After ten years in the bottle, it is a delicious, complex California wine that can compete with anything its price range from anywhere. 
20. Pride Mountain Claret Reserve – The Reserve lineup for Pride is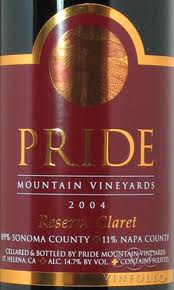 awesome.  I think more people like the Cabernet Sauvignon, but I love the Claret.  It's a blend of Bordeaux varietals coming from both Napa and Sonoma.  The wine needs some time to develop but will last a couple of decades, easily, in a good cellar.  The Claret is more elegant and feminine for my tastes while the Cab is a powerhouse.  Both are great.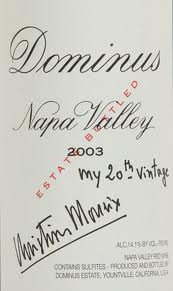 21. Dominus Red Wine – From the Mouiex family of Bordeaux.  These wines are elegant yet clearly speak of California with ripe fruit and exuberance.  The 87 is beautiful right now and just beginning to start its slow fade downward.  The 91 and 94 are simply amazing.  Very special wines that are still being made with top quality.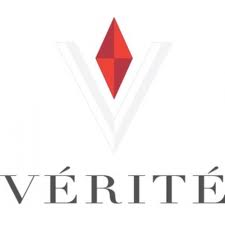 22. Verite La Desir – The price on these wines has gone thru the roof.  One can still find back vintages for a more reasonable price and they are drinking great.  This one has a lot of Cabernet Franc in it (my prediction for the next big thing from California).  It ages well for a decade or more.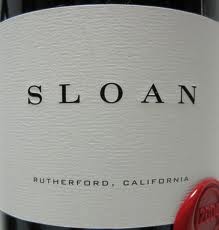 23. Sloan Red Wine – Another expensive wine of the new breed cult (or almost cult) wines from California.  It is delicious.  The first vintage 2000 and they haven't looked back.  These are about 80% Cabernet Sauvignon and are built to last.  It does need time to justify the price, at least a couple of years, but will age gracefully for a couple of decades.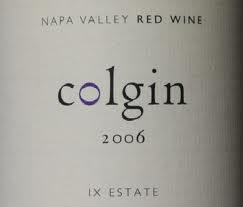 24. Colgin IX Red Estate – This is a Bordeaux blend from Napa.  Another of the new guard made by Ann Colgin since 2002.  It is a fabulous wine.  Like many of its peers, it's expensive (around $300), but would be priced at least that high if not higher in Bordeaux.  These wines will be drinkable after a couple of years, and last for a couple of decades.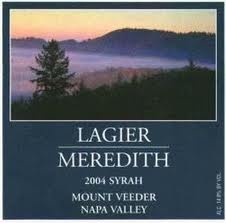 25. Lagier Meredith Syrah – From the husband and wife team of Steve Lagier and Carole Meredith.  These are cool climate Syrahs that are built for the long haul.  They can be drunk young, but the magic is in letting them age for a decade or more.  The nuances emerge and the Syrah fruit easily goes the distance.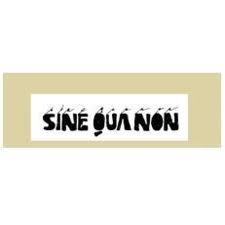 26. Sine Qua Non Into the Dark Grenache – One of my favorite California Grenachewines to date.  I believe this was the 2004 vintage.  It is drinking gorgeously right now and still not at peak.  Supple and powerful at the same time.  Grenache is a hard grape in California, but from the right site and the right winemaker, it is ethereal.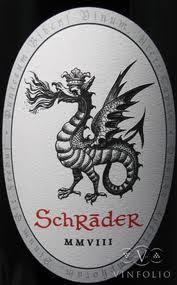 27. Schrader Cellars Cabernet Sauvignon Old Sparky – This is a special release available to the mailing list in Magnums (1500ml).  It is from one of the great producers and one of their rarest bottlings, so if you ever get a chance to try it, don't pass it up.  It is a full bodied, fruit forward Cab, that should age very nicely for a decade or two.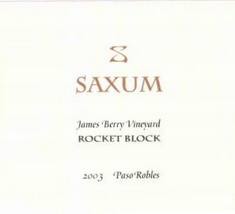 28. Saxum Rocket Block – Not always released, in fact, so far only in 2003 and 2005.  Usually, the grapes for this wine go into the James Berry wine mentioned above.  This wine is dominated by the Grenache and it is delicious, sultry and sexy.  Winemaker/owner Justin Smith keeps hinting that there will be future releases.  One can only hope.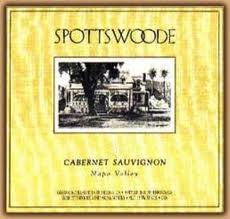 29. Spottswoode Cabernet Sauvignon – this has a track record going back almost thirty years, and though they had a great run in the 90s, the last decade has seen a jump in quality.  This is classic Napa Cab that will drink wonderfully on release and age well for a decade.  Although the price has risen in recent years, it can still be found and compared to other wines of its pedigree and quality, it is fairly priced. 
30. Aubert Chardonnay Lauren Vineyard – The Chardonnay of Aubert are among the best in the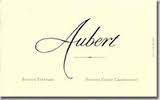 world.  They often have a cloudy appearance but there is precision on the palate.  Great fruit, acidity and balance, these wines need a couple of years after release to come together.  On par with the world's best Chardonnays. 

31. Rivers Marie Chardonnay – Another of the great Chardonnays of California.  This is one that is just now getting its due.  The home winery of winemaker Thomas Rivers Brown, these wines impress anyone and are still affordable.  Great body and minerality to go with the fruit.  Excellent food wines as well.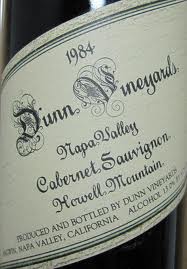 32. Dunn Cabernet Sauvignon Howell Mountain – A classic Napa Cabernet that has recently generated a revival of interest.  These are old school and certainly do need to spend a lot of time in a good cellar before they are ready to drink.  Once mature (or close to it), these are complex Cabernets that are of first growth quality.  Very few wines anywhere age as well as these.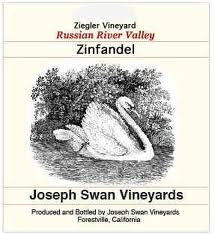 33. Joseph Swan Zinfandel – There had to be a Zinfandel at some point, right?  Just to be sure, we are talking about the red kind of wine, exuberant and full of peppery flavors.  This is an older style Zin, and one that ages.  It has great flavors but may not be the monster Zin some think of either.  This can be drunk young or held onto for a decade where it becomes an elegant, complex wine.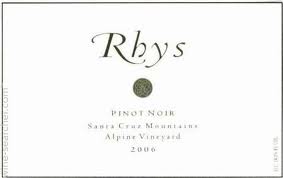 34. Rhys Pinot Noir Alpine Vineyard -  I could have picked any of the single vineyard offerings from this producer.  Leading the way for a new wave of lower alcohol, more feminine Pinot Noirs, Rhys has developed a fervent following among Burgundy fans looking for a California equivalent.  The Rhys team is committed to constant improvement, so I think the best is yet to come.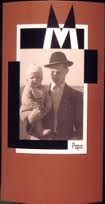 35. Sine Qua Non Pappa – Another great Syrah from this iconic producer.  I mention it because it seems to show up on restaurant list and other place so it may be more available.  Perhaps not a 100 point wine, it is just a notch or two back which makes it one of the best wines I have ever had.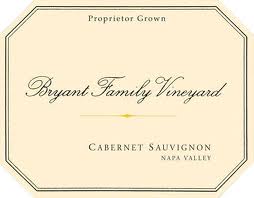 36. Bryant Family Vineyards Cabernet Sauvignon – One of the cult wines of the 90s and the early 2000s, the winery seems to have lost some of its panache.  I am not sure why as the wines are still great.  Of course at $300 plus, great is often not enough.  Still, if you are lucky enough to have a chance to try this, it is a complex Cabernet with plenty of stuffing.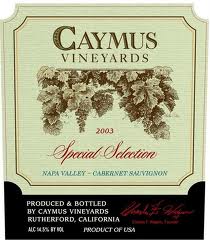 37.  Caymus Cabernet Special Select – One of the older guard Cabs with a history going back to the 1970s.  The pricing on this has become more realistic as other wine prices have gone thru the roof.  It is still one of the great wines produced in Napa.  These Cabs are probably a bit more robust and forward than they were twenty years ago allowing for more early drinking, but they should still cellar just fine.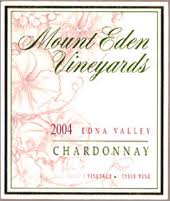 38.  Mount Eden Chardonnay – One of the great Chardonnays from California.  This is not your typical oaky, buttery Chard.  This is more mineral driven, but with enough fruit that it shows its Californian (Santa Cruz) roots.  These are white wines that will reward some ageing as well. 

39. Continuum Red Wine – In case you wondered what has happened to Tim Mondavi after he left his father's winery, this is where he has landed.  The Continuum has had some changes over the first few years, but seems to be settling in now that Tim has bought some vineyards of his own.  The wine is filled with fruit, but its' trademark is elegance.  This is a Bordeaux styled wine, but with fruit and accessibility.  I would think it will improve in a good cellar for a decade and hold for another after that.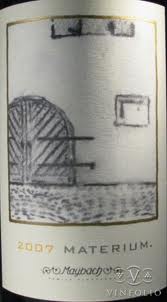 40. Maybach Materium – This Cabernet Sauvignon wine has been around less than a decade.  During that short time, it has risen to the highest levels of Napa Cabs due to the attention to detail.  These wines are flat out delicious and reward cellaring as well.  This is the new wave of great Cabs from Napa.  So far the price has remained fair despite the accolades.  Let's hope that keeps up.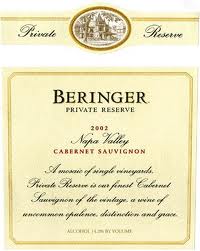 41. Beringer Cabernet Sauvignon Private Reserve – Another Napa Classic.  This has been made going back to the 1970s and its still one of the best Cabs anywhere.  These are lush and delicious when young but they age so well.  The ones from the early 90s compete with the best of Bordeaux from that time period.  Complex and delicious.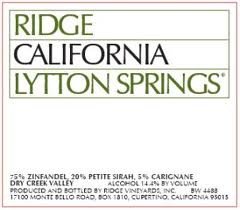 42. Ridge Lytton Springs – This is one that almost everyone can afford.  It can usually be found for under $30.  It's a blend of Zinfandel and Petite Sirah and often some other fun stuff.  While the exact blend changes every year, the quality does not.  Drink great young and will easily last a decade and probably more.  Fun and delicious.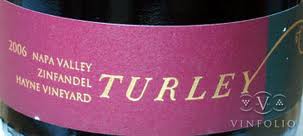 43. Turley Zinfandel Hayne Vineyard – The other side of Zinfandel.  This is a bruiser.  Muscular, masculine, full of fruit and power.  It is a peppery, raspberry filled wine that exemplifies this style.  Up front and tasty.  Great on its own or with BBQ.  Not for the faint of heart.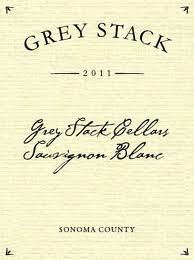 44. Grey Stack Sauvignon Blanc – One of the most refreshing wines to come out of California.  This is clearly from California and so well made.  Slightly grassy with some tropical fruits and some minerality.  It comes together in a seamless package that everyone seems to like.  It will last a year or two, but best to purchase in the spring and drink up over the summer.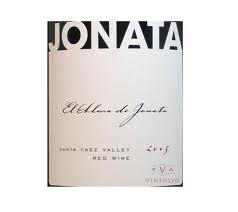 45. Jonata El Alma (Cabernet Franc) – This has been called one of the finest Cabernet Francs to come out of California.  I was skeptical, but after trying it, I agree.  This is a truly special wine.  The Cab Franc adds a fresh tobacco note to the typical Cabernet Sauvignon profile.  This wine is delectable and will develop complexities in the cellar.  It's from an area not known for great cabs (Santa Ynez), but they get it right with this one. 

46. Hanzell Chardonnay – These are old school Chardonnays.  If you want an oaky, buttery Chardonnay, look elsewhere.  This more about a pure expression of fruit and minerals.  I think this tastes best after a few years in the cellar and last much, much longer. 
47. Rivers Marie Pinot Noir Summa Old Vines – This is not your typical California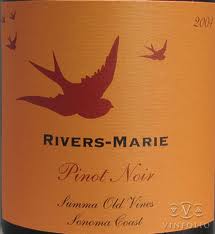 Pinot Noir.  It definitely takes some time to mature.  On release it is typically quite tight and unforgiving.  After five years or so, it blossoms into a beautiful wine.  Great fruit that is not over powering, with depth and complexity.  All of this producer's Pinots are fantastic, but this may be their best.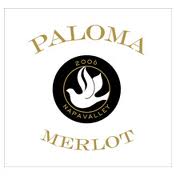 48. Paloma Merlot – This seems to have fallen off the radar lately, but I am not sure why.  One of the great expressions of Merlot in California.  Lush and complex, these drink fine in their youth and after some time in a cellar, they develop and intricacy that is delightful.  Classic Merlot traits such as chocolate covered cherries with a layer of earthiness.  Great balance.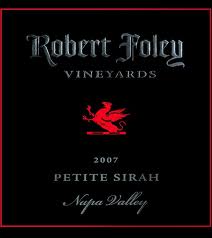 49. Robert Foley Petite Syrah – This is one of the great expressions of this underappreciated grape.  At the same time, this is a monster wine.  It has some deftness and elegance.  Great fruit.  Powerful tannins.  This needs some cellar time to calm down and come together as all great Petite Syrahs do, but should last for a couple of decades.  As a side note, in 2006, the two vineyards making up this wine were released individually.  I hope that is a onetime failed experiment as neither wine was as good as the combined wine.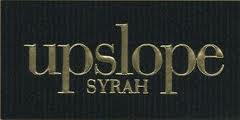 50. Jaffurs Syrah Upslope – A Santa Barbara winery (the tasting room is downtown).  This is a cuvee of the best barrels that Jaffurs produces.  It needs some time in a cellar, but this is a powerful fruit-filled Syrah with plenty of depth and complexity.  Heck, even their basic Santa Barbara bottling is delicious and a great value.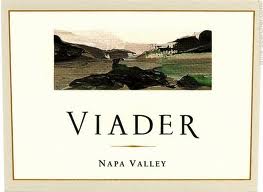 51. Viader Red Wine – A wine that seemed to be an "it" wine in the late 1990s, but has fallen out of favor.  I am not sure why, as the quality is still top notch.  This is an elegant Bordeaux wine.  No fruit bomb, this is a wine that works at the dinner table.  It has a complexity right from the start that develops even more over time. 

52. Bevan Cellars EE Showket Vineyard Red – This is one winery where a bottle is ready to drink when released.  Made to be drunk young and it captures the fruit with silky tannins.  This is my favorite bottling.  It is expensive but it is flat out delicious.  I have no idea if this will age or not as there is not much history, but it is fantastic on release.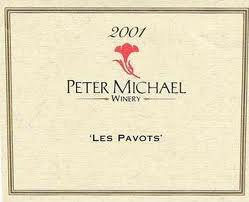 53. Peter Michael Les Pavots – This is the winery's flagship wine.  It has been made since the early 1990s.  This is a Bordeaux blend but Californian thru and thru.  It will age well in a cellar for a decade or more.  It is exuberant in its' youth but develops deliciously with time. 

54. Sean Thackrey Orion – This was originally labeled as a Syrah, but I believe DNA testing revealed the vineyard to be more of a field blend.  It doesn't matter, this is delicious and seems to have a whole lot of Syrah in it.  Inky and dark, this needs a good five years before opening.  After that, it reveals lots of fruit and complexity.  Very nice with Indian food and Grilled meats.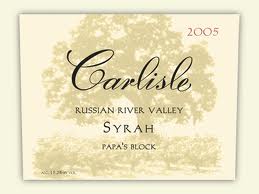 55. Carlisle Syrah Papa's Block – Mike Officer makes these wines and this may be the best value for California Syrah.  These compete with the best of Syrahs from California which can cost double or triple.  This is my favorite Carlisle although I would gladly drink any of them.  Well made, built to last, great fruit and tasty.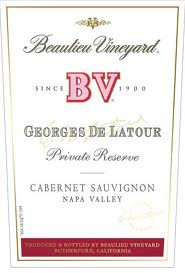 56. Beaulieu George de Latour Private Reserve – This has long been one of the great wines in Napa.  I believe these go back to the late 1940s or early 1950s.  In fact, a 1958 I had a couple of years ago was still going strong.  After a period of under-achieving, they have been on a hot streak during the last decade.  These are classic Napa Cabernets.  This is a food friendly wine that will last in the cellar for a decade or two.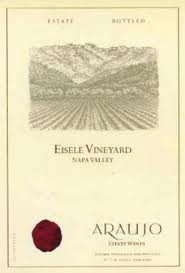 57. Araujo Eisele – In the last twenty or so years, these mostly cabernet blends have been as good and consistent as any winery on the planet.  While they can be consumed young, a few years in the cellar is almost mandatory to really see what's special about them.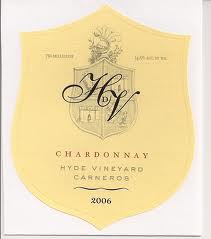 58. HdV Chardonnay – Hyde de Villaine makes one of my favorite California Chardonnays.  Sure this has lots of fruit and oak, but everything is wrapped up in a seamless package.  Wonderful balance as well.  Food friendly or on its own, just excellent. 
59. Pott Cabernet Sauvignon The Arsenal – Winemaker Aaron Pott's home winery.  This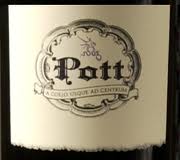 is my favorite of the many different Cabs that he makes.  All are very good.  While the track record is short, I am confident these wines will age.  In fact, they really shouldn't be open for three to five years after release.  Time will tell how well these age, but I look forward to drinking mine.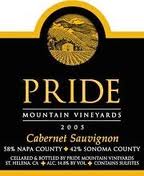 60. Pride Cabernet Sauvignon – This is ubiquitous.  While the Reserve Cabernet may be better, it is impossible to find and very expensive.  This is affordable, available and really good.  In past years, the oak demanded cellaring to allow time for integration, but the new regime makes these in a more accessible style.  I am sure they are built to last, but they can be enjoyed much earlier.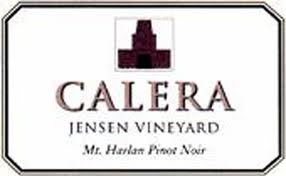 61. Calera Pinot Noir Jensen Vineyard – It's hard to call a California Pinot "old school" because there wasn't a whole lot of great Pinot being made back in the day.  Calera has been making great Pinots for a long time now.  They are not the big, fruit bombs that are so popular now.  These are lean but tough Pinots that will last for a long time.  And time brings out their best qualities.  Complex, floral, great cherry fruit and an underlying earthiness.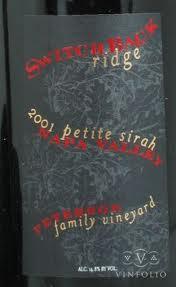 62. Switchback Ridge Petite Sirah – This grape doesn't get a lot of respect.  No one seems to know what it is.  It is delicious when made right.  That's the case with the Switchback Ridge version.  It can be drunk young but sometime in the cellar will help it come together.  One of the best expressions of this underrated grape. 

63. Sine Qua Non Ode to E Grenache – While the Syrahs of this winery usually get the most oohs and ahhs, this Grenache is as good as anybody's anywhere.  Silky texture with prolific raspberry and strawberry fruit.  The E is for owner Manfred Krankl's wife, Elaine.  There is a Syrah wine with the same name, which is almost as good as the Grenache.  

64. Bond St. Eden – The Bond series of wines are produced by Bill Harlan.  They are single vineyard expressions of Cabernet and are all great.  The St. Eden has a bit more Cabernet Franc thrown in, which I think makes it just a bit more interesting, if I had to split hairs.  These are big wines that need time to develop.  Truth be told, in some years, they are as good or better than the Harlan at one third the cost or less.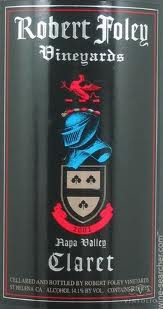 65. Robert Foley Claret – This is a 100% Cabernet Sauvignon from winemaker Bob Foley's eponymous winery.  It has a track record dating back to the 1990s and is always excellent.  There is a lot of oak on them if drunk young, but the wine has the stuffing to allow the oak time to integrate.  A recent tasting of the 2001 showed quite young still but getting there.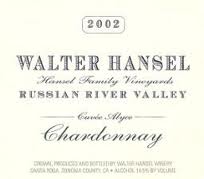 66. Walter Hansel Chardonnay Family Vineyard Cuvee Alyce – This venerable producer of Pinot Noir and Chardonnay produces wine from many different vineyards.  This Chardonnay may be the best though.  This is "typical" in style for California Chardonnays; the oak is present, lots of floral notes and plenty of fruit.  It is way above typical in quality though.  This is a seamless wine that will age and develop.  It is very reasonably priced as well.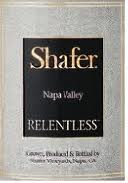 67. Shafer Relentless – Another wine from one of the great Napa wineries.  This is a blend of Syrah and Petite Syrah.  I personally think it needs about five years minimum to really show what it has.  It is not cheap and to really get one's money's worth, it should be aged.  Once mature, this is complex, with steely fruit and minerals.  Works great with food.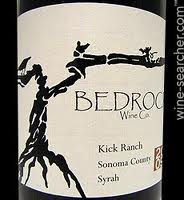 68. Bedrock Syrah Kick Ranch – This is one of the up and coming wineries in California.  It is from Morgan Twain-Peterson whose father has been the Ravenswood winemaker for a long time.  Morgan releases a large number of different wines and they are all outstanding.  This is a cool climate California Syrah.  It needs a few years to reach maturity but is good now with some decanting.  These are food friendly wines that will please a crowd of diverse palates.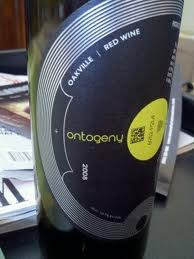 69. Bevan Cellars Ontogeny – One more luscious wine from Russell Bevan.  This is a red blend and one of their most affordable wines.  Like the other Bevan wines, it is great from the get go.  No need to cellar these and wait.  Just pop and pour and enjoy.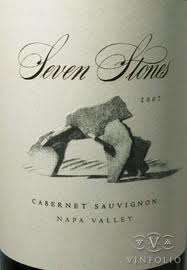 70. Seven Stones Cabernet – this is another of the new guard of ultra expensive California Cabernets.  It has been around since the mid-2000s.  It is refined and shows some restraint.  A very pretty, feminine Cabernet.  They seem to keep notching the quality up.  Hopefully the price does not follow as there is a lot of competition at this level.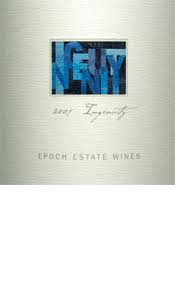 71. Epoch Ingenuity – This is a Paso Robles winery that has revived the Paderewski Vineyard with the help of consultant Justin Smith of Saxum.  There wines are all stellar and this one is a blend of Rhone varietals with some Petite Sirah and Zinfandel mixed in.  They are made in a style which will need some time to develop.  Aggressively priced, it will be interesting to see how the market responds.  The wines are top notch though.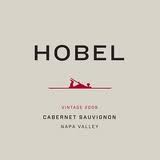 72. Hobel Wine Works Cab Sauvignon – It was hard to include this winery since it has no track record.  2009 was the first vintage.  I include them because I have met the owners and am convinced they are doing it right.  Thomas Rivers Brown is the winemaker.  The pricing is not only fair, but the quality is as high or higher than many $100+ wines.  The 2009 drank well on release, but I believe will get better.  This is one to watch.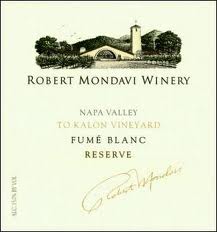 73. Mondavi Fume Blanc Reserve – Robert Mondavi believed that he could sell more Sauvignon Blanc if he called it Fume Blanc.  Perhaps he was right.  Many wineries followed suit.  In any event, the regular version is a nice wine, but the Reserve is outstanding.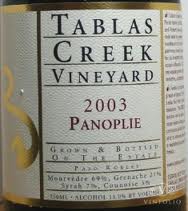 74. Tablas Creek Panoplie – Tablas Creek makes many great Rhone varietal wines and others at their Tablas Creek facility.  Panoplie is the flag ship and is the California equivalent of a Chateauneuf luxury cuvee.  It can be difficult to find, but if you get a chance to drink one with some bottle age, don't pass it up.  A very unique and satisfying experience.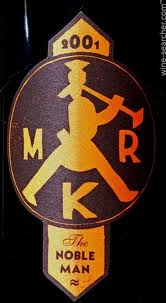 75. Sine Qua Non Mr. K The Noble Man Chardonnay – There are many nice dessert wines from California.  It is not, however, where my mind goes when I think of truly special drinking experiences.  This one does make the list.  My usual complaint is that most just don't have the cut and acidity I need at the end of a meal.  This one is an exception.  It has enough acidity to bring out the delicious fruit and to work well with dessert. 
Well, that's my list.  Did I leave anything out?  I would love to hear your thoughts.