The holidays are around the corner which means the time for bubbly is once again upon us. IntoWine asked its panel of wine experts for their recommendations for great French sparklers:
I absolutely love Champagne, however my wallet often does not. As the world wide demand for Champagne increases and prices continue to escalate, it is comforting to know that there do exist a solid range of sparkling wines that are both delicious to drink and easy on the pocket book.  With its relatively low alcohol level (generally around 12.5%), high acidity and refreshing effervescence, sparkling wines are also one of the most versatile wines to pair with food.

One of my current favorites is the NV Taltarni Brut Tache $16.99 from Australia. This dry delicately pink sparkler is a delicious way to unwind after a long day's work, or enjoy a glass with some of those harder to pair cuisines like Vietnamese, Thai or Indian. - Mulan Chan, Rhône and French Regional Buyer, K&L Wine Merchants
-----------------------------------------------
Champagne is great, of course, and particularly Rose Champagnes, which are my general favorites (pass the Billecart Salmon, please!) In fact, Champagne may be my favorite beverage of all, and I certainly enjoy them often. But let's look at other French bubblies...
 
I've always loved Cremant d'Alsace. Made in the same way as Champagne, the grapes used are pinot blanc, auxerrios, pinot gris and sometimes chardonnay. Only a small ammount of Cremant is made in Alsace, about 10% of all wines from the region, but I love them for their fresh acidity. If you can find a cremant from Francois Baur, pounce on it...c'est tres, tres elegant!
 
Another scrumptious sparkler is Blanquette de Limoux. These, and Cremant de Limoux, are made of mauzac and sometimes chardonnay grapes. I actually make a pinot noir from the Limoux area, so I enjoy these wines when I'm there. Limoux is in the foothills of the Pyrenees mountains, so it's cooler temperatures are great for sparkling wines with terrific flavors. Cheers! - Laely Heron, Owner/Winemaker, Heron Wines
-----------------------------------------------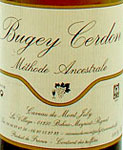 Hunting for something new and interesting in the sparkling wine world. Try the NV Bugey Cerdon, Caveau du Mont July. This rustic-style bottle fermented rosé speaks to generations and centuries of tradition. This hand-made rosé sparkler is made in the 'ancestrale' way using only locally grown grapes fermented to low alcohol levels. The wine is bottled with unfermented sugars and sediment. Though this is not your average French Champagne (by any stretch of the imagination) it is true to the form that created the great wines of Champagne and the great sparkling wines of the world. At its best, this wine exhibits the grapy sincerity of the Gamay and Poulsard from which it is made. Pair this wine with rustic dishes of game and cheeses made with rich cream. (About $15) - Ben Spencer, Cellar Master at Bernardus Winery and IntoWine Featured Writer
-----------------------------------------------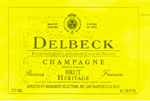 Virtually every wine region in France makes sparkling wine but I'm sorry, when it comes to great French sparkling wine, I drink nothing but Champagne. When I venture off Champagne, I drink Montsarra Cava. My parents drink Champagne every day for breakfast because they are of the opinion that orange juice is just too boring to drink without adding Champagne to it. Personally, I like old Champagne. Even very old Champagne. I have a lot of Veuve Clicquot in my cellar, even the non-vintage is over 25 years old. I probably wouldn't buy that Champagne to lay down today. We import a Champagne made by Veuve Clicquot's nephew, Delbeck. It was the last Champagne to be the official one to the French royal courts, before they were all beheaded, so it still carries the Fleur de Lys on the bottle. It is predominantly Pinot Noir, a heavier, more food friendly style, which I enjoy. They have an excellent rose and Vintage. You may still be able to find some old Grand Crus from Delbeck, the Cramant, Bouzy and Ay, however, these are no longer produced. Every wine from Delbeck has received 90 points or more from the Wine Spectator, so I'm not alone in appreciating this wine! The only problem, is it such small availability, you may have a tough time finding it. - Bartholomew Broadbent, CEO, Broadbent Selections, San Francisco
-----------------------------------------------

Henriot has been making Champagne in Reims since 1808. This lesser known producer doesn't have the wide exposure in the U.S. that some of their counterparts do, but that doesn't mean they lack the experience. The Blanc Souverain NV is a 100 percent chardonnay Champagne, aged on the lees for between 3 and 5 years. This produces an effervescent wine with a mild tart quality of green apple and pastry dough. The acidic structure is spot on and the plush wine is round in the mouth. Drinking this it's hard not to think of a room temperature Brie basking on top of a warm baguette. The Brut Rose NV ($70) is a blend of pinot noir and chardonnay and the nose is ripe with pomegranate and sweet strawberry. The wine exhibits restrained fruit, a tart, citrus and a sensual effervescence. I'd aim for tuna tartar. Henriot makes exceptional wines and both of these Champagnes reflect their passion for quality. - Michael Cervin, Wine Judge, Restaurant Critic, and IntoWine Featured Writer
-----------------------------------------------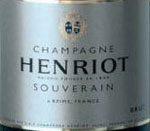 There are lots of great Champagnes out there.  The problem is they have gotten so expensive that it often does take a celebration to justify the cost.  The predicament is especially acute with vintage champagnes.  The best option is to look for the mounting numbers of grower Champagne on the shelves.  A grower Champagne is simply one in which the grower of the grapes bottles his own wine.  These tend to be less expensive than some of the big houses.  Fine tuning that request, there are some very good values by selecting a non-vintage specific bottling.  Don't get me wrong, they are still expensive wines, but a nice non-vintage bottle of Champagne can be found for $30 or $40.  I am going to recommend the Non-Vintage Henriot Brut Souverain Champagne.  Available for around $30, this is classic Champagne.  It has about 40% Chardonnay and the rest is Pinot Noir.  It is racy and slick with just enough toasty elements and fruit to make it excellent either alone or with food. - Loren Sonkin is an IntoWine.com Featured Contributor and the Founder/Winemaker at Sonkin Cellars.