"The New France" - Author Andrew Jefford Discusses the Evolution of French Wine
by Brad Prescott
There are few people who have thought harder or more comprehensively about where the French wine industry has been and where it is heading than author Andrew Jefford. In his book, The New France, Jefford delves deep into seemingly every angle of importance regarding French wine. The reviews have been uniformly exceptional. The New York Times called it "the best book around on the contemporary French wine business" and Robert Parker labeled it "a brilliant effort". Andrew Jefford is an award winning author of nearly a dozen books on wine, spirits, and libations. IntoWine.com recently had the privilege of chatting with Andrew about his book, The New France, as well as his views on the French wine industry.

Your book has received much more critical acclaim than the typical wine guide book. In creating this guide, what did you do to differentiate it from the gaggle of wine guides available on book shelves?
First of all, I didn't really think of it as a wine guide. I wanted to write a book which people would want to read for the pleasure of reading, and which would convey, as vividly as I was able, my passion for France and its wines. What Roland Barthes called 'the pleasure of the text' doesn't often emerge in wine writing, yet that pleasure is an essential requirement if a text is to endure. Everything in the wine world changes annually, so any book which is no more than a guide has a built-in obsolescence. That said, The New France does of course also function as a guide, and those parts of the book are beginning to need revision now. But I hope at least half of the book will still be of interest to readers in twenty or thirty years.
The second difference is perhaps one of attitude. Small details for me can be as telling as facts and figures; descriptions of places and people can be as useful as tasting notes; and broader political and social issues have a bearing on wine culture, too. I wanted the book to be as all-embracing as possible.

As the book's title implies, the French wine industry is in process of redefining itself. Who, or perhaps what, are the catalysts of change in the new French wine industry?
Economics is, as always, the major catalyst. One-third of all the wine produced in France has no market, and should not exist, and everyone in the European Union is getting tired of subsidising it. Those wines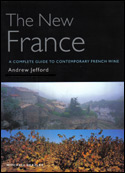 will cease to exist in the next decade. At the top level, the greatest French wines command astonishingly high prices (Ausone 2005 is at present over £1100 pounds/$2200 a bottle). Between these two extremes, there are many regions, appellations and producers who are making a living which their fathers could never have dreamed of. The incentive to produce high quality wine in which a sense of terroir is palpable is acute, since the rewards are so evidently there. There is no long-term reward in producing wine which no one wants.

Competition from other wine cultures is another major catalyst. The market is a fierce one, and at the commodity wine level France has some major structural difficulties which make it hard to compete (specifically, lack of giant wine companies and brands). It is finding ways of overcoming these difficulties at present. This does not mean imitation; it means finding a French alternative.

There are individuals who are important for France (Michel Rolland is the name which most readily springs to mind) but wine production there is in the hands of so many individuals that I would say that the collective will and readiness to change and succeed is far more important than any individual. I believe that will and readiness is there.

The missing catalyst at present is the bureaucratic or political one. The administration and promotion of French wine badly needs a major shake-up so that France can communicate its strengths more effectively on the international stage. Put more simply, so that the non-French can begin to understand French wine, something most ordinary consumers find off-puttingly difficult. I see no sign yet that the changes are in hand to bring this about.