New Jersey Wine's Rise to Quality: Alba Vineyards
It might seem surprising to know that New Jersey, the self proclaimed Garden State, is actually fairly prolific in producing wine. Whereas the majority of wines coming from New Jersey are sweet, native grapes like catawba, vidal blanc and concord, a few wineries are upping the ante for the lucrative wine game on the East Coast. Alba Vineyards are currently on an aggressive growth streak with a wide portfolio of wines that are winning medals at diverse competitions like the Finger Lakes Wine Competition the, Dallas Morning News Wine Competition and the Los Angeles Wine Competition.
Though Alba was originally established in 1982, it wasn't until Tom Sharko and his wife Pam took control of the old dairy farm in 2000 that Alba became one of the better-known wineries in New Jersey's Musconetcong River Valley. The current tasting room and winery was a dairy barn built in 1805. "They were milking cows here when Jefferson was president," Tom told me. "California wasn't even a state and Lewis and Clark went looking for the Pacific," he added. The valley also carries the distinction of being where a majority of the cannon balls were made during the revolutionary war. The limestone walls, four feet thick at the base, presents an imposing and beautiful room to taste wines in.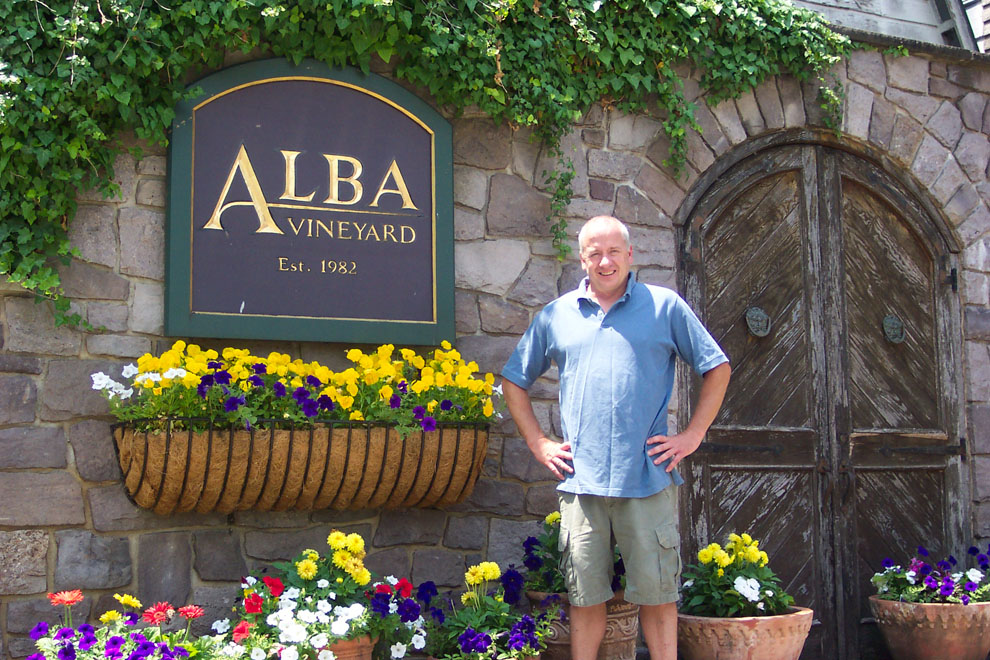 Sitting on 93 acres, replete with limestone rocks scattered throughout the place, thirty acres are already producing fruit with another 25 to be planted. "This is all limestone based and that's the soil of Burgundy," Tom told me. "We went to Rutgers and Penn State and conducted our soil tests and figured that pinot noir, Dijon clone chardonnay and riesling were suited for these soils," he said of his south facing vineyards. And so they tore out everything from the former vineyard, including many large trees and began the arduous task of planting a new one.
"We've become experts at tearing out vineyards," he joked. "We do high density, narrow row farming, 2,300 vines per acre, six foot rows and meter spacing. We're down to 2.5 tons of fruit per acre and we dry farm," he added. And dry farming at Alba means just that. The place isn't set up with any irrigation; no drip, no overhead, nothing. A few years back during a particularly dry season, workers took buckets of water out to the vines by hand. "We are focused on only French oak, we gave up on American and Hungarian," Tom said. Part of that appeal is that he desires to break away from the conventional mentality of the two types of east coast wine - sweet, and really sweet.