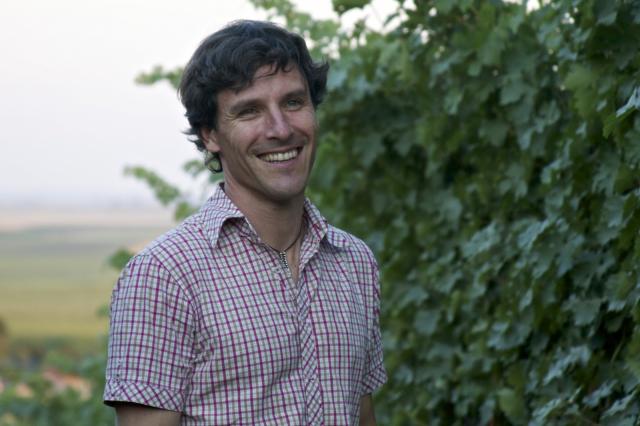 Throughout a winemaking career spanning two decades, three continents and with experience gleaned from working at wineries like Woodward Canyon, Chateau Ste. Michelle, Rapaura Vintners, and Bookwalter, Caleb Foster has established himself as one of Washington State's best winemakers. As the winemaker for Buty, which he founded with his wife, Nina Buty Foster in 2000, he has created an acclaimed portfolio of Washington State wines that includes several pioneering blends, and are some of the defining wines of Washington winemaking.
How do you see Washington wines competing with expanded global production?
I think we are phenomenally competitive, and will only get more so. In Washington, our fruit on the vine is the cleanest and easiest to harvest at ideal ripeness that I know of. Additionally, our vineland has the lowest disease pressure of any vineland in the world. Washington's opportunities far outnumber our concerns. Our consistent dry and warm vintages provide a reliable selection versus other states and countries. We are "Made in America," and largely sold here too. Our cost basis is lower, and we are far less subsidized than European wines, or Australian wines, which makes our price proposition in the marketplace better and more durable for consumers in the face of international pricing and trade upheaval. In terms of research, technology and access to the best information, our vineyards and wineries are state-of-the-art. Perhaps most important, over my 21 years making wine professionally in Walla Walla, I've found all of the small producers to be team spirited around the Washington wine brand. This continues today, and we are also fortunate to have Chateau Ste. Michelle support us with that same team spirit. 
For those unfamiliar with the region, what are the differences between the fruit you source from Columbia Valley and Walla Walla?
Walla Walla's fruit flowers and ripens earlier on the calendar than our Columbia Valley properties. Walla Walla Valley's fruit attains a full ripeness with suave tannins. While all our wines naturally need no acid, sugar or watering adjustments, Walla Walla Valley's fruit offers a medium acid, which combined with ripe tannins delivers supple silky wines. In contrast, our Columbia Valley fruit flowers later and ripens in cooler weather with higher acids and more tannin. At Buty, our Walla Walla wines are from the uniquely flavored Cobblestones region of the famed Milton-Freewater Rocks.
You have excelled in the Northwest with blends of Cabernet Sauvignon and Syrah. Why these grapes and how is this expression different from other regions?
I wanted to make Washington's first great cab-syrah because I was compelled by Max Schubert's work producing the legendary Penfolds blends. Since I unveiled the first of these blends beginning in the 2001 vintage, a lot of wineries have followed in our footsteps, but I believe our style still remains the benchmark—it's a style centered around perfume, supple textures and longevity. Cabernet had become a monotype in the marketplace by 2000, in my opinion. In our Columbia Rediviva blend, syrah adds complexity to a core of cabernet. Bringing syrah's softer and wilder velour to the cabernet-dominant blend is a creative joy. Our Rediviva of the Stones reverses the blend by using the stronger syrah from the Milton-Freewater Rocks of Walla Walla and pushing its character out of the 'fruit bomb syrah' box with the complexity of cabernet. Now after a decade of work, the Estate Grown Phinny Hill Vineyard Columbia Rediviva cabernet-based wine and the Rediviva of the Stones from Walla Walla Valley's Milton Rocks are nearly reverse blends of one another. They also taste nearly a world apart. 
You have received a lot of critical scores from the national wine press and other wine and food publications. How has a small winery been able to capture this kind of attention?
At 44 years old, and with more than two decades of experience, I am one of Walla Walla Valley's senior winemakers. Of the 100+ wineries here, I stand among the first 10 winemakers. I make focused, unique, single-vineyard wines we believe in. For each wine in our portfolio we took risks developing their distinctive highlights. I work to avoid imitation. Instead, I pursue the inimitable character found in my favorite Washington vineyards. I've harvested 18 vintages from some of these vineyards, and most for over 10. In all but one vineyard in the Buty portfolio, I have harvested since its first crop. 
You not only produce Buty wines, but you also have a line of wines called Beast. Can you briefly explain the fundamental and philosophical differences in these wines?
Buty wines are harvested from the same vines every year. We build upon blocks of vines estate-grown by land rental agreements, or ownership. The wines are almost all single-vineyard, and come from the same vines every vintage. BEAST wines are our allowance to play. We make anything we want with BEAST. We often don't repeat the bottlings as we try different styles of winemaking, or vineyards, or varietals. So Buty are the traditional offerings, and BEAST the postmodern playful wines.
Why don't Washington wines overall demand more respect from the American consumer?
I actually see consumers showing Washington wines more respect every place I go, every time. Historically, we have not provided enough bottles of wine to enough people to make a durable impression. People also were confused by Washington = Seattle = "you grow wines there in the rainy forest?" Our Columbia Valley vinelands were not a national tourist destination near a city, like Napa and Sonoma are in relation to San Francisco. But people are now visiting us rather than taking their annual trip to Napa. And while Napa offered world-class wines in the 1970s and 1980s, it took Washington until our 1989 vintage to be taken as a regional success rather than a few big names, like Woodward Canyon, where I spent eight years in the 90s. Now Washington wines have the attention of sommeliers and buyers everywhere. Those advocates accelerate our quality message daily. The Wine Spectator alone rates Washington wines with the highest average scores in the world by a score/gallons produced ratio. The Wine Advocate and Wine Enthusiast are also close in this ranking. Ultimately, we need to plant more vineyards and bottle more great Washington wines. Our wines sell out too quickly.
Describe your personal winemaking philosophy.
My philosophy rests in a concept called the "great nest of being," which is based on Ken Wilber's work. A great wine is like a flower, simply beautiful to behold, yet it can simultaneously transmit the development of each stage clearly coming from land to vineyard to vintage to wine style to character to spirit to future potential. Wine comes into existence developmentally like a human. Wilber offers a diagram to explain the "nest of being." In my own diagram for wine I place land in the center evolved further by the vineyard, which is expressed by the vintage, which is metamorphosed by winemakers' craft, which evolves into full character, which is shrouded by the wine's spirit allowing potentially for a future in all directions. For me, my wines, and the wines I consider great, they require a naturalness of human effort in the wine's content at each stage (organic, pure, un-manipulated, etc.) so as to preserve nature's creation.
Had you not perused a career in the in wine industry, where do you think you'd be right now?
At NASA. I'm a dreamer.
Why was getting organic certification for your vineyards important to you, and does it truly make much difference to the average wine consumer?
Personally, I don't want to handle toxic sprays, so I'm not going to ask anyone else to do so. I also want my children to wander through our vineyard and eat our grapes any day they wish. I think the "average" consumer cares about the food going into their mouths, whatever habits they may have formed. So yes, it matters to everyone that we grow organically. 50 percent of our portfolio is grown organically, and the remaining amount I'm working constantly to transition to certification. Certification proves we have done our work organically.
With Washington wines valued at over $8.5 billion, and with 739 wineries in the state the overriding issue for a vast majority of wineries continues to be securing national distribution. How does this actually affect Buty and other Washington wineries?
I can't speak for others. For Buty, I can say that we have been invited to expand our distribution by multiple wholesalers every year. In 2009 and 2010, we met several distributors who were shedding 40 percent of their brands, but they wanted to add Buty at the same time. Great wines are welcomed at every level of sales: the club, the tasting room, the wholesalers and the distant consumers. I'm confident in Buty's future. The quality is there.