Washington Wines and Wineries: Paul Gregutt Talks Pacific Northwest Wine
by Brad Prescott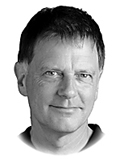 It is hard to believe a person exists who has thought more deeply and comprehensively about Washington wine than wine writer Paul Gregutt. Based in Seattle, Gregutt wine writings appear in a slew of Washington publications including the Seattle Times, Yakima Herald-Republic, Walla Walla Union-Bulletin, Pacific Northwest Magazine, and the Spokane Spokesman-Review. He is also a Contributing Editor and the Northwest wine reviewer for Wine Enthusiast magazine. His new book, Washington Wines & Wineries – The Essential Guide, is the authoritative guide to Washington wine. I recently caught up with Paul to discuss the book and his views on Washington wines.
Q: Why this book now?

PG: There has been no attempt to provide a critical overview of the Washington wine industry for several years. During that period of time the state hit a tipping point, not only with the number of new wineries (roughly one a week over the past five years) but with the overall rise in quality. I began writing my weekly Seattle Times newspaper column in 2002, and at that time I made the personal commitment to turn my full attention to wine writing. I honestly felt that the industry deserved a comprehensive – yet objectively critical – evaluation, and I believed I was uniquely qualified to do it.

Q: Having witnessed first hand the explosive growth of the Washington wine industry over the past 20 years, what would you say were the critical points that enabled or hastened the rise of Washington as a meaningful wine presence?

PG: Any wine industry that achieves the type of success that has been generated here in Washington is the result of untold numbers of talented people doing extraordinary work. Many of them will never be known outside of a small circle of friends and associates. In Washington, as I point out in the historical chapter of my book, the pioneering vineyard work, spearheaded by Dr. Walter Clore, dates back to the 1940s. But over the past two decades, the advances in vineyard management, and the exploration of new regions (Red Mountain, Horse Heaven Hills, Walla Walla Valley, Wahluke Slope) paid particular dividends, as the grapes just ripened exceptionally well.

Along with that, America's tastes were changing. Red wines became more prominent on dinner tables, and Washington makes great red wines. Among younger, more adventurous consumers, there is an appetite for exploring wines and wine regions outside the safe boundaries of Napa and Sonoma. There is also a reaction against blowsy, alcoholic, super jammy wines – the sort of wines that get high scores but can't actually be drunk with a meal. Washington makes its share of fruit bombs, but many if not most of the best vintners are working hard to keep alcohol in check, to achieve balanced wines without acid additions or watering back, and to find ways to reach optimal ripeness without losing structure.


For more than 25 years, The California Wine Club founders Bruce and Pam Boring have explored all corners of California's wine country to find award-winning, handcrafted wine to share with the world. Each month, the club features a different small family winery and hand selects two of their best wines for members.