Summer is barbecue season and -while beer is likely to reign supreme for picnicers on Memorial Day, the Fourth of July, and Labor Day- wine is increasingly more popular as a relaxing summertime beverage. With wine's increase in popularity comes the challenge of finding a wine to serve that not only beats the heat, but pairs well with typical barbecue fare. In the spirit of summer, IntoWine.com asked a panel of wine experts their thoughts on what wine to serve at your summer barbecue: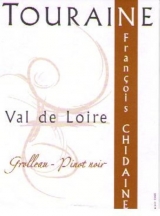 The best barbecue wines are fruity, simple but well made, with juiciness and good acidity. Good rosés go well with a lot of lighter barbecued meats, as well as the salads and appetizers typically found at a barbecue. Some of my favorite rosés, year after year, come from François Chidaine, whose Touraine Rosé is a delicate and minerally stunner, and Charles Joguet, whose Chinon Rosé has very appetizing olive and lightly herbaceous flavors.
For richer barbecued meat dishes, I find the right fruity, balanced, high acid combination in Pinot Noir, the wine that goes with virtually everything, and cool climate Syrahs. Pinots with the requisite acidity can easily be found, at value prices, from New Zealand (try Pinots from Wither Hills, Mud House, Mt. Difficulty and Nautilus Estate). Cool climate California Syrahs that won't break the bank include Dierberg Santa Ynez Valley, Saxon-Brown Owl Box Parmelee-Hill (Sonoma), Shane Valenti Ranch (Anderson Valley) and Peay Vineyards Les Titans (Sonoma Coast). Richard Jennings, IntoWine.com Featured Contributor and the Founder RJonWine.com.
--------------------------------------------------------
With a good BBQ, you want a good salad. A Caesar salad and, according to 7X7 Magazine, the best wine with Caesar Salad is Broadbent Vinho Verde! But, I hear you say, Vinho Verde is a light white wine! True, it is but though I agree, it might not be ideal with a big hamburger or steak, it is the perfect wine to be sipping and swigging when you are waiting in the warm weather for the grill to fire up. Anyway, it does go well with the chicken. The perfect summer quaffing wine before switching to red with meat and it is so much better than beer, not much more alcohol at 9%, and offers much the same feel with its slight spritzy character. A bargain at $9.99 too. - Bartholomew Broadbent, CEO, Broadbent Selections, San Francisco
--------------------------------------------------------

Zinfandel. Nothing goes better with All-American barbecue than All-American Zin. My recommendation is the 2005 Shenandoah Vineyards "Special Reserve" Amador Zinfandel (Approximately <$10). Most Zinfandel's under $10 are blended, bulk wines, often cleverly packaged and usually serviceable. This, one the other hand, is organically grown estate fruit, a rich and lovely example of the Amador Zinfandel style. The aromas are reminiscent of ripe blackberries, cherries and cocoa. The wine is full-bodied and only moderately tannin with beautiful structure and strong fruit. The flavors are rich and complex and the finish is long and satisfying. Don't worry about buying too much of this one--you'll be amazed at how well it will develop in your cellar over the next five years. - Gary Westby, Champagne Buyer, K&L Wine Merchants
--------------------------------------------------------

Rosé. My recommendation is the Château de Puligny-Montrachet Bourgogne Rosé (Pinot Noir) (approx $17). Drink pink! There's nothing better for a barbecue in terms of refreshment and ability to span the range of whatever you put on the grill: sausages, red meat, vegetables, seafood.... I particularly love Pinot Noir rosés, but all of the other rosé styles work equally well, especially ones from southeast France and Spain. - Mark Middlebrook, Paul Marcus Wines, Oakland, California.
--------------------------------------------------------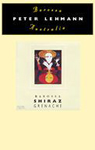 Peter Lehmann Gsm Grenache/Shiraz/Mourvèdre Barossa, South Australia, Australia (approx $20): A round and lush wine containing aromas of chocolate and blackcurrants. Score: 89/100. - Natalie MacLean, author of the best selling book Red, White and Drunk All Over, offers a free e-newsletter at www.nataliemaclean.com.
--------------------------------------------------------
For spicy, grilled foods, softer reds work best and southern Italy supplies a host of wonderful examples. Try Primitivo (Zinfandel), Negroamaro or, if you like a little more structure, try a Montepulciano d'Abruzzo. - Greg St. Clair, Italian Buyer, K&L Wine Merchants
--------------------------------------------------------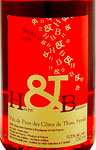 A juicy, well-balanced rosé. My recommendation is the 2006 Vin de Pays du Côtes de Thau Rosé Hecht & Bannier (Approximately $10). This is a juicy, lip-smackingly yummy rosé that will provide plenty of the fruit and freshness qualities that are often welcome when enjoying rich and spicy fare like barbecue. - Mulan Chan, Rhône and French Regional Buyer, K&L Wine Merchants
--------------------------------------------------------
Rosé. My specific bottle recommendation is the Parrillada Malbec Rosé (Argentina). There are plenty of reds that work wonderfully with 'que, but when the mercury rises who wants a glass of warm red wine?! Dry rosé is the new black, it's hip to drink and more importantly it's delicious with ribs, barbecue chicken or brisket slathered with a tangy sauce. - Efrain Madrigal, Wine Director, Sam's Wines & Spirits, Chicago, Highland Park and Downer's Grove, Illinois
--------------------------------------------------------
Rosé of Cabernet or Merlot. My recommendation is the 2006 Rosé de Chateau Haut Bailly (Approx $15). A very rich and full-bodied rosé; the 2006 Rosé de Chateau Haut Bailly is very dry with a lingering aftertaste and a fresh, vibrant palate impression of raspberries and blackberries. This wine has the strength of red Bordeaux to handle barbecued meat, while the crisp acidity is perfect for the heat! - Clyde Beffa Jr., Owner and Bordeaux Buyer, K&L Wine Merchants