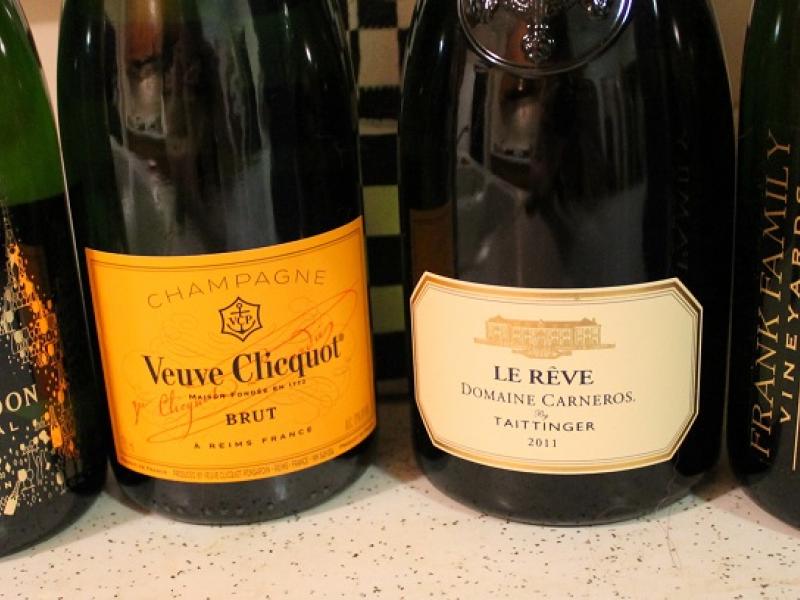 The French may have invented sparkling wine, hailing from the Champagne region of France, but every wine producing country has their own version of bubbles: Cava in Spain, Prosecco in Italy, sparkling in America. "Champagne is the Mecca of all sparkling wine lovers, with a rich history," says French born Ludovic Dervin, winemaker at Mumm Napa since 2002. But who makes it better? France lays claim to it historically, but California is not bound by age-old rules.
Wine guru Leslie Sbrocco is so committed to sparkling wine that she has a tattoo of a glass of Champagne on her leg. "There are beautiful bubbles produced worldwide, but Champagne is about complexity that comes from not only its unique terroir, but its rich history. Centuries of practice has certainly made Champagne perfect," she tells IntoWine. Todd Graff of Frank Family Vineyards loves making sparkling wine from Carneros. "The ability to pick powerful fruit with racy acidity, means wines for the long haul, both on the yeasts and after disgorgement."
As a matter of technicality, sparkling wines can only be called "Champagne" if they are produced in the French viticultural region of Champagne, and made in accordance with the Comité Interprofessionnel du Vin de Champagne (CIVC) regulations. In most countries the name "Champagne" is legally protected under - surprise - the Treaty of Madrid, signed in 1891, then reaffirmed in the Treaty of Versailles in 1919. At that time the U.S. was on the brink of the lunacy of Prohibition and no agreement was ever ratified. It wasn't until 2006 that an international agreement was reached.
Contrary to popular myth the Benedictine monk Dom Perignon did not invent Champagne. Two monks capitalized on the trend of sparkling wine in the late 1670s - Jean Oudart and Dom Perignon both experimented with second fermentations and the Dom is credited with sourcing grapes from a variety of vineyards and blending wines to produce consistency, something that still happens today. But it was English scientist and physician Christopher Merret who documented the addition of sugar to a finished wine to create a second fermentation way back in 1662 in which he detailed what we now call "Méthode Champenoise." There are about 15,000 growers in Champagne, yet only 5,000 of those produce their own wines.
The other 10,000 growers sell their grapes to the large Champagne houses like Moët & Chandon, the largest landowner in Champagne, Tattinger (founded 1734), Veuve Clicquot (founded 1772), and others. "But Champagne has become one of the most regulated wine regions of the world," Dervin tells IntoWine. "What I enjoy about California is the freedom of creativity. No other wine region in the world has been able to achieve, in the same timeframe, the level of growth and worldwide recognition than Napa Valley has achieved in the past 30 years. If I stayed in Champagne I would be able to craft some outstanding wines today, but only by duplicating its history, by following strictly controlled production methods.
In California, it's much easier to think outside of the box and create new and exciting wines," he says. And though Champagne has good and bad years, Eileen Crane, sparkling winemaker at Domaine Carneros, feels California lacks the erratic weather. "Carneros is ideal, we're a Region I. We're like Champagne in a warm year." She also says that in her 42 harvests in Carneros, she's only has one "bad" year. "I've had smaller crops, less intense fruit at times but I never felt like I had to blend out my wines." She notes that in Champagne, "the vast amount is non-vintage which ameliorates the bad years." And yet Champagne still holds an allure that Carneros, or any other place in California, does not. And that goes back to not only hundreds of years of history, but consistency and the fact that winemakers in Champagne are not nearly as transient as those in California. Additionally as Crane notes, Napa houses are about 1/10th the size of the major Champagne houses. "They have marketing and advertising budgets that don't exist with us," she says.
So who's drinking what? In 2017, the most recent data year, nearly 2 millions cases of Champagne were shipped to the United States, up almost 6% from 2016. The value of these shipments? Almost  $725 million according to Natalie Pavlatos of the Champagne Bureau, USA based in Washington DC. This far outpaces the US's meager exports of their sparklers to the globe. Regardless, bubbles still rule. Bottom line? Wherever you get your sparklers, it's always of benefit to branch out and try something new. Throughout California there are a vast number of sparkling wines being made - Santa Barbara for example has 40 wineries that are making a sparkling wine. If Champagne is king, Carneros is certainly the Prince.
2011 Le Reve ($110)
Le Reve first appeared in 1998 and has come to be one of the America's consistent top rated sparklers. The Blanc de Blanc has always been a subdued wine. Made from estate grown Chardonnay in Carneros even the bubbles seem timid and that's a very good thing. Quiet lemon zest, lime, fresh cut apricot, crème brulee all conspire to create a versatile wine that deftly balances acidity, flavor and structure.
Frank Family 2013 Blanc de Blanc ($55)
This location has been producing a sparkler since 1958 when it was the Hanns Kornell Champagne Cellars. When Rich Frank bought the property in 1992, be continued the tradition. Opening up with lemon kefir, sour apple, Asian pear, buttered sourdough bread and a subtle earthiness it finishes with a slight sour apple note he palate weight is heavier in this and it feels deeper on the tongue, but livens up with great acidity and minerality and fresh rain subtlety.
Veuve Cliquot ($50)
Ubiquitous and universal, the quality has improved over the years and the price has dropped. Their yellow label Champagne first appeared in the 1830s. A blend of mainly Pinot Noir with some Pinot Meunier and Chardonnay Veuve starts with fine bubbles and delves into baked apple, sourdough bread, apricot, white peach, and slight yeasty flavors with a pinch of sour apple on the finish. It's a fine Champagne for a variety of foods and its cost makes it something you can enjoy on a consistent basis.
Moet & Chandon Imperial Brut ($50)
From one of the largest Champagne producers in the globe, their Brut from the get-go offers slightly aggressive but balanced bubbles. Created in 1869 it uses Pinot Noir, Pinot Meunier and Chardonnay, blended from dozens of different wines to produce a bright, summery wine with lemon lime, fresh baked brioche, peach and peach, granny Smith apple and an almost joyfulness to it. This is a non vintage and though mass produced it's a lively wine with great acidity.