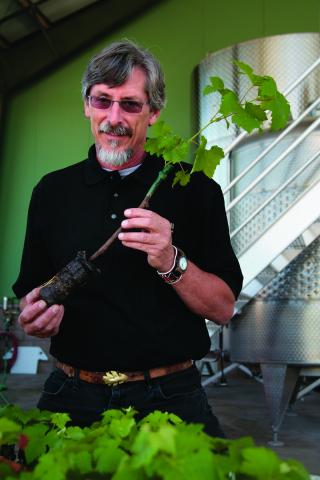 Tom Lane began his winemaking career at Navarro Vineyards in 1985, then moved to winemaker position at Concannon Vineyard in 1992 where it was twice cited as "Winery of the Year," before he joined the family-owned Bianchi Winery in Paso Robles. While at Concannon, Tom helped the winery earn hundreds of accolades, including Wine and Spirits Magazine Winery of the Year in 1995 and 1997. Tom's educational background includes Bachelors degrees in Biology and Chemistry from Chico State University, a Master's degree in Biology (Plant Taxonomy) from Kansas State University, and further graduate studies in Botany at Ohio State University.
After 25 years of making wine, is it still fun? If so, what makes it a great job?
Yes, it's still a lot of fun. The best part is that the job is so incredibly varied. You can be in the vineyard pruning one day and in the winery doing blending trials the next. During harvest you're checking on fermentation. Or you can be focusing on detailed work in the lab or out on the road conducting a tasting dinner. The variety of it all keeps one going.  Happy to say monotony does not exist in a winemaker's world.
What was your impetus to pursue a career in the wine industry? If not wine what might you have chosen instead?
Call it the ill-logical notion of youth. I grew up in a wine-growing region, actually one of the oldest in California. We played in abandoned wineries or spent time on a treasure hunt digging up old wine bottles from the 1920s or 1930s from nearby river banks. My parents had friends in the neighborhood regularly made homemade wines and we were lucky enough to help them out. Or I might have been a College professor teaching botany – guess I'm just a botanist at heart.
What specific wine varieties would you like to see the public embrace more fully, and why?
Syrah – because it is a heavy red wine with delicate aromas. It's a delicious, yet highly underrated wine that's a great food partner or a nice sipper on its own. I, for personal reasons, would also like to see folks be a bit more adventurous and try something unique.  Our Syranot fits the bill. It's a Bianchi blend of Syrah and Pinot Noir. Overall, people should buy more blends – they tend to be fun wines that also express creativity and a point of view, and they help keep winemakers employed!
At Bianchi you make the hard to find Refosco. Why this obscure grape?
That's exactly the reason – Refosco is neither a cookie-cutter wine nor grape. I strongly believe that every winery should have a specialty wine, one that people will remember them for as it's produced from a grape outside of the usual varietal suspects. At Bianchi its Refosco, when I was at Concannon it was SimilarGewürztraminer – they're real conversation starters.
Rising alcohol levels in U.S. and foreign wines are much debated. What are your thoughts on the subject?
I see the alcohol level as a by-product of the winemaking process. I don't purposely concentrate on alcohol, but rather focus on colors, flavor, ripeness. We want to achieve full flavored and well-colored grapes that tend to produce a better product in the bottle but, due to somewhat higher sugar levels, can also result in a higher alcohol wine.  However, in turn, I wouldn't bottle a wine that tastes hot or biting on the palate. It's all about balance. Those debating may not see it this way, but a high alcohol wine does not necessarily mean a lesser or out of balance finished product.
A lot has been written about the 100 point rating scale. Some believed it has empowered consumers; others think it has distorted wine prices, while still others say it has actually changed the quality of wines being produced. What do you see as being the long term impact, if any, of the 100 point rating system?
As with any rating system, certainly a high score can help sales. To me any changes in the industry are specifically a direct result of the increased number of wineries in the business today. This alone has made the industry increasingly more competitive. Wineries have to produce high quality wines no matter whether it's being rated or not. Ratings are a guideline if someone is not familiar with a wine and ratings are more of a sales tool than anything. If a film reviewer was lukewarm on your favorite actress or actor's new movie does that automatically mean you won't see the movie? My advice: trust your own palate! 
While studying at U.C. Davis you focused on the differences in aroma compounds among 20 different clones of Pinot Noir. In something this specific, how nuanced are the differences and what did you learn from this?
With Pinot Noir you have huge differences in flavor and even more differences between its various clones than with any of the other varietals. Exploring these differences is quite interesting when comparing Pinots from around the world. The clones have genetic differences that are the basis for what is elaborated in the flavors and aromas of a Pinot Noir. It's the old nature vs. nurture argument. Nature gives you one aroma (genetic basis) and, in turn, a certain potential for the finished wine. Nurturing allows the winemaker to expand from that base-point.
The wine press is always touting Paso Robles as 'the next Napa.' What makes the Paso Robles region unique and will it have the staying power of Napa?
All the wine-growing regions of the world have their own unique styles, specifics and validity. So I do not see the value in comparing different regions as Paso is Paso and Napa is Napa, and so forth.
You've stated that, in part, you credit your affinity for winemaking to playing in abandoned wineries when you were a kid. How does an old dilapidated winery inspire a young boy to make wine?
It's a life-long thing - first playing in old wineries, helping neighbors make homemade wines and then joining wine-tasting clubs in college. Wine has been part of my equation for a very long time in one shape or another. As well, I've always been drawn to the history and biology components and perfectly for me - the wine world has a heavy dose of both. To this day I continue to be attracted to and learning more about the history of wine-making itself over the centuries. In college I had the opportunity to explore and study biology. When you're interested in and exposed to subjects when in your youth it's easier to grab on and begin to build a passion. Fortunately for me, these passions culminated in a career in winemaking.