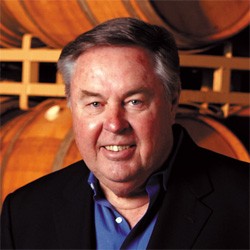 Jerry Lohr is considered one of the pioneers of California Central Coast wines. In the late 1960s, he began investigating grape growing regions while searching for the ideal location for a vineyard. Raised on a South Dakota farm, his research led him to the Central Coast. He originally planted 280 acres in Monterey County in 1972 and unveiled his San Jose winery the following year. In 1987, he planted Cabernet Sauvignon, Merlot and other red varietals in San Luis Obispo County's then little-known Paso Robles region. Today, in addition to over 1,300 acres in Monterey County, J. Lohr Vineyards & Wines farms 2,300 acres of estate vineyards in Paso Robles, and 35 acres in the Napa Valley, and has tasting rooms in Paso Robles and San Jose. J. Lohr wines are available throughout the United States and in over 30 countries globally. In 2007, U.C. Davis honored Jerry with its Award of Distinction, and in 2008 he was named Wine Industry Person of the Year by the Paso Robles Wine Country Alliance.
There are over 6,000 bonded wineries in the U.S. from every state in the nation (not to mention fierce competition from abroad).  Is the U.S. wine business currently saturated?
I am very supportive of evermore wineries. More wineries mean more locations where people can have a wine experience. People always take pride in their local wine. Wine tourism has the best multiplier effect of any agricultural product. Anyone having a good wine experience then passes it on to friends. Word of mouth is great. 
You originally planted 11 different varieties in the early 1970s.  How long did it take for you to understand what worked and what didn't work and was this a crap-shoot approach?  (As compared to today's high-tech systematic approach to planting new varieties.)
I planted in 1972 and '73 but didn't "go up the stake," until 1974. We had a very small crop in 1975 and a very wet season in '76. 1977 was the first year to really realize Greenfield was too cold to regularly ripen Cabernet Sauvignon, Zinfandel and Petite Sirah. The area was too windy to allow Merlot to set properly. Sauvignon Blanc was too grassy for the market at the time. Pinot Noir and Gamay Beaujolais weren't good clones. We started grafting (T budding) in 1978 and kept Chardonnay, Riesling, Pinot Blanc and Napa Gamay (now Valdiguié). The approach wasn't a crap shoot – we were just pioneers. 
You grew up in South Dakota. What agricultural products were you and your family planting, and why did you think you could move into grape growing?
We grew wheat, rye, oats, flax, barley and corn. I figured (and have proven) I could grow grapes because I understood soil texture, composition, depth, water-holding capacity, tilth, weed control, etc. Farming to this day is one of our strong suits.
You have been called one of the grandfathers of the Paso Robles wine industry.  Do you see yourself as a pioneer, or were you just the right guy at the right time?
I think we were pioneers. I sought out Paso Robles for many things – south-facing slopes, good drainage, the quantity and quality of irrigation water – but most importantly for the diurnal difference, often 50º F between day and night temperatures. 
You planted Valdiguié and are one of the few producers who have had long term success with this grape in the U.S.  What was the genesis of this planting?
As I mentioned, we originally planted Valdiguié with 10 other varieties, with the idea of keeping those varieties that did best, and then grafting the poorest to the superior varieties.  We still have own-rooted Valdiguié, planted in 1973, which does well in Greenfield. We make the wine with a combination of extended maceration and normal fermentation.
Crafting a wine is a subjective thing.  But should winemakers and wineries pursue critical scores from the national wine press as a means of competing in the current marketplace and to please a broader range of palates?
I for sure don't think we should pursue critical scores. We make wines we like, and time has shown consumers like these wines also. I believe scores are a way to get consumers' attention to see if the descriptors that go with the scores match their tastes. They also want to validate the price they pay and the selection they have made. 
It seems that wines are becoming increasingly higher in alcohol. Does this trend bother you?
Wines are becoming higher in alcohol, but that is because we vintners are very competitive and want to make wines with the best flavors. Some wineries still "trim" the alcohol in the wines or it would be even higher, I much prefer a 13% alcohol wine, because I don't like the alcohol "burn" that comes with 14+ percent wines that have been left to ripen longer, and then fail to achieve even better flavors.
Perhaps too much has been written about the 100 point rating scale and its effect on wine.  Has it empowered consumers, has it distorted wine prices, has it actually changed the quality of wines being produced?  What are your thoughts on this ubiquitous rating system?
I don't think the 100-point rating scale has empowered consumers as much as it has allowed some wineries, or areas, to have "bragging rights," or to stay in business to make artisanal wines. We use an internal A, B, C, D system to evaluate our grape quality which I think is much better because people aren't thinking a 91 is much better than an 89 etc. There is a place for all wines but the difference between a 95 and a 97 is often imperceptible. 
What was your impetus to pursue a career in the wine industry?  If not wine what might you have chosen instead?
I wanted to be in vertically integrated agriculture where all the care and work we put into making the product is appreciated and rewarded. Winegrowing is also a very intellectually, financially, managerially – all aspects - very challenging profession. The people in the profession are also great. Winegrowing also serves society very well by slowing down eating, healthful eating, good friendships, etc. 
Has the success of J. Lohr Wines surprised you?
Yes. I never dreamed we would be able to enhance so many people's lives with our wines.  It is very gratifying!