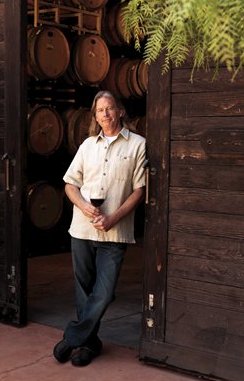 With more than 30 years of winemaking experience behind him behind him, David Hopkins still visits vineyards and winegrowers every week to taste grapes and begin to formulate his blends, something he has become well known for. An avid surfer and scuba diver, Hopkins oversees the 105 acre estate at Bridlewood Winery crafting blends and wines from the California Central Coast with fruit from Santa Barbara to Monterey County.
What prompted you to pursue winemaking as a career? If not winemaking, what path would you have chosen and where do you think you would be right now?
I happened upon winemaking somewhat accidentally. One Friday afternoon at Fresno State, my microbiology class ended early and my lab partner asked me if I wanted to help him rack wine barrels at the student winery. Four hours later, I emerged from the winery completely enthralled with the experience I just had. Monday morning, I was standing in front of the Enology department's chairman asking him how to get a job in the wine industry. I think it was the unique combination of agriculture, food science and the art of wine tasting that really drew me into the world of wine, and I haven't looked back since.
If I had not agreed to help my lab partner that day, I would have likely pursued a career in floriculture, specifically in studying tissue culture for orchid production.
Describe your winemaking philosophy, without all the hyperbole and PR speak.
My winemaking philosophy is pretty simple – I'm an Old World-style winemaker who uses New World fruit. In my mind, I like to make wines that balance the acids with the tannins, wines that are varietally correct and taste great with food.  For me, a wine should have three basic characteristics: moderate alcohol, so it can be paired with food;
a well-balanced structure, to allow for strong aging potential ; and a flavor profile that expresses the vineyards where the grapes were grown. To make a great classic table wine, I stress the importance of the vineyard, allowing the grapes to have the perfect balance of aromas, flavors, texture, acid, tannin and alcohol.
What wine varieties would you like to see the public embrace more fully, irrespective of cost or accessibility?

As a blend aficionado, I think the public should give blends a try. For example, our Bridlewood Blend 175 offers expressive flavors, attractive aromatics, robust textures, approachable tannins and a food-friendly acidity. By taking different characteristics from different grapes and blending them together, winemakers like me are able to create unique, memorable wines. The different styles of Pinot Noir should also be given a chance. At Bridlewood, we source grapes for our Pinot Noir wines from a variety of AVAs from Monterey County to the Santa Barbara County to give wine enthusiasts the opportunity to taste the range of not only our winemaking, but also Pinot Noir wines.

Much has been written and debated concerning the 100 point rating scale. Some say it has empowered consumers, others claim it has distorted wine prices, while still others say it has actually changed the quality of wines being produced. What do you see as being the long term impact of the 100 point rating system?
Having a rating system for wines is essential to comparing quality, regardless of price. Rating systems, the 100 point system in particular, have definitely had a hand in improving the quality of all wines being produced. However, the 100 point rating system has also changed the way in which wines are made. Now, some winemakers craft their wines to fit the criteria of that 100 point system, taking away some of the creative possibilities. In the end, I think that having a rating system has absolutely changed winemaking and increased the emphasis on quality, constantly challenging winemakers to put their best work into each bottle.
Crafting a wine is a subjective thing. But should winemakers and wineries peruse critical scores from the national wine press as a means of competing in the current marketplace and to please a broader range of palettes?
I wholeheartedly agree that crafting wine is subjective. In my opinion, winemaking is an art form. So from that perspective, I don't think winemakers and wineries should rely too heavily on the critical scores from national wine press because that approach can take away from the creative process in the winery. However, if the winemaker's goal is to achieve high scores, then he or she should absolutely be aware of the critics' opinions regarding what constitutes a high-scoring wine. By that same token, a wine crafted with the goal of earning a top score is more likely to please a narrower range of palettes – namely, those of collectors and the critics who award the scores. 
You are known to be a winemaker who succeeds with blended wines. What about blending a wine provides more for the consumer than an estate single varietal?
An estate single varietal is an artistic statement emphasizing terroir (it is what it is, from where it is from). Blending allows winemakers to balance and enhance a wine and therefore create a wine that will please a broader range of palates. In my opinion, it is this flexibility in assembling blended wines that gives me the opportunity to make the best wine possible from every vintage. 
Is the idea of gathering grapes from multiple vineyards, even in multiple counties, via grape growers preferable to sourcing grapes that you farm directly? And if so, why?
When it comes to sourcing grapes for my wines, my ideal situation is to work with someone who is passionate about growing and monitoring the fruit. We should have a very close relationship, founded on mutual respect and passion for what we do together. I would be very clear about my expectations for the way I want the final wine to taste. By envisioning the final product, I could concentrate on the winemaking and allow the grape growers to farm in a way that facilitates my goals for a wine. Using multiple vineyards and multiple counties has been beneficial to me as a winemaker. Without a doubt, I believe the best wines in a vintage are made from blending vineyards and varietals to enhance the aromas and flavors. As a winemaker, I try to use my vision and knowledge of terroir to find grapes from vineyards that I think will blend together synergistically to form a delicious, expressive wine.
You surf and scuba dive. What can the ocean teach us about the art of making wine?
The ocean is vast and varied, much like the world of wine. There are many different options in both oceanic activities and the art of winemaking that all have striking similarities. For instance, surfing is more of a constricted activity. You can't quite surf in the middle of the ocean and you always need a wave. It is from this same line of thinking that winemakers craft estate single vineyard wines. These wines can still be exhilarating and unique, but are narrowed to that one area (or varietal). Diving allows more flexibility, just like the art of blending. Divers can go out in shallow or deep areas, warm or cold areas, and can choose what kind of marine life they'd like to find by heading to that region of the world. In the same fashion, winemakers who enjoy blending use a variety of different grapes from different areas, climates, soils and other factors to assemble the best the vintage has to offer.
The wine industry is changing. What advice would you give to someone just starting out?

I'd give someone just starting out in the wine industry the same advice I would have given them about 20 years ago. First, I'd assert the fact that winemaking is a combination of diverse disciplines. I would help them understand the different balances of soils, climates and other factors that come together to form distinguishable terroirs. From there, I would emphasize the importance of understanding the discipline of winemaking. Understanding the different techniques used to craft a wine in the cellar and understanding the grape chemistry behind wine analysis are equally important. It is through this understanding that winemakers are able to blend science and art into a single discipline. Lastly, I would tell this budding winemaker that, above all, the single most important thing they can do is to learn from those that came before them. They should take time to understand and interpret the history of winemaking and listen to their predecessors, so they can eventually stand on their shoulders, build on that knowledge and create better wines.

It's a perfect day in California, work is over and you are home. What wine and food would you love to see on your table?
Well, it all comes down to surf and turf! I'd love to have a Bridlewood Monterey Country Chardonnay paired with a spiny lobster to start, followed by a Bridlewood Santa Rita Hills Pinot Noir with grilled quail. If I'm doing double duty that evening by hosting a Santa Maria style BBQ, then I would serve chilled Santa Barbara red shrimp with an ice cold bottle of Bridlewood Santa Barbara County Viognier, followed by dry aged bone-in Rib-eye rubbed with sea salt, rosemary and pepper cooked over a red oak fire so hot it singes your eyebrows. For a truly memorable meal, I'd finish it all up with the Bridlewood Estate Syrah.