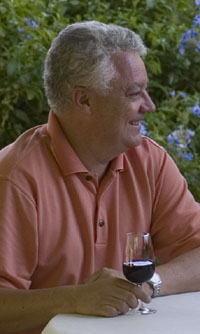 Originally from Australia, Daryl Groom has held numerous positions in the wine industry including Vice President of Winemaking & Operations for Peak Wines International, and Beam Wine Estates, and both Senior White Winemaker and then Senior Red Winemaker for Penfolds Wines in Australia. His foundation was producing Penfolds famed red wine, Grange, which he oversaw from 1984 until his move to the U.S. in 1990. He has been named 'Winemaker of the Year by the LA Times, The San Francisco Chronicle, the Huston Chronicle, Quarterly Review of Wines, and others. He currently produces his own label, Groom Wines. He judges six international wine shows annually and has been on the NBC Today Show and a repeat guest on E! Television in the U.S. 
You've been listed as Winemaker of the Year by several major publications including the Los Angeles Times, and Quarterly Review of Wine, among others. What do those accolades mean to you personally?
I am very proud of the accolades and they mean a great deal. When ever you have third party endorsements from such great, well respected people in the industry it feels really good. Most of the accolades came when I was working for Geyser Peak. Geyser Peak was not a well respected brand in the industry at the time I went there to make wine. It was very rewarding for me and the awesome team at Geyser Peak to know that our efforts were working and recognized.
Your wines consistently are highly regarded by the wine press. How important is it that your wines receive praises from wine writers, and does that translate to increased sales?
I LOVE positive third party endorsements from wine media and consumers. I have been very blessed that the wines I have made have been well received and enjoyed. It's really nice to get that pat on the back that you are doing well. The reviews definitely lead to more sales. There is a sea of wines out there that consumers need to choose from and I think its great for them to have that positive review to help them make a confident informed decision on what wine to buy

Alcohol levels in U.S. and foreign wines are on the rise. What are your thoughts on the subject?
We have definitely seen an increase in alcohol levels in wine over the last two decades. It is a concern. I feel most winemakers are conscious of it. The reason why is that the consumer has become more savvy and the competition to sell wine is more fierce. Because of this winemakers are trying to always improve the quality of their wines. One way of doing this is by getting more flavor into the wines. This involves letting the grapes hang longer on the vine which increases sugar levels and therefore final alcohol levels. Personally I am working hard in the vineyard to get the flavor profiles I want, at lower alcohols, leading, I feel, to more balanced wines. My current release of Groom Wines for example are 12.4% alcohol for the Sauvignon Blanc, 13.8% for my Zinfandel, and 14.6% for my Shiraz, quite lower than other similar wines. 

What wine varieties would you like to see the public embrace more fully?
I love floral white wines that are all about the fruit of the grape and not influenced by other winemaking factors. White wines that are all stainless steel fermented and bottled early. Sauvignon Blanc, Rieslings and Gewürztraminers.  I love the dry styles and would love to see consumers embrace the latter two more. They are such great food wines and also just great to drink on their own. They also are usually on the lower alcohol side when compared to other varieties.
You have made wines for large corporations, like Beam Wine Estates, and Peak Wine International, as well as small lots of very personal wines. Is there a different approach to making hundreds of thousands of cases of a wine as opposed to making say, 100 cases?
The general approach is the same. I give it my all with every wine I make. I strive for the highest quality. I treat 100,000 cases the same as 100 cases. The difference sometimes however is that on small batches where I am fully in charge and that I own, the 'cost to produce' doesn't enter the equation. In the larger company cost of production is always present. You are often making decisions with that in mind. 
A lot has been written and debated about the 100 point rating scale. Some believed it has empowered consumers, others think it has distorted wine prices, and some say it has fundamentally changed the quality of wines being produced. In your opinion, what is the long-term impact of the 100 point rating system?
The 100 point system is here to stay. It has its merits and its short comings. On the positive side it was the first wine reviewing system that everyone seemed to understand best. There is an ocean of wines available to consumers and it can be hard to make a choice. The 100 point system provided an easily recognizable way to make a comfortable purchase choice. The negatives to the system is that it's really a 20 point scale. Rarely do you ever see a wine under 80 points. I also feel consumers only navigate to 90 and over scores which is sad as there are a lot of great wines out there that may not stand out in a tasting line up to get 90+ points, but they are really great to drink.
You oversaw the Penfolds Grange wines which received critical international acclaim. Was Grange planned to be this type of success, or was it the right wine at the right time?
I was the Senior Red Winemaker for Penfolds Grange from 1984 to 1989. The first vintage of Grange was 1951. When Max Schubert first created the wine he had no idea the success that it would have. In the early stages the Penfolds company told Max not to make it any more as it was expensive and they didn't think it would be a successful style. Max continued to make it secretly. It took about 10 years for Grange to receive its first recognition as the world class wine it was. So it wasn't planned and wasn't the right wine at the right time. It was the perseverance, conviction and passion of a talented winemaker that created such a wine. Just FYI the first vintage of Grange, 1951 sells in auction for around $60,000 per bottle. I have one that was given to me from Max in 1984.
Had you not perused a career in the wine industry, where do you think you would be right now?
I always loved math so if it was not wine I would have been a number cruncher in some way. I think however I made the best choice with wine. Once I started college learning about wine it has been one hell of a great ride. I would recommend it to anyone. You get to combine all the great loves in life. People, food, travel. Winemaking is part art, part science. It combines outdoor time with vineyards and indoor time with winemaking. I get the greatest pleasure watching people drinking the wines I have made. When people have wine they are mostly in happy situations. It is an awesome industry to be in and the best product to make.
You've made wines in the U.S. and Australia. What, if any, are the fundamental differences between Australian and U.S. wines?
I continue to make wine in both countries.  Many years ago the wines from each country were quite different. Now with international sales and marketing, winemakers traveling the globe, more idea exchanging in winemaking and viticulture, the larger diversity of grape growing regions and the power of the media and reviewers, the wines are more similar than ever before. I often have trouble selecting the country when served a wine on the blind. If one were to look at differences though, Australian soils generally are more harsh and California more fertile. This leads to smaller, more concentrated grape berries in Australia and slightly larger in California. Australian Wines tend to be fruitier and more intense and California more complex. 
Explain a little bit about your Colby wine.
Colby Red Wine is a California Red Blend that sells for around $12 a bottle. It's probably the greatest wine project I have ever worked on in my career. Yes, even more so than making Penfolds Grange. The wine is named after my son Colby Groom. Colby has just turned 13 years old. When he was 8 years old he had back-to-back open heart surgeries. He had his challenges after the operations but was determined to help other kids not have to go through what he went through. He became a volunteer for the American Heart Association telling his survivor story at functions. He championed the AHA Heart Walk for his school. He also, with his sister, raised money in our back yard for heart research by setting up a tent and for a fee would show people his scar and let them hear his mechanical heart valve. He raised over $1,000. Early last year he became interested in the science of winemaking and came up with a plan and asked me if we could make a wine together that we could sell and raise money for heart research. Colby Red was born. It's been a phenomenal success. We are blessed by the huge number of supporters and especially to Walgreens who helped us take it from a back yard project to a national scale. From initial thoughts of hopefully raising a $1,000 or so and we have proudly raised $125,000 so far this year. It is the best job in the world. I get to work and travel with my son and get to give away lots money to charity with great heart related causes. From a personal perspective I have loved watching my son grow with confidence through the process. A far cry from the boy he was post surgeries.