The Rhone Report: About Rhone and Rhone-Style Wines and Winemakers is part of an ongoing series.
Like many lovers of Rhone style wines from America, we have just returned from the 2008 edition of the annual Rhone Rangers tasting event at Fort Mason in San Francisco (March 18). This was the 11th year that the Rhone Rangers, a group of about 200 American producers of wines using 22 varietals traditional to France's Rhone Valley, have shown off their wines at this public tasting event. This year, about 138 wineries presented approximately 520 wines.
During the tasting, we enthusiastically tasted as many wines as we could within the 5 hours (3 public and 2 trade/media) the event was open. We tasted 30 white wines first, and then we tasted 50 reds. We skipped the rosés, not because we don't love them, but because we didn't have time. Kudos to Rhone Rangers for providing eco-friendly paper spit cups instead of the plastic cups so common at other tastings. We divided our attention between wines and producers we have known previously, producers new to us, and specific bottlings we didn't already know. While we found many wines to admire, we are sure we missed other gems.
Cali-centric participation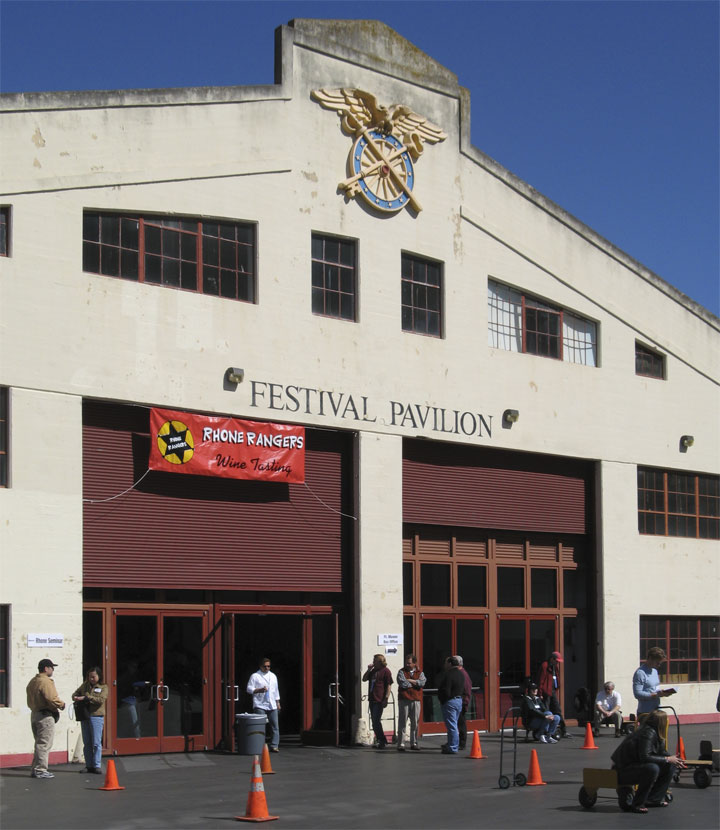 All the presenting wineries at the San Francisco event except nine were from California. The "outsiders" were Columbia Crest (WA), Columbia Winery (WA), Delrio Vineyards (OR), Domaine Serene (OR), McCrea Cellars (WA), Sawtooth Winery (ID), Snoqualmie (WA), Valley View Winery (WA) and Zefina (WA). It is unfortunate that more of the 22 non-California members of Rhone Rangers didn't elect to participate, because tasters didn't get enough exposure to the current releases from appellations such as Columbia Valley, Red Mountain, Yakima Valley and Walla Walla Valley. There are additional American producers of Rhone wines in areas other than the west coast, but they haven't joined Rhone Rangers. As a result, participants in this event didn't get to taste any Rhone wines from places such as Virginia (where some very good Viognier is grown), Texas (where both Syrah and Viognier are grown) or Colorado (where some Syrah is grown).
In this month's column, we'll address some of the whites we tasted and offer some observations about them. Next month we'll cover the reds.
Whites by the numbers
The 2008 tasting included about 106 whites compared to slightly fewer than 100 in 2007. Of these, the most popular was again Viognier, with about 54 entries, more or less the same as last year. We were pleased that about 34 white blends appeared, compared to roughly 20 the prior year. About 27 bottlings of Roussanne were available to taste, nearly 10 more than last year. Marsanne was also represented by only 7 bottlings, and only 3 Grenache Blancs were offered (but more blends included Grenache Blanc).
Viognier
The most popular white Rhone varietal remains Viognier (over half of all the whites offered were of this single varietal). But the range of styles was vast. Too many of the entries didn't have sufficient varietal character, perhaps the result of over-cropping. Some had the excessively floral aromas, fruity tastes and fatness from originating in a too-hot vineyard where the grapes couldn't develop sufficient acidity. California's growers need to be careful where they plant Viognier. A couple of the Viogniers offered did stand out. The 2006 Fess Parker Rodney's Vineyard Viognier ($30) from Santa Barbara County had true Viognier character, was crisp and well balanced, and didn't suffer from excessive oak (a sin we encountered with too many wines). The 2007 Holly's Hill Viognier ($16) from El Dorado County also displayed classic Viognier flavors with a hint of herb, had crisp acidity and pleased with a long finish.
Roussanne
The quality of some of the Roussannes offered in the 2007 tasting impressed us. In 2008 we were pleased once again with this food-friendly varietal that deserves a wider audience. A real standout was the 2006 Rosenblum Cellars Fess Parker Vineyard Roussanne ($25) from Santa Barbara County. This wine was nicely balanced, with just the right degree of rich fruit while avoiding being heavy. Another favorite (as it was last year) was the 2006 Tablas Creek Roussanne ($27) from the winery's estate property just west of Paso Robles. This wine showed wonderful Roussanne flavors and was totally clean with no hint of excess oak or oxidation.
By comparison, another producer offered Roussanne from grapes purchased from Tablas Creek, and it showed slight oxidation. We wondered how the grapes were handled during their transportation to this producer's winery. A third Roussanne we greatly enjoyed was the 2005 Domaine de la Terre Rouge Sierra Foothills Roussanne ($24). A year older than the first two cited above, this example was still fresh, had good acidity, offered true Roussanne flavors and was thoroughly enjoyable. We encourage wine lovers to try some American Roussannes, especially with seafood and Mediterranean dishes. In turn, we hope that will encourage more wineries to offer Roussanne, for it is a varietal that deserves more popularity.

Other White Varietals
We also enjoy Marsanne, but there weren't many examples offered at this tasting (only about 7). Of those we tried, we thought highly of the 2006 Beckman Vineyards Purisima Mountain Vineyard Marsanne ($28) from Santa Barbara County. While definitely a California wine with very rich fruit, the Marsanne was still nicely balanced.
We also really like Grenache Blanc, which we first enjoyed in the Vaucluse department in the southern Rhone Valley. It is finally available in America, thanks to the vine importing efforts of Tablas Creek. The example we most enjoyed at the tasting, not surprisingly, was our perennial favorite. The 2006 version of the Tablas Creek Grenache Blanc ($27) from the winery's property on the west side of Paso Robles reminded us greatly of a Grenache Blanc we tasted at a dinner at Domaine Rocher in Cairanne in the Rhone Valley. The Tablas Creek Grenache Blanc has citrus flavors and a good acid level, making it highly refreshing. Tasting it made us want to nibble some garlicky shrimp or some calamari with aioli.

White Blends
In the southern Rhone Valley of France, white wines are mostly commonly offered as blends of two or more varietals. The white Rhone varietals lend themselves to this practice. The varietals complement each other, so the whole is greater than the sum of its parts. That's because different varietals appeal to different parts of the palate, the mix of flavors becomes more complex, and the balance of richness and crispness strikes just the right note. Americans have become captive to the varietal paradigm, believing that a single varietal (for example, chardonnay) is better than a blend. But that isn't the norm everywhere. For example, red Bordeaux are blends of varietals such as Cabernet Sauvignon, Cabernet Franc, Merlot, Petite Verdot and others, and white Bordeaux is usually a blend of Sauvignon Blanc, Semillon and others. Southern Rhone white blends often include Roussanne, Grenache Blanc, Bourboulenc, Clairette, Picpoul and others. While less traditional, such blends now sometimes include Marsanne and Viognier.
The same advantages of blending apply to American white Rhone wines. With careful blending, a winemaker can offer a final product that is more elegant and complex and better balanced than the individual varietals themselves. While the marketing of such wines is a challenge (most restaurants don't know how to list them and many retailers don't where to place them), the rewards are worth the challenges. Blends of white Rhone varietals are very food-friendly and complement a wide range of dishes popular in America. Thus, we were very pleased to find about 34 white Rhone blends at the Rhone Rangers tasting this year compared to about only 20 last year.
We couldn't try all of them, but of those we did taste, we found 8 that we highly recommend.
An unusual white blend
The most unusual of these was the 2007 Edmunds St. John Heart of Gold bottling, a blend of 54% Grenache Blanc and 46% Vermentino from Ron Mansfield's vineyard in El Dorado County. The resulting blend had an appealing and complex fruit flavor with a very good acid level. It was crisp and delicious. Vermentino (best known from its plantings in Corsica, Sardinia and the Ligurian coast) is known in the Rhone as Rolle. Like Grenache Blanc, Vermentino was brought to America recently by Tablas Creek. Unfortunately, the Edmunds St. John Heart of Gold cuvee was made in a tiny quantity, so it will be next to impossible to find. But this blend teaches a lesson that Grenache Blanc and Vermentino complement each other nicely.

White blends from the Sierra Foothills
We found four more white blends from the Sierra foothills worth noting. From a producer we have come to hold in high regard is the 2006 Holly's Hill Vineyards Patriarche Blanc ($22) from El Dorado County. This blend of Roussanne and Viognier is rich and well balanced with a long finish. The 2006 Mount Aukum Winery "4 of a Kind" ($24) is a blend of Grenache Blanc, Marsanne, Roussanne and Viognier with attractive, nuanced flavors. The 2006 David Girard Coeur du Terroir Blanc ($22) from El Dorado County is an appealing blend of Roussanne, Grenache Blanc, Rolle (also called Vermentino, see above), Marsanne and Viognier with a lengthy finish. More forward than the previous examples, the 2006 Domaine de la Terre Rouge Enigma ($24) from a single Sierra Foothills vineyard shows citrus and good acid. It would be a good match for more strongly flavored food. We have known past vintages of this Marsanne, Viognier and Roussanne blend to pair well with lots of garlic.

White blends from central California
From Santa Barbara County, we really enjoyed the 2006 Core white blend ($21) of a substantial proportion of Grenache Blanc (75%) with Roussanne and Marsanne. We thought this wine was a great example of a blend that is better than the sum of its parts. This wine had complex flavors and a nice balance in the texture and acidity.
Last, and most certainly not least, are two outstanding white blends from Tablas Creek, the innovators who first imported some of the key Rhone varietals to America. The first is the 2006 Cotes de Tablas Blanc ($27) from the west side of Paso Robles. A blend of Viognier, Marsanne, Grenache Blanc and Roussanne, this is a perfectly balanced wine with no off flavors or excessive oak. It is rounder and more complex than either the Roussanne or Grenache Blanc alone. The wine is aromatic, bright, crisp and rich. While this particular blend would be unusual in the Rhone Valley, and is certainly unlike the Chateau de Beaucastel Blanc from one of Tablas Creek's owners, it is a prime example of an excellent Rhone-style blend adapted to its California vineyard site. We have previously written about a "blending seminar" at Tablas Creek and the process of balancing the varietal components to achieve a harmonious result.
The second white blend from Tablas Creek is the 2006 Esprit de Beaucastel Blanc ($40), also from the estate vineyard west of Paso Robles. This blend of Roussanne, Grenache Blanc and Picpoul is closer to the prototype of a Chateauneuf du Pape blanc, but is nevertheless an expression of its Paso Robles vineyard. It is subtler than the Cotes de Tablas Blanc, shows more elegance and has a longer finish. The flavors are nuanced and include noticeable minerals. In the mouth there is a sensation of flavors bursting to be unleashed, but there is concurrently an element of restraint. This is another prime example of the advantages of blending.
Final thoughts

Grenache Blanc is a key to most of the best Rhone-style white blends. See our previous discussion about this and other lesser known Rhone varietals. It elevates the acid level, balances the rich texture of Roussanne, Viognier and Marsanne, and adds complexity to the flavor profiles. We were pleased to see it in wider use in more of these blends this year than last.
Once again, the most impressive Rhone-style wines were from wineries that specialize in Rhone varietals. As was true last year, we didn't find many highly enjoyable Rhone wines from wineries better known for Cabernet or Chardonnay. Every one of the wines cited above comes from one of these Rhone specialists.
Next month we will discuss the reds at the 2008 Rhone Rangers tasting.