Father's Day is around the corner and that means time to gather mom and the siblings to decide what to get Pop for Father's Day. Chances are you already have some ideas but I'm here to add one more idea to your list. If Dad likes wine, hunt down one of these two as either a gift or just something out of the ordinary to pop open at Father's Day dinner: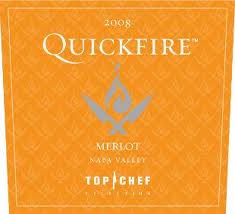 2008 Quickfire Merlot - Top Chef, you know the award-winning Bravo food show, selected the Terlato Wine Group to craft two elegant wines that are refined, well balanced and -most importantly- food friendly. The result was a Quickfire Chardonnay and this, the Quickfire Merlot. Ever since the movie Sideways, Merlot has had to live down an undeserved bad rap. It's one of my favorite red grapes. At just 13.7% alcohol it has an old-world quality that will be great with your Father's Day BBQ. You can find this for around $18-$22.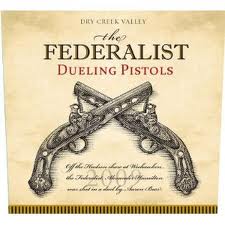 The Federalist, Dueling Pistols, 2009 - If Dad is a history buff or a political news hound, get him this wine. An homage to Alexander Hamilton's (perhaps the most famous Federalist of them all) and Aaron Burr's famous duel in which Hamilton lost his life. Zinfandel grapes were just taking root in California at about the time the Federalist's were establishing our nation's independence. So this wine is a bit of a tribute to our origins. A blend of 50% Zinfandel and 50% Syrah with 15% alcohol, this is a wine that packs a punch worthy of a pistol. This runs about $35 a bottle. 
Even if you've already purchased a gift consider surprising Dad with one of these after the fact. He'll enjoy it and you get the extra brownie points.