Wines to Go Buy This Week: "Comfort Wines" - A Zinfandel by Glenn Hawk and Tulip Hill's Cabepulciano (yeah you read that right)
by Brad Prescott
I live in San Francisco and January weather here means 50 degrees and rain. Constant bone-chilling rain, or so it seems. And before the rest of America emails to remind me how good I have it and how freaking cold it is in New York or Ohio or whatever other frozen tundra they call home, I'm just gonna say that when you are cold, you are cold, and comfort food -and comfort wine- goes a long way towards warming your heart when Old Man Winter starts to have his way with you. So with this in mind, I bring you two comfort wines you should go buy this week.

Glenn Hawk Zinfandel - I typically don't gravitate to Zinfandel. I associate Zins with "cocktail wines", that is, wines that are delicious for a few sips of a single glass but can be a bit too fruity and overwhelming for those of us who tend towards enjoying multiple glasses. So I don't recommend many Zinfandels simply because I don't drink many of them. Every once in a while I stumble back down the Zinfandel path and am reminded of how good the varietal can be. I recently tried the 2009 Glenn Hawk Zinfandel from Livermore Valley (just south of Napa in the shadow of Mt. Diablo). This small production wine -only 150 cases were produced- was an enjoyable trip down Zinfandel lane. If this wine were from Sonoma it could very well be a cult zin in the making. In the end Glenn Hawk has made a delicious Zinfandel worth trying, particularly for those who want to try wines NOT typically found on your local grocery store's shelves. Buy it online and ship it to your door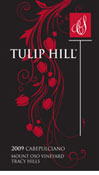 Tulip Hill Cabepulciano - In last month's IntoWineClub shipment (if you wish, you can join the club here), we featured a red wine that very much fits my requirement of a comfort wine, which is that it must pair well with your favorite comfort foods. Tulip Hill Winery's 2009 Cabepulciano (gotta love the name!) fits the bill. A blend of 45% Montepulciano and 55% Cabernet Sauvignon, this wine combines the richness of a California Cabernet with the elegance of an Italian-style Montepulciano. I've taken to referring to it as an Italian/Californian fusion wine. This wine is quite a treat if only because there isn't much Montepulciano planted in California. The grape is common among Italian wines -it's the second most commonly planted varietal in all of Italy- but in California it's presence in a vineyard borders on novelty. All this combined makes this Tulip Hill red blend a unique wine to serve to both wine geeks and novices alike as you stave off Old Man Winter. Buy it online and ship it to your door
Frequently asked questions about Wines to Go Buy This Week
For more than 25 years, The California Wine Club founders Bruce and Pam Boring have explored all corners of California's wine country to find award-winning, handcrafted wine to share with the world. Each month, the club features a different small family winery and hand selects two of their best wines for members.
Tags: