The wine business is a fickle mistress. Winery owners and winemakers chase elusive scores, the public makes buying decisions based on movies, hype and price, and critics seem to applaud fruit laden, high octane wines. So where does that leave Dashe Cellars in Oakland, CA? Right where they want to be.
"My goal is to create structured and layered wines that play on the world stage," Mike Dashe told me over lunch. In 1996 Mike and his wife Anne founded Dashe Cellars, though in retrospect, they might have waited a little longer. "I really stumbled into it without thinking about it too much, which is probably a good thing. Because if I had given any thought to building a winery, I might not have done it," he said.
His reminiscing was not about being qualified or even trained. After all, Mike was assistant winemaker for Ridge Vineyards in Santa Cruz for eight years. Prior to that he worked stints at Far Niente, and Cloudy Bay in New Zealand. So the issue is not one of competence, but of ignorant bliss, luck and raw talent.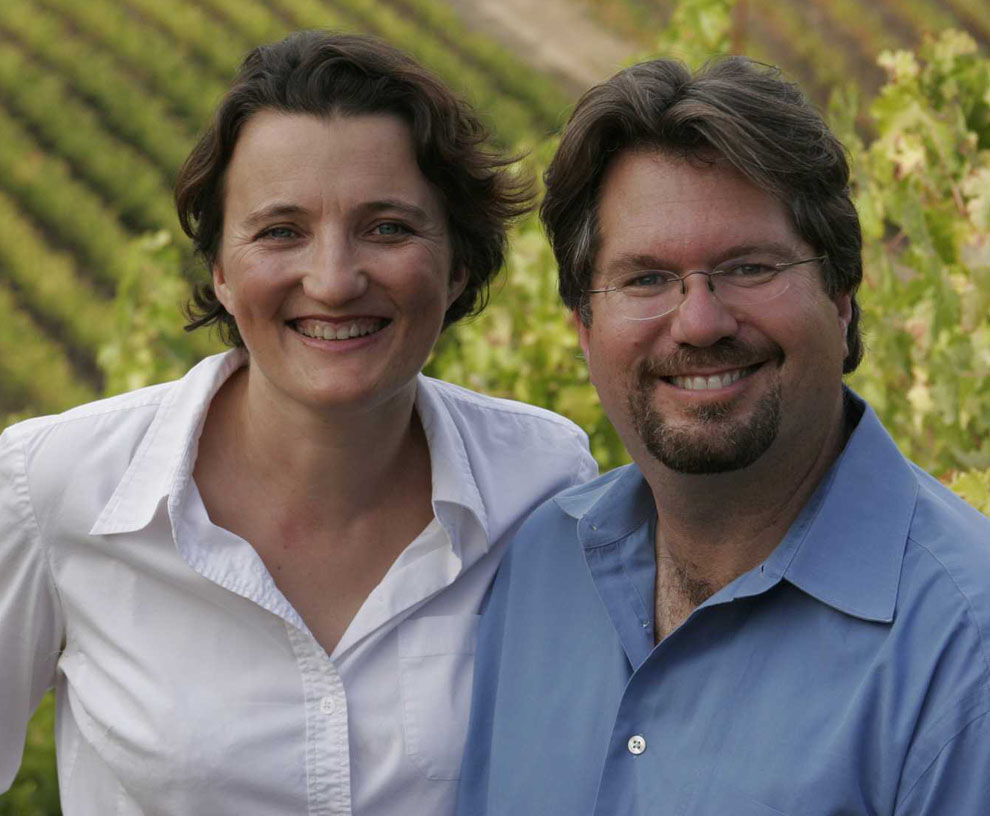 When mike was 16 years old he announced to his parents that he wanted to make beer. "I didn't drink beer, but it sounded fascinating," he recalled. "My parents thought it was a science project, they were both physicians and like the science angle." He'd seen a pamphlet from a well known beer writer at the time, Michael Jackson. An old refrigerator in the garage was converted and the experimentation began. Though he couldn't drink at the time, his dad enjoyed Mike's creations. But that was high school and Mike was looking into a medical career. "I was pre-med until I spent a few years as a surgical orderly. I actually loved surgery, but I hated the doctors, they all seemed miserable." Mike was also studying botany as an undergraduate and even worked for the forest service during several summers. Ultimately, it was his dad who suggested Mike attend U.C. Davis. "He was much more excited that I went into winemaking over medical school," Mike recalled.
While Mike was busy in the states, Anne, a native of France was studying biochemistry and science in Bordeaux. She accepted an internship at a winery in Saint-Emilion and got hooked. "I was inspired by all the layers of the process. From the chemistry of the wine, to the selection of the corks and the design on the label, it required such a diversity of skills." She also worked in the Napa Valley at RMS Brandy Distillery and Mike worked in France at Chateau Lafite-Rothschild. Their two worlds, separate at this time, eventually came together.
It was while at Ridge that the opportunity to form a winery came along. Ridge was fazing out some of their older vineyards. The offer to use the fruit from a zinfandel plot was too good to pass up, so Mike took all the fruit and made his first wine; 1,200 cases of zinfandel. It's ironic that Mike started with zinfandel, usually a one-note wine when he was after much more finesse and grace with his wines, but Mike created something different. He took his first vintage to Zinfandel Advocate Producers (ZAP) in San Francisco. "We had hordes of people," he says. "We thought 'Everyone says how hard it is to get into the wine industry, but this was easy. You sell out in a few months and get a big paycheck."
He laughs at the early days. Sure, he sold out, people loved his wines and it was indeed an easy task. Then Silicon Valley went bust and the care free days of spending whatever you wanted on a bottle of wine, disposable income and stocks took a broadside hit. Suddenly, almost overnight, the wine industry and Dashe along with it, were struggling. In the tight times that followed, winemakers sought to bump their sales by going after scores. "I have winemakers friends that are 100% focused on getting a good score," Mike says. But that rationale can backfire when your score drops one year and cases don't sell. Mike and Anne stayed true to their initial vision. "We were never influenced by the media when we were critized as being too restrained with our wines, because we were confident we were doing it right." But the media was critical, the public became fickle and the fruit bomb became the style of choice for an impatient consumer. Dashe wines are on the opposite end of the spectrum.
The single vineyard zinfandels require decanting (Mike recommends at least 20 minutes) and the ability to savor them over a period of time. In fact, the Dashe zinfandels I've tasted unfold more like a film noir movie. First there are dark shadows, shafts of light that illuminate something nearly hidden around a corner. There is a mysteriousness to the wines at first. Flashes of something exciting peer at you, then run away. But with time, you adjust your eyes to the light and begin to see a world unfolding before you. They open up, express themselves profusely and the complexity of the wines become apparent. But this requires time. Most people want immediate gratification, thereby losing the nuanced beauty of fine craftsmanship. But for those who are willing to wait, the reward of a Dashe wine is undeniable.
Part of that is Mike's uncanny ability to understand the fruit on the vine. "My feeling is that when tasting grapes in the vineyard, you can tell age-ability. I've been doing this so long it's a Gestalt thing – I can picture how it's going to taste as a fermented product and how it will age." Some years, the single vineyards he sources fruit from, provide the long range fruit he wants. Other years, it's a different story. Such is the nature of farming. "You can get flavors from the grapes in a vineyard; blackberry, chocolate, licorice. You've got to look past the sugars."
Since he doesn't own the vineyards, even though he works very closely with the growers, it affords him time to spend with his family. Summers are typically spent in France, near Anne's hometown, where the American way to push and shove dissolves into a meandering pace, and a cognitive appreciation of the world. "I love being there," he says, "It's a slower pace and it feels like a dream. It's such a different way of living." It's no doubt something American winemakers don't understand, as they stand guard at the fermentors day and night, obsessing over every detail. For Dashe and their wines, life isn't about perfect scores, the right accolades or praise from well meaning wine writers (I assume this includes me), it's about a quality of life. As Mike and I sat over a two hour lunch, the immediate cares of the world pass away, or, at the very least, they wait. We talk and laugh, eat and share wine. "In France," Mike says, "everything is socially based. People wake up and the first thing they think about is what they're going to eat and who they're going to eat it with." And that thought process, one of deliberate consideration, truly expresses Dashe wines.