Wine of The Week - 2014 Sea Smoke Chardonnay – 91 Points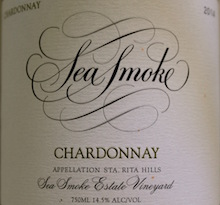 Sea Smoke (so named for the clouds that hug and blanket the Santa Rita Hills in Santa Barbara) began Pinot Noir and Chardonnay in 1999, and has since established itself as one of the premier producers in this region. Dijon and Wente clones of Chardonnay are planted in loamy, clay shallow but well-drained soils on their estate vineyard. Fermented in stainless steel as well as in French oak foudres (1,200 gallon large casks, which offer more surface ratio with the wine) then aged 16 months on the lees with 55% new French Oak barrels. Serving this at room temperature allows for the crème brulee, sugared almond along with sweet resin notes, melon and honeysuckle to come out. This is a very specific Chardonnay, reminiscent of white Bordeaux with a specific line of mineral earthiness running through it. Yes, there is an evident impact of oak and malolactic, but it is tempered by a surprising acidity and richness of flavor, an excellent mid palate expression and a long finish. Not as bright as a stainless steel, nor as cumbersome as a butter bomb, this straddles a fine line of savory notes not often found in Chardonnay.
Average Price: $60/ 750ML
Alcohol: 15%
Pair With: Chicken Kiev; Roasted garlic and spinach quiche; Pan seared quail with fresh figs.
Availability: Limited
Website: www.seasmoke.com
For more than 25 years, The California Wine Club founders Bruce and Pam Boring have explored all corners of California's wine country to find award-winning, handcrafted wine to share with the world. Each month, the club features a different small family winery and hand selects two of their best wines for members.