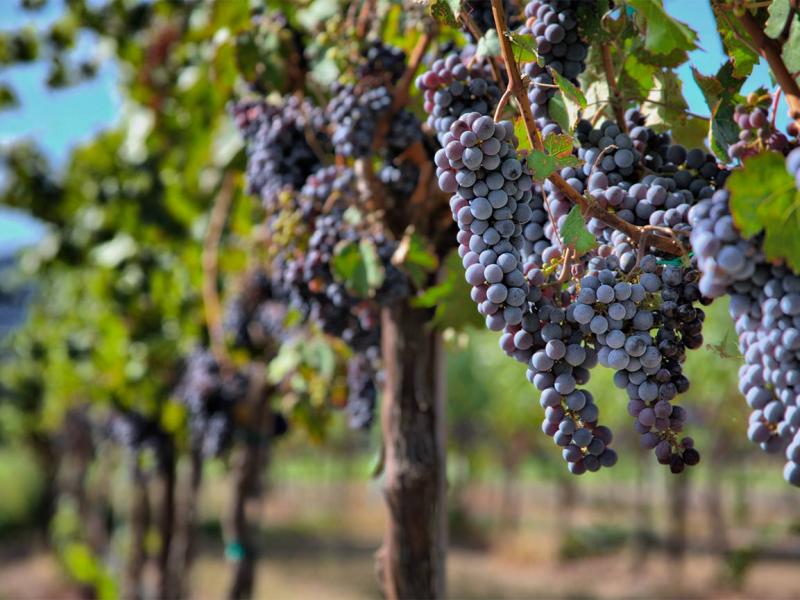 Imagine your friends describe you as "ethereal, finicky, difficult, sensitive, troublesome," and even "persnickety." This might prompt you to read a number of self-help books – but Pinot Noir is OK with itself.
At the 2019 iteration of the World of Pinot Noir, a celebration of all Pinot all the time in Santa Barbara, there were Pinot Noirs from across the globe including France, Chile and New Zealand. Certainly California and Oregon are the lion share of Pinot's presented, but with so many expressions of the grape – how good is it really and why do people fawn over it?
Pinot Noir is believed to be one of the oldest cultivated vines and though there is no proof, many believe that early Roman writers in the 1st Century referred to Pinot Noir in their writings, though certainly by the 14th Century, the word "pinot" pops up in French writings. According to UC Davis: "There are more clones of Pinot Noir than of any other wine grape variety, and, not surprisingly, most are from France. At present nearly 100 Pinot Noir selections have been submitted to UC Davis for inclusion in our registration program, including French clones and heritage California selections known as 'Dijon clones' in California." Ah, clones, Pinot Noir's secret weapon. Pinot is known to mutate easily and transform itself into a variety of diverse clonal selections, which all have the same basic DNA - variations within the same structure - yet still provide noticeable differences, i.e., floral components, color, depth of fruit, etc. Well-known clones include Swan, Pommard, 777, 115, Wädenswil (also known as clone 2A), 667 and a handful of others – each unique.
Burgundy has long been Pinot's home base but across the globe it's made in-roads. In Australia it was roughly 1812 when Pinot Noir vines first came to that country; New Zealand around 1855. In France, obviously Burgundy is synonymous with Pinot Noir, but you'll even find Pinot Noir in unexpected places like Nova Scotia (Lightfoot & Wolfville Winery), California's Paso Robles (Windward Winery), and the Sierra Foothills (Indian Rock), regions which are both notoriously warm, which Pinot doesn't prefer, however it finds unique pockets. Pinot Noir lacks the big fruit and swagger of Cabernet. Big wines have always been fashionable, but Pinot is often the shy type, the awkward kid with the thick Coke-bottle glasses sitting in the corner of the room muttering to itself. But Pinot Noir can speak volumes. One of the benefits of an event like the World of Pinot Noir is that you can sample so many diverse styles of Pinot under one roof. I am a stalwart fan of the grape but I wanted fresh Intel on what the grape can do so I asked around from people who know better.
Allen Meadows, author of Burghound.com, a highly respected and critically acclaimed quarterly publication that reaches subscribers in more than 60 countries and nearly all 50 states, knows how good the grape can be. "Pinot Noir is capable of creating wines of unmatched transparency of place that deliver wonderful elegance and refinement. And when the producer gets it just right, it produces a complex and emotional drinking experience that no other grape variety can match." Wes Hagen, formerly winemaker of Clos Pepe and now winemaker at J. Wilkes in Santa Barbara County agrees telling me that Pinot Noir can make the greatest variety of styles of wine. "Delicate Champagne. Nice dry or off dry rose'. Light Pinot, medium bodied, heavy bodied. From bubbles to a rich red wine - no other grape offers so many choices, yet also shows bad choices more than any other grape," he admits.
And there's another issue, rarely discussed, that impacts Pinot Noir more than any other grape. The age of the vines. "Vine age really does play a big part in how wines change over time, but nobody talks about it," says Norm Yost of Flying Goat Cellars in Santa Barbara County. "My winemaking is pretty consistent so what's happening within the vineyard that these wines are so different?" He uses his Pinot Noir Clone 2A as an example, from a vineyard site that has not changed. "What I was making in 2003-2004 and what I'm making now, they are very different wines," he says. How specifically I ask him? "The wine has become more sophisticated. The 2A when it was young was very shy and took a long time to evolve from the phenolics, the tannins and the expression. Now it has more structure, muscle, it's a deeper wine, it's still feminine, but it shows more depth."
Tom Fitzpatrick is winemaker at Alloro Vineyards in Oregon. "What I love so much about Pinot Noir is that it has a transparency that allows one to see the subtle flavors and textures unique to where the fruit was grown. Each vineyard site has its own distinct environment that influences vine growth and fruit development directly associated with that environment." This, he says, is the essence of that oft-misunderstood word – terroir -the characteristic flavor imparted to a wine derived from the specific location in which it is grown. "Pinot Noir does not overpower and is the perfect vehicle for both showcasing and complementing the flavors contributed by these environments," he says. "I personally love the flavors and textures delivered by the range of conditions found in Oregon. I believe everyone can find a Pinot Noir they love, they just need to identify a terroir that is right for them."
And that is the crux of the issue.
Perhaps the diverse styles from Oregon or California do not suite you. Fine, then look at Burgundy, Chile, New Zealand, you can even seek out Spätburgunder (Pinot Noir) from Germany. There is no shortage of Pinots, you just need to be willing to explore them. "Pinot Noir is more effective at transmitting its origin than any wine I can think of," says Steve Rogstad, winemaker at Cuvaison Winery in Napa. "Sure, there are Cabernets or Chardonnays from many countries, but they are generally thought of as either good or bad and not as a great representative of that appellation. In our corner of the world, Los Carneros, we make supremely balanced Pinot Noirs that offer red fruits and black fruits with a touch of spice and earthiness and a fresh, vibrant finish. To reveal these characteristics we avoid heavy, over extraction of tannin and color, but focus instead on preservation of fruit notes and retaining our natural acidity. But with that said, we can still make 4 to 5 different, really unique Pinot Noirs from our single vineyard that explore the nuances of our own terroir." And you needn't be an expert to taste and understand these differences he stresses. "I think consumers can easily penetrate the many valid styles of Pinot Noir out there, from Oregon, Central Otago, Santa Rita in Santa Barbara County, Russian River, Los Carneros to the iconic wines of the Côte-d'Or," says Rogstad. And if you really want to immerse yourself in a Pinot education he suggests you can spend a lifetime exploring the gradations across a few meters of land from the same producer, or perhaps two producers working with the same fruit. "The subject of great Pinot Noir is infinitely fascinating. This is why we bottle seven to eight different Pinot Noirs each year, and the reason why most serious Pinot producers offer so many single-vineyard wines."
So whether you seek a sleek and sexy Pinot, a full-bodied bold fruit driven style, a lithe and delicate rose' iteration, bubbles, or a wine that typifies the ground in which it is grown, no other grape comes as close to its own unique expression than Pinot.
Pinot to Ponder:

Gran Moraine 2016 Yamhill-Carlton Pinot Noir, Oregon
This Northern Willamette Valley producer from the Yamhill-Carlton region always presents alluring Oregon Pinot Noir. Typically there is less earthiness than you'd expect from Oregon, and more bright rich red fruit with an earthy backbone. Red raspberry, black cherry, cranberry, rhubarb, anise, blueberry and always with a centered acidity. Lighter in style but with a mouth-filling richness, it's aged just 11 months in smaller barriques with less than 40% of that as new wood, allowing the fruit to shine through. ($45)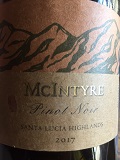 McIntyre 2017 Pinot Noir, Santa Lucia Highlands, Monterey
Steve McIntyre started out farming grapes (which he still does with 12,000 acres under his purview) before he made wine. Certified SIP (Sustainability in Practice) this presents fresh mashed cherry, strawberry, boysenberry, a hint of five spice in the back and baked apple pie and dusty cocoa. A great value wine. Using three clones: Swan, 115 and Old Vine, there is an acidity you don't notice at first, but it comes round after a bit and surprises you. There is great fruit, but also a fully restrained balance. ($38)

Domaine Chanson 2016 Clos des Feves Monopole, Cote du Beaune, France
That this vineyard site dates back to the early 1300s should be impressive enough, it is one of their flagship wines, a Premier Cru, which shows how excellent and long lived Burgundy can be. It is both lithe and strong, an amalgam of hardiness and softness, richness and deft subtly. The cherry, raspberry and blackberry fruit creates a complex, dense red that is packed with a true sense of place, the earthiness and minerality being prevalent. Hidden in the background are whispers of violet flowers, oak spice and even graphite presenting a long and satisfying finish. ($130)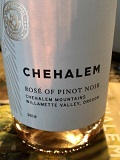 Chehalem 2018 Rose' of Pinot Noir, Willamette Valley, Oregon
Bill Stoller started Chehalem in 1990 by releasing his first Pinot Noir. Then came their rose'; light, bright and summery, this wine offers a comprehensive acidity presenting fresh strawberry, a light sweetness, rose pedal, hibiscus, guava and watermelon streaming throughout each sip, but not demanding attention. Pulled from three different vineyard sites and aged in stainless steel with neutral oak, like many Oregon based Pinot's this expresses a more earthy side of the grape. ($25)

Calera 2016 Mt. Harlan, de Villiers Vineyard, Hollister, California
25 miles east of Monterey in the Gavilan Mountains, Calera is hard at work producing high altitude Pinot Noir, typically grown at 2,200 feet. What ripens here is unique. Supple in the mouth and viscous, there is a richness to the Calera line of Pinot Noirs. You'll find darker red fruits; black cherry, blackberry, cassis, black currant, boysenberry, darker and richer than at lower elevations. Only French oak is used to age the wines, varying from some new, to mainly neutral barrels, to a few second-use barrels and aged for a longer 17 months. ($65)

Clos De La Tech 2014 Pinot Noir Santa Cruz Mountain Estates
Deep, dark and rich red fruit comprise this wine from vineyards predominately harvested from steep south facing hillsides in the Santa Cruz Mountains. 18 months of Francois Frères barrels provide the supporting structure of this bold iteration of Pinot. Black cherry, raspberry, a touch of lingonberry and long with dusty tannins, a moderate acidity and hints of saddle leather and a beautiful viscosity shows how Pinot grown in the right divot of land can produce serious Pinots not normally associated with a specific region or AVA. ($50)

Argyle 2015 Vintage Brut, Dundee, Oregon
Comprised of 70% Pinot Noir (the rest being Chardonnay and Pinot Meunier), this sparkler was all stainless aged with the exception of 7% neutral oak, allowing this to be incredibly clean and bright. You'll find white peach, Asian pear, light honeysuckle, quince and melon with faint notes of hibiscus and toasted nuts. The light carbonation makes this all the more bright by not overwhelming the palate and getting the fruit out front so you can really taste it. ($28)