Top Ten Sparkling Wines - 2016
I tend to taste and drink a lot of wine over the course of a year. I am in a few tasting groups, sometimes the wines are consumed at various local wine store tastings and a number drunk with friends and family. Early on, it was evident that the best way to pay attention and also to remember what wines were consumed was to write a tasting note. Over the years, I have written well over 10,000 tasting notes probably representing 70% of the wines I have tasted. I make no pretense about the quality of the notes, but sip by sip and bottle by bottle, the notes have gotten a bit better. It always interesting at the end of the year to go back and review what wines were consumed and which ones I liked the best – overall and in categories. In 2016 I wrote 1,334 tasting notes. Thanks to computers, I can sort and select them down into various lists. I give you these to use as you wish – suggestions, comments, and reasons to laugh or disagree.
Caveat - I have for the most part not repeated wines that were tasted multiple times or the same wine from a different but close vintage in an effort to list more wines for those looking for suggestions. I drink, for the most part, what my wife and I like, so did I miss out on categories or specific wines? You bet. There is a lot of great wine out there and one can't drink it all. Part of the fun is seeing, over the years, how tastes change, finding new discoveries, following the development of vintages but most of all, just enjoying this special beverage. Cheers! - Loren Sonkin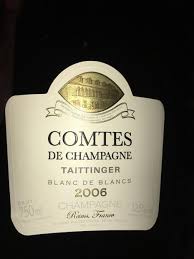 1. 2006 Taittinger Champagne Brut Blanc de Blancs Comtes de Champagne - France, Champagne
Awesome showing from Magnum. Still on the youthful side. The nose is gorgeous with chalk and apples and bit of minerals. With air some hazelnuts come out. A nice head with lots of very tiny bubbles. On the palate, minerals with pears, slight grapefruit and that chalk note continues. Very crisp. An amazingly long finish. This wine has that quality of a perception of weight while it dances across the palate. I rarely find that in wines but I liken it to Muhammad Ali. Power as it dances. (98 pts.)
For more than 25 years, The California Wine Club founders Bruce and Pam Boring have explored all corners of California's wine country to find award-winning, handcrafted wine to share with the world. Each month, the club features a different small family winery and hand selects two of their best wines for members.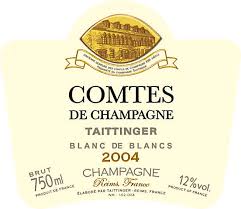 2. 2004 Taittinger Champagne Brut Blanc de Blancs Comtes de Champagne - France, Champagne
Came out of the bottle great and just kept getting better IMO. Went back at the end of the evening and still stunning. My wife loved it as well. Light golden in color. Lots of small bubbles. The nose has some lemons and orange peel. Also a bit of sea air. With air, it gets rounder, picks up some earthiness and even some floral notes. On the palate, tight and concentrated, it just keeps opening up but never loses that focus. Great citrus and minerals. Great acidity with food. Long finish. Gorgeous wine in a great place but no hurry. (96 pts.)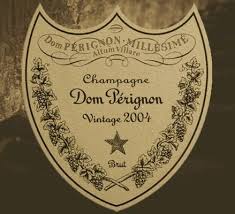 3. 2004 Moët & Chandon Champagne Cuvée Dom Pérignon - France, Champagne
Always a great way to start a night. Drank with no food, just standing around the table. Going back at the end of the evening, it was even better although warmer, it had really opened up and was showing more complexity. The nose is very nice with a cream note as well as pears and minerals. On the palate, a nice froth. Great if not pin point acidity. Nice lemons and peaches. With air, the acidity is calmed a bit but the minerality and the pit fruit really come out as well as showing more depth. Outstanding. (95 pts.)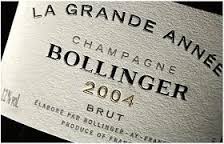 4. 2004 Bollinger Champagne La Grande Année - France, Champagne
Always delicious. Great way to start an evening. Light golden in color. Lots of small bubbles. The nose is slightly nutty but also some fresh pears. On the palate, this seems to be at peak. Lots of pears and depth, but also just a bit of nuttiness that is delicious. Layers of complexity. Very good acidity. Going back later in the evening, it had really opened up. (94 pts.)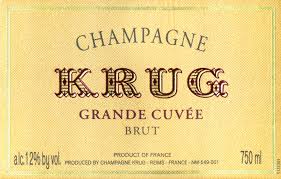 5. NV Krug Champagne Brut Grande Cuvée - France, Champagne
What can you say? It's a classic. Sadly, my last bottle in the cellar and I don't know that I will be paying the current tariff for more. The nose is very clean. No oxidation. Pear, slight toast, slight smoke and lots of minerality. On the palate, there is a slight red fruit note, then that gets replaced by minerals and citrus. Great acidity. Lively wine. Going back later in the night, it had rounded out a bit but still had great cut. Finish goes on forever. Very food friendly. (94 pts.)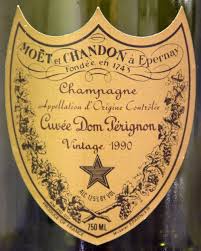 6. 1990 Moët & Chandon Champagne Cuvée Dom Pérignon - France, Champagne
It's been a while since I have had this vintage. Medium deep golden with a tinge of green in color. Still some nice effervescence though in an open glass the bubble expire quickly. Great nose. Mature. Slight lemon, bit of ginger and minerals and a slight mushroom note. Very nice. On the palate, very deep. Complex. Not a lot of fruit, more about minerality. A bit of ginger and lemon. Seemed to improve for a short time with air though. Held up for a glass later in the evening just fine. A nice treat. (94 pts.)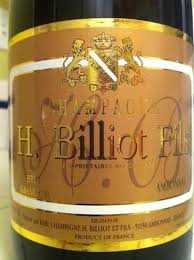 7. 2002 H. Billiot Fils Champagne Grand Cru Brut Millésimé - France, Champagne, Champagne Grand Cru
I am not sure why it did not get opened earlier. It may have been too warm as it was on ice all night. It was passed around after dinner as a palate cleanser. It is so much more. Great showing IMO. Paul brought this. The nose has peaches, apricots and a slight cherry note. Nice minerality as well. Really fresh and lots of tension on the palate. The peaches and cherries carry thru but also some lemony acidity. Layers of complexity. Lots of cut but yet also a creaminess that fills the palate. Long finish. Really a delicious wine that seems to be in its prime with years left. Thank you Paul. (93 pts.)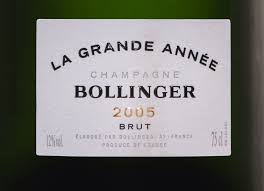 8. 2005 Bollinger Champagne La Grande Année - France, Champagne
A great way to start our holiday tasting. Golden in color with a fine mousse. Lots of tiny bubbles. The nose is intriguing. A bit smokey/toasty with some red apples. Just a hint of ginger and tea. Slightly oxidized notes (in a good way). On the palate, less defined than the nose but still quite good. Its best attribute is an almost piercing acidity. Some fruit, maybe cooked apples. Long finish. It got better with air. (93 pts.)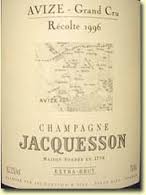 9. 1997 Jacquesson & Fils Champagne Grand Cru Brut Avize - France, Champagne, Champagne Grand Cru
Really nice showing for this bottle (better than the last by a bit). Lots of pressure when removing the cork which is always a nice sign with older fizz. At almost 20 years from a good if not great vintage, this bottle showed mature but certainly not past peak. Light golden in color. The nose has slight ginger and seltzer, nice mineral streak. No oxidation. On the palate, this is complex and interesting. Some ginger and hints of apple. Good acidity. Nice finish. Worked well with food. Great start. (93 pts.)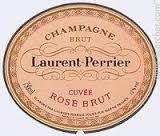 10. NV Laurent-Perrier Champagne Cuvée Rosé Brut - France, Champagne
Salmon/orange in color. The nose is big with very nice strawberries, orange peel, some ginger and rhubarb. Lots of small bubbles. On the palate, there is a lot of red fruit; strawberries, cherries and slight citrus notes. A nice mineral streak. Good acidity. Very round yet enough cut to work alone and with some food. Really tasty. Going back after dinner, it had opened a little more. There is some value here in the Rose world too. (92 pts.)