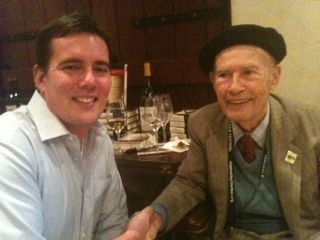 I recently had the great privilege of spending an afternoon with legendary Napa Valley winemaker Mike Grgich. Over a long lunch and more than a few bottles of his finest wines, we discussed his career and its influence on Napa winemaking as well as his myriad accomplishments, winning both the 1976 Judgment of Paris and the Great Chicago Showdown to name but a few. I had never met Mike in person before and did not know what to expect. What I found was a man with deep pride in his accomplishments but one who is equally grateful to all those who helped and influenced him along the way. I also discovered a man who is the living embodiment of the American dream, having fled communism to find success in Paradise, California. It's safe to say that my long lunch with Mike was the most enjoyable and interesting day of the six years I have spent running IntoWine. I interviewed Mike via email in 2007. The interview below is round two, where I get to ask my wish list of questions. Thankfully, Mike obliged.  
Lee Stewart, André Tchelistcheff and Robert Mondavi are winemakers that influenced you.  What is something unique you learned from each of them?
Lee Stewart – He loved wine and used good wine regularly.  He had a small winery, a one-man winery and an assistant during crush season with advice from André Tchelistcheff. He was committed to the highest quality and in a short time became an artist winemaker with passion and pride.
The most important things I learnt from Lee Stewart were:
(a)   Total commitment to quality and lots of passion;
(b)   followed his wine style for each wine;
(c)   absolute details and cleanliness.
André Tchelistcheff – The best thing that happened to me in Napa Valley was to meet and work with Mr. André Tchelistcheff for nine years.  André was called Dean of California winemaking, 'The Maestro'!
I learnt from him so much that a whole book could be written about it.  My title was 'Wine Chemist', winery sanitarium, above all quality control of wine and the vineyards.  That kept me busy all the time.  I also did research on yeast cultures and alcohol fermentation; malolactic cultures and malolactic fermentation; wine microbiology; sterile baffling (millipore filter); cold fermentation and cold stabilization of wine. 
With André I learned most about the quality red wines; in the vineyard, about frost protection, time of picking of grapes (physiological maturity) and more.  Nine years with André was like nine years in the best Wine University.
Robert Mondavi – He was a great innovator and great wine promoter.  You could not work for Robert Mondavi without learning something new every day.  The best red wine we made was the 1969 Robert Mondavi Cabernet Sauvignon that came out the 'Winner' in a Blind Tasting for the Los Angeles Times judged by 15 California winemakers. 
Robert Mondavi was the best place to learn about white wines – cold fermentation; using French limousine barrels for aging; improvement in bottling white wines; temperature control; warehousing.  Besides improvements in making white wine he influenced me psychologically.  Tasting every Monday morning, comparing with the best French Chardonnay helped me to develop the ability to develop sensitive taste for quality of Chardonnay.  There I learnt how to make Chardonnay as good as the French.
Chateau Montelena, Calistoga – There I became an independent Winemaker, on my own.  I perfected the ability to make Chardonnay better than the French which was proven in the 1976 Paris Tasting.  The 1973 Chardonnay hand-crafted by me at Chateau Montelena was a piece of art.  It became the champion of the Paris Tasting, scoring 132 points – more than any other white or red wine at that historical Blind Tasting.
You left Croatia in 1954, just nine years after the Republic of Yugoslavia was formed.  How did those 11 years under communism impact you?
Before communism my activities were about wine and business.  When communism took over Yugoslavia my future was interrupted because all businesses became government-owned.  My goal was to educate myself, possibly become a scientist.  In 1949 I graduated Business College.  The same year I enrolled at the University of Zagreb with the idea of studying Enology and Viticulture and become a professional winemaker (1949 to 1954).
While studying I had a part-time job at the Institute for Fruit Growing – producing new varieties of fruits by crossing different trees during pollination.  I created lots of work but I missed "the freedom".  There was no freedom during communism.
Around 1953 – 1954 I started the process for a possible student exchange with western countries. In 1954 our Prof. Hebrang went on Sabbatical leave to California.  When he returned, we, his students, asked him, "How is wine-growing and wines in California?"  He whispered, "California is a Paradise".  That word Paradise sunk in my mind – go to California and have my own little winery in Paradise.  With that in mind I left Croatia as a 'student-exchange' with the goal to reach the 'Paradise' in California.
Your daughter, Violet Grgich, and nephew, Ivo Jeramaz, are actively involved running Grgich Hills Estate today.  What unique challenges – be it in viticulture, winemaking or marketing – do they face?
When Mr. Austin Hills and myself started Grgich Hills in 1977 we only had a winery.  Since then we bought 5 vineyards in Napa Valley – about 366 acres total.  
Today my daughter, Violet Grgich, and nephew, Ivo Jeramaz, have many more challenges than I had in the vineyard, winery and especially in marketing.  There is a story that today to be a good Winemaker he needs to have one leg in the vineyard, one leg in the Winery and a third leg in the market.  Since Winemakers are born with two legs they have to have "a cane" to manage the market.  Just like me today – two legs + a cane makes me the "Three-legged Winemaker"!
What are your thoughts regarding wine alcohol levels?
Food-friendly wines should be elegant, balanced with alcohol in white and red wines – between 13% to 14% alcohol – no more!
The documentary about you, "Like the Old Vine", recently premiered at the 2012 Napa Valley Film Festival.  How did the film come about?
After visiting Croatia in the 1990s I realized that the quality of wines there were poor.  In order to help Croatia to make better wines from local varieties, I started a new winery with styles of wine made in California.  First, I ordered from Santa Rosa, CA stainless steel jacketed tanks for cold fermentation of white wine; air-conditioned the winery; imported French barrels for maturing white and red wine.  My move started a new quality revolution in the Croatian wine industry.
Secondly, news about the Paris Tasting where one Winemaker, Miljenko Grgich, Croatian by birth, beat the best French and American Chardonnays in 1976.  The book, "Judgment of Paris" was translated in the Croatian language, which recognized me as a world-class Winemaker.
Croatian Television wanted to recognize Croatians abroad who obtained remarkable achievements.  They did a documentary about the great Croatian scientist Nikola Tesla; they are now finishing a documentary about world explorer Marco Polo.  Then Croatian Television decided to make a documentary about another Croatian, Miljenko Grgich – my achievements.  They filmed in Croatia – village Desne where I was born; Napa Valley where I was making world-class wine for over 50 years.  Croatian Television went to the Smithsonian Institute Museum of American History in Washington, D.C. to film the bottle of the 1973 Chardonnay, winner in the 1976 Paris Tasting; the cardboard suitcase I brought when I left Croatia; my original "Beret"; and a few books I used when I studied Enology and Viticulture in the University of Zagreb.  The documentary entered the 2012 Napa Valley Film Festival and premiered in St. Helena on November 7, 2012.
Fill in the blank – The smartest thing in the US wine industry could do going forward is:  Use more artistic approach in making natural balanced wines.