From Peter Mayle, a joyous exploration and celebration of the infinite gastronomic pleasures of France. Ranging far from his adopted Provence, Mayle now travels to every corner of the country, armed with knife, fork, and corkscrew. He takes us to tiny, out-of-the-way restaurants, starred Michelin wonders, local village markets, annual festivals, and blessed vineyards.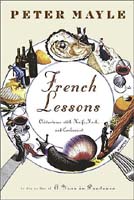 We visit the Foire aux Escargots at Martigny-les-Bains a whole weekend devoted to the lowly but revered snail. We observe the Marathon du Medoc, where runners passing through the great vineyards of Bordeaux refresh themselves en route with tastings of red wine (including Chateau Lafite-Rothschild!). There is a memorable bouillabaisse in a beachside restaurant on the Cute d'Azur. And we go on a search for the perfect chicken that takes us to a fair in Bourg-en-Bresse.
There is a Catholic mass in the village of Ri-cherenches, a sacred event at which thanks are given for the aromatic, mysterious, and breathtakingly expensive black truffle. We learn which is the most pungent cheese in France (it's in Normandy), witness a debate on the secret of the perfect omelette, and pick up a few luscious recipes along the way. There is even an appreciation and celebration of an essential tool for any serious food-lover in France, the Michelin Guide.
"Here we have all the glory and pleasure of the French table in the most satisfying book yet from the toujours delightfully entertaining"
About the Author
Peter Mayle lives with his wife and their two dogs in the South of France. His hobbies include walking, reading, writing, and lunch.