Much of the history of wine is interwoven throughout the history of France itself. It is difficult to separate French wine from French culture and vice versa. There is no shortage of books devoted to French wine. The titles listed below are but a few of the many good books about French wine and culture.

Champagne: How the World's Most Glamorous Wine Triumphed Over War and Hard Times, by Don and Petie Kladstrup, explores the history of champagne as it touches the historical figures and events that have defined France, and in some cases, the world. With references to Attila the Hun, Napoleon, and German World War II bombers it's hard to believe a wine region that has seen such hard times would ever produce the ubiquitous celebratory bubbly.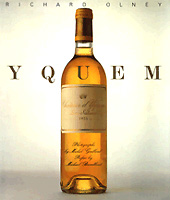 , by Rosemary George, examines the wines of Mediterranean France and argues that the region -not known particularly for wine in the past- is underestimated and on the rise, particularly in terms of Syrah and Grenache.
Yquem is the finest of the Sauternes. The late Richard Olney, in his book Yquem, has delivered the essential book on the "first great vintage".
Every region needs it authoritative guide to wine. Robert Joseph -wine correspondent for London's Sunday Telegraph newspaper- has delivered a French wine guide titled French Wines: The Essential Guide to the Wines and Wine Growing Regions of France that is worth lugging with you all around the French countryside.