From the time of Attila the Hun to
the Germans of World War II, waves of invaders
have tried to conquer the verdant region of
Champagne in northern France. Yet this strife-torn
land is also the birthplace of the world's favorite wine: champagne.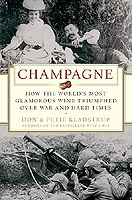 In this engrossing history, Don and Petie Kladstrup show how this sparkling wine, born of bloodshed, became a symbol of glamour, good times, and celebration. It's a story filled with larger-than-life characters: Dom Perignon, the father of champagne, who, contrary to popular belief, worked his entire life to keep bubbles out of champagne; the Sun King, Louis XIV, who rarely drank anything but; and Napoleon, who, in trying to conquer the world, introduced it to champagne.
Then there were the generations of local vintners who struggled to keep their houses running. Claude Moet hauled his bottles to Versailles and gave Madame de Pompadour her first taste of bubbly, prompting her memorable quote, "Champagne is the only wine that lets a woman remain beautiful after she has drunk it." There was also Charles-Camille Heidsieck, known as "Champagne Charlie," who popularized champagne in America and ended up being imprisoned as a spy during the Civil War.
World War I would be Champagne's greatest test of all, a four-year nightmare in which nearly everything the Champenois had worked and fought for was destroyed "in a rain of iron and fire." German bombardment drove thousands of people underground to seek refuge in the huge cellars of the champagne houses, where among the bottles you would find schools, hospitals, shops, municipal offices, and troops.
Amazingly, grapes continued to be harvested even as bombs fell, and the wartime vintages are considered to be among the finest ever made.
An unforgettable history, Champagne will forever change how you look at a glass of bubbly.
About the Authors
Don and Petie Kladstrup are former journalists who have written extensively about wine and France for numerous publications. Don, a winner of three Emmys and numerous other awards, was a foreign correspondent for ABC and CBS television news. Petie, an Overseas Press Club winner, was a newspaper journalist and more recently protocol officer for the U.S. ambassador to UNESCO. The Kladstrups divide their time between Paris and Normandy.