Four centuries of history are united in the spare appellation Chateau d'Yquem Lur Saluces, -a label that evokes the same reaction the world over- of a luminous golden essence, of royalty, of impassioned devotees and collectors, and of the finest, the rarest, and the most expensive of wines.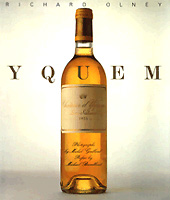 Yquem is a Sauterne, but classifying it as such is akin to calling a vintage Bugatti an old car. It is the finest of the Sauternes because every grape is literally picked by hand, having succumbed to la pourriture noble, the noble rot, a parasitic fungus that dramatically alters the chemistry of the grape, consuming one-third of its sugars and five-sixths of its acids. It is this change in chemistry that begets the unforgettable color, texture, and flavor of the finished wine. It is the most rare -not only of Sauternes, but also of all wines- because only 240 acres are under cultivation, limiting production to roughly 66,000 bottles per year. It is the most expensive because every step in the arduous processes of pruning, grafting, picking, selecting, fermenting, bottling, and shipping is done by hand, and done in the same time-consuming, fastidious manner practiced over generations.
Richard Olney, who sadly died just after this revised edition was published in France, was a master cook with an expert's knowledge of wine and a superlative writer whose prose was as civilized as his palate. He explores every aspect of this culture in this new and reset edition. This is, as might be expected, a deluxe volume on a deluxe subject, illustrated with exquisite color photographs of the vineyard, the austere landscape of the Graves, and the personalities who have, in often nervous alliance with nature and the noble rot, produced for over two hundred years a liquid amber of such smoothness, lushness, and distinction that it has always been known as "the king of wines."
About the Author
Richard Olney was born in Marathon, Iowa, and lived in France since 1951. A renowned authority on French cooking, he was the author of numerous cookbooks, including The French Menu Cookbook--and the awardwinning Simple French Food. Olney was also chief consultant on the Time-Life series, The Good Cook. Equally well-known as a wine writer, he is the author of Romanee-Conti and Yquem which received the Prix Litteraire des Relais Gourmands 1986. Olney is a member of L'Acadmie Internationale du Vin and other wine and food organizations. In 1992, he received le Prix de I'Acadmie du Vin de France "pour l'ensenmble de son oeurve et de son action iternationale en faveur du vin."