A few friends, a good meal, a glass of wine, what could be a more simple pleasure? Why then does the subject of wine -and particularly writing about wine- often seem so darn complicated, so needlessly technical or frustratingly pretentious? In this book I wanted to tell a different story about wine, share my experience of two years spent among French winemakers and vineyards; two years in which I discovered that the story of wine from vine to glass is as much the story of the people who make it, their history and traditions, their intimacy with the land, as it is a tale of yeast, grape, and barrel. Happily, it is also, in the small family vineyards where much French wine is made, a very warm, very human story.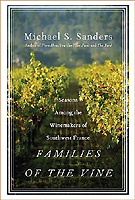 The families of the book all work in southwest France growing malbec grapes, from which they have been making very good, very different wines for more than a hundred years. I followed them through the seasons, sharing the hopes of spring, the anguish of a summer drought and heat wave, the mad rush of the fall harvest, and then into the wine barns heady with the smells of fermentation. I learned about oak from a Bordeaux barrel maker, got advice on wine and food from the sommelier of a one-star restaurant, heard a dozen winemakers' notions of that maddeningly imprecise French concept of terroir.
What I discovered above all else was the winemakers' uncomplicated passion, their genuine enthusiasm for their craft, their desire that others understand their world and its meaning beyond the liquid in the glass. It is this passion that first drew me to this place and these people, and I hope you will come to feel it, too.
About the Author
Michael S. Sanders, a former book editor and author of The Yard, lives in midcoast Maine with his wife and daughter.