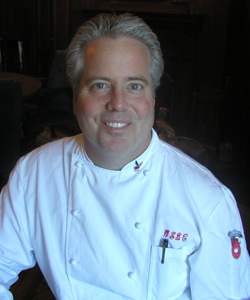 Chef William S. Bloxsom-Carter has worked as the Executive Chef, and Food and Beverage Director for the Playboy Mansion West for over two and half decades. A frequent wine judge he constantly looks for wines to pair with his foods for the multitude of foods he presents to guest at the Mansion; this can mean an intimate dinner party of 12, or upwards of 1,200 people. Complementing his responsibilities for Playboy Enterprises, Chef Carter has prepared winery dinners in Sonoma County, Napa Valley, Paso Robles and the Santa Ynez Valley as well as special events for high-profile clients throughout the United States, focusing on the importance of food and wine pairings and extraordinary hospitality service. Additionally, Chef Carter is a recurring featured guest on numerous radio shows syndicated nationwide describing and promoting California wines and foods.
You routinely plan food from appetizers to entrees for up to thousands of guests at the Playboy Mansion. With so many people, is it ever difficult to pair wines with the diverse variety of foods you prepare?
When I'm evaluating and selecting wines for events, I take copious notes based on flavor profile, nose, finish, integration/body, visual clarity and any perceptible flaws. Depending on the demographic for an event dictates the food and wine selections. Like with food, seasonality also plays an important role when selecting wines. At the Playboy Mansion, I have the liberty to create and select food and wine based on many variables. Some may look at it as a challenge; I look at it as a way to offer every guest an impeccable hospitality experience based on the bounties of the harvest.
Certainly working at the Playboy Mansion has a sense of prestige. As a chef under stressful conditions, what would be the most surprising thing for people to know about your job?
The most surprising thing for people to know about my job is, after 26 years as the Executive Chef and Food and Beverage Director; I enjoy coming to work every day as a cook. I treat others as how I would like to be treated. I learn something new every day. I continue to seek-out and provide guests at the Playboy Mansion with unique hospitality experiences. My most valued asset at the Playboy Mansion is my staff. They are awesome, as we staff 24/7. If it weren't for them, I'd be really stressed!
Wine alcohol levels are on the rise and it is commonplace to see 15 percent wines from Chardonnay to Merlot. What's your take on the alcohol levels these days?
My take on alcohol levels are they sometimes too high! Higher alcoholic wines can prematurely kill any fruit components when aging wines for more than 12-24 months. Sometimes, the "heat" of the alcohol strips the palate (and enjoyment) of the total flavor profile. Fortunately, the savvy winemakers are getting the message to produce lower alcohol levels. I hope this trend, to lower alcohol levels, is moving in the right direction. The benefit to consumers will help to sell more wine.
You see a massive diversity of people in a given year coming through the Playboy Mansion. What wine varieties would you like to see the public embrace more fully?
My mission as the Food and Beverage Director, is to expose our international clientele to wines and wine varietals they may not be accustomed to drinking. Naturally, I'm partial to California, Oregon and Washington State wines. As a professional wine judge at international wine competitions, I'm exposed to some incredible wines produced globally. I enjoy serving wines from around the world. Purchasing wine for the Playboy Mansion involves peering into a crystal ball. I would appreciate serving Petit Sirah to my guests in my "By the Glass" program but I believe it would be challenging. Or a 100% bottling of Mouvedre, would be a blast to serve. I want to take my guests on a food and wine odyssey every day. Central Coast wine producers have provided excellent white Rhone varietals. For instance Viognier and Rousanne blends, create an exquisite experience.
A lot has been written about the 100 point rating scale. Some believed it has empowered consumers, others think it has distorted wine prices, while still others say it has actually changed the quality of wines being produced. What do you see as being the long term impact of the 100 point rating system?
I feel that the 100 point rating system is a disservice to consumers, winemakers and the retail trade. My University of California at Davis training emphasizes a 20 point evaluation/scoring system as do many wine competitions. The 20 point scale maintains realistic evaluation. The 100 point scale cannot effectively discern between a wine rated 87 points and 89 points. The KISS rule (keep it simple, stupid) is highly beneficial in any point scale debate.
Had you not perused a career in the in food/wine industry, where do you think you would be right now?
I would be an airline pilot or commercial landscape photographer had I not pursued a career in hospitality. My college degree is a Bachelor of Science in Air Commerce, I posses Certificates of Hospitality and Enology Studies as well. My passion is landscape photography.
I have judged with you at wine competitions, and you are a consistent fixture on the wine judging circuit. What exactly do you look for in a wine?
I look for in a wine is a composed finish that is reflective of its varietal or blended intention of the winemaker. Novice wine tasters come to appreciate the nose or smell of the wine. And that's very important. The entry or nose of the wine, describes to the taster what to expect. It is primarily in the nose of the wine that wine aficionados can discern the quality and/or the flaws of the wine. The finish of the wine separates the remarkable from the mundane at any given price point.
What wine regions, either in the U.S. or globally, do you see as "up and coming" areas that provide terrific wines at value prices?
One wine region that is highly impressive to my palate is the Red Mountain AVA of Washington State. Watch it very closely as wine producers are creating amazing red wines from the region.
The national drinking age is 21. Do you think it should be amended either up or down?
Having the pleasure of raising two sons, currently ages 24 and 20, the societal benefits of maintaining the drinking age at 21 is fine. That's not to imply my sons or the majority of young adults abuse alcohol, it's simply a matter of maturity.
The concept of the celebrity chef has become ubiquitous. Is it crucial for chefs these days to have an intimate knowledge and understanding of wine?
It is crucial to for chefs to understand the nuances of wine and beer. Both play a vital role; complimenting food prepared for the guests' enjoyment.